Atlanta has so much love to give that not even our old-fashioned food and hospitality, or our generous Champagne rooms can use it all up. So, where does the rest of it go? Well, some of it goes to this list of 29 things ATLiens absolutely love, which doesn't include traffic, obviously.

1. Hating PARKatlanta
We love to hate their little blue-shirted foot soldiers more than any visiting sports team or a half inch of snow.

2. The Dungeon Family...
... and Luda, and T.I., and Lil Jon, and all of our Atlanta rappers. Even if having so many sweet ones does eventually lead to Justin Bieber house-hunting in Buckhead.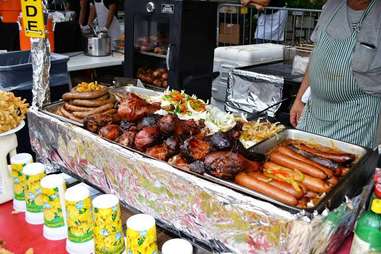 3. Drinking outdoors
Every weekend, you've got to pick between beer, music, food, liquor, and a thousand other outdoor activities.

4. Shooting the Hooch
Grabbing a few tubes and a ton of beer and slowly floating down the Chattahoochee should be Atlanta's official sport. Everyone's always a winner, and bonus points if you spot an alligator.
5. Dive bars
Sure, we have some pretty sweet steakhouses and high-end clubs, but Atlanta's got a big place in its heart for places where a "cocktail" is a shot of whiskey and a $2 beer, and the floor is a little sticky.

6. Freddie Freeman's hugs
His embrace comforts us... at least until September when it's time for college football, and we pat The Braves on the back for almost winning... again.

7. The SEC
With so many graduates from the surrounding areas descending on Atlanta, you can't go to a bar in the Fall without hearing a (usually pretty poor) rendition of at least one fight song.

8. Being in movies
Since everything is being filmed here these days, every one of your friends has been an extra in Dumb and Dumber To, or played frisbee in Piedmont Park with Owen Wilson, or at the very least gotten into an arm-wrestling match with Arnold.
9. Strip clubs
Between our tourists, hip hop scene, conventioneers, and just having a ton of hot Southern girls around, Atlanta does nakedness right.

10. Meat
Our obsession with BBQ makes us one of the top protein-destinations in the US, and having the chicken capital of the world just up 85 in Gainesville doesn't hurt, either.

11. Nerds
When 50,000+ stormtroopers, wizards, and assorted other superheroes take over Downtown every Labor Day weekend, it's hard not to let your nerd flag fly.

12. Chick-fil-A
Nothing can keep us away from that chicken sandwich... and how amazing are those waffle fries?
13. Local beers
You can't drive down 85 without smelling the barley from, and salivating over the sight of, the glistening metal towers of SweetWater.

14. Our Dirty Birds
At least this year, having HBO's Hard Knocks behind the scenes will give us some insight into the annual disfunction.

15. Driving hacks
Everyone has a favorite side road or pull-through they've found in their effort to avoid 285.
16. Soul food
17. Pre-hating on the Street Car
You can probably walk faster in the time it will eventually take this multi-million dollar waste of space to cover the minuscule distance from Centennial Park to Auburn Ave Downtown. There's a reason we discontinued this thing in 1949.

18. Being the World's Biggest
Check our airport, aquarium, cola, and home improvement store, yo.

19. The Ghetto Burger
Honesty in advertising is refreshing. This monster is ghetto, (and delicious), as hell.

20. The BeltLine
Whether you walk, bike, jog, or use it as a convenient stumble home, our in-town cut-through is beloved by all.
21. Bar vrawls
Zombie, Santa, superhero, half-naked, or whatever. If it involves dressing up, walking around, and drinking, we're doing it.

22. Complaining about traffic
It might be illegal, but we have to be the leaders in girls taking car selfies.

23. Our neighborhoods
They may only be a few miles apart, but OUR 'hood is totally awesome, and yours probably sucks.

24. Going to Florida, but only for a little bit
The beach is nice for a couple of days, but our neighbors to the South are just plain weird.

25. Complaining about MARTA
Let's just say the best stories about MARTA involve going to Philips or Hartsfield, and accidentally sitting in a puddle of... um, something.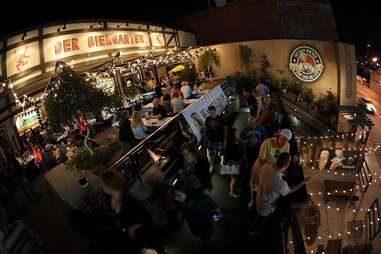 26. Rooftop bars
Because it is warm all the time, and we have the aforementioned outdoor drinking to do.

27. Being on Family Feud
Now that Steve Harvey is taping at the Civic Center, half of the city's watched their Aunt blow a chance at $20,000.

28. Our reality TV shows
Our assistant district attorney is the new Bachelorette. We have some of the most "flamboyant" Real Housewives. T.I. and Tiny have that weird RV. Someone still needs to explain Love & Hip Hop, though.

29. Our food trucks
Who wouldn't love allthesethings?!
Sign up here for our daily Atlanta email and be the first to get all the food/drink/fun the ATL has to offer.