What Donald Glover's 'Atlanta' Unapologetically Shows Us About Our City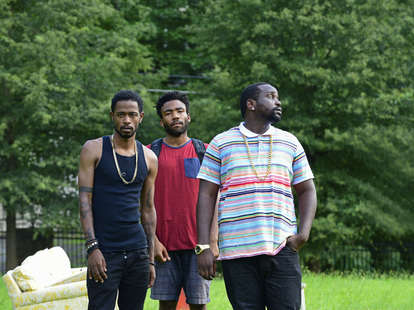 By now, you've likely heard about the new show Atlanta. And even if you watched the two-episode series premiere on FX, you still might be wondering what it's all about. Maybe that's because Atlanta is difficult to pin down as a singular experience. It also might be because you saw the TV promo where the three main characters walk around backward, which I don't completely understand either. But you're definitely going to want to watch it and join the conversation, because you probably didn't expect it to be so indisputably dope.
Atlanta was created by Donald Glover, a Stone Mountain native and NYU graduate. You'll quickly recognize him as rapper Childish Gambino, or as jock-nerd Troy Barnes from NBC's Community. He's a musician, singer, actor, comedian, former 30 Rock writer, and lest we forget, player of a shirtless guy in Magic Mike XXL.
Though this sounds like a great way to spread yourself a little too thin (literally in the case of the chest muscles he flexed in Magic Mike), he's done all these things well enough to gain simultaneous success, national media attention, Grammy award nominations, and peer respect. All this has given him the opportunity to create, co-write, executive-produce, and star in a major TV program named after his hometown -- a big responsibility, by all means. With Atlanta, Glover is about to become a front-and-center face of the city, so people are expecting great things and the stakes are high. Luckily, you're going to love it.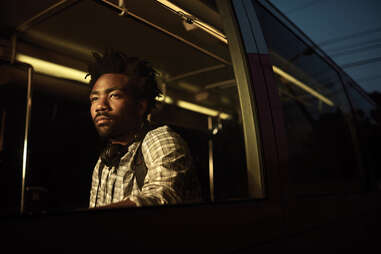 Atlanta will probably be different from what people expect when they first watch it, making it exactly like the city itself -- if you weren't born here. Unlike other shows named after cities (Dallas! Nashville! Deadwood!), Atlanta is doing something novel. It wants to give you a look at the city through the lives and experiences of the people you meet, and it wants you to explore how Atlanta's racial demographics, economic realities, and rich culture come together to create something utterly unique. It's a dramatic comedy that wouldn't make sense anywhere else (Glover has called it "Twin Peaks with rappers"), and there's definitely a blend of streets-meet-strange in the story. As soon as you see the title graphic pop up on the screen over a wide shot of the city skyline juxtaposed by trap music, you get the sense that this is not the same "Welcome to Atlanta" that we got 15 years ago from Ludacris and Jermaine Dupri. This intro reminds you that what you've seen on Atlanta-based reality television is anything but genuine for many residents.
The struggle is real for Atlanta's characters, just as it is for those in the real city. Glover's character Earn -- a backpack-rocking hood nerd with twisted hair trying to find a space in which he fits -- is the archetype of many young, gifted black men you may never meet. He seems exceptionally smart (he apparently attended and dropped out of an Ivy League school), and waxes philosophic with strangers on MARTA, his girlfriend Van, and others. He also struggles with responsibility, manhood, and his emotions. It's clear he could use better luck, and though he's not instantly easy to understand, he's immediately likable, and certainly weird. Anybody familiar with fellow Eastsiders Andre 3000 and B.o.B. will notice something familiar in Earn's demeanor. But in Atlanta, where there are lots of different people who happen to be POCs, he's a normal guy folks recognize as one of their own -- a good kid in a mad city.
This is not the same "Welcome to Atlanta" that we got 15 years ago from Ludacris and Jermaine Dupri.
The music industry, naturally, plays a lead role in Atlanta also. As the show begins, Earn attempts to convince his cousin, a rapping drug dealer named Alfred "Paper Boi" Miles, to hire him as a manager. We don't know how much experience Earn has that qualifies him for this job, but Earn quickly shows he get results that Alfred can't get on his own. For their part, Alfred and his cloud-headed sidekick Darius exist somewhere between music-industry dreams and dope-boy realities, which, as cliche as it's become, is still a tangible path many emcees take to pay for studio time, production, touring, and the like. And there's no denying that Atlanta hip-hop continues to set trends worldwide by pumping out megastars like 2 Chainz, Future, Young Thug, Lil Yachty… and the list goes on and on.
But when it comes to the drug-dealing activities of Alfred and Darius, we see past any semblance of thug personification and humanize them instantly, seeing them as individuals with unique complexities. Alfred talks about how lucrative the drug business is, yet he and Darius seem to be doing just well enough to live somewhere between the slum and the suburbs. Their apartment, with its arched walls and generic furniture, makes them look more than poor but less than rich, squarely existing in a place with temporary comfort but no guarantees. These scenes remind us that Atlanta is a place where anything can happen, even under the perceived guise of safety and comfort.
The show also makes a point to shine a spotlight on racial demographics. You cannot, try as you may, live in Atlanta and deny that you're in a black city. The 2010 US Census put the City of Atlanta's black population at 54%. The next largest group is white, at 38%. Atlanta makes no attempt to cower from or apologize for blackness, and accordingly, it refuses to pretend this isn't Atlanta's reality. Because of this, the show feels relatable and real. It gives the viewer (and ATL resident alike) a chance to gaze into Atlanta's dominant demographic through an unusual lens that many people often don't get the opportunity to see. The show also illustrates that, while Atlanta has a solid black middle class, there's still a problem with wealth inequality. Sure, you'll find enough successful black people here to make a case for the city being a center for racial progress, which it certainly is, although the truth is much more real than what we see and hear in a lot of music, movies, and television today. And though the sheer volume of black people amplifies the notion of progressive wealth distribution, notions aren't always true.
A key thing to understand about Atlanta is that it isn't content to simply force blackness upon viewers. Instead, it bakes stories and situations with universal appeal into the plot themes, and makes them unapologetically black. In a very radical way, the show forces people to think about Atlanta as being a majority-black city, and the culture is portrayed in a way that is simplistic yet abstract, the very definition of what our city is.
Director Hiro Murai, who's directed music videos for Childish Gambino as well as other prolific artists, captures Atlanta's misty funk and ATLien vibe with laser precision. That is to say, the city doesn't look particularly sparkly or "Hollywood" from the camera's perspective. There aren't tropes that resort to banal gimmickry -- like the characters on Swamp People eating alligator for every single meal -- or the immeasurable barrage of heavy-handed jazz metaphors that have created the groundwork of Treme. There's consistent humidity and density that's honest to the environment, which for most of the year is hot, muggy, foggy, and damp. Swamp-ass-inducing weather aside, we even see some of our most beloved restaurants, like Zesto and J.R. Crickets, and we feel Earn's pain when he takes his lady to an unnamed upscale restaurant with high prices and a particularly aggressive server -- a nod to the overpriced contemporary dining scene that some say threatens to put Atlanta's best neighborhood eateries out of business.
The show functions as a cross-cultural exchange of sorts. It could indeed be the catalyst for more invitations to people -- specifically those who are not black Atlantans -- to come into our neighborhoods and venture out of comfort zones. To those who hold on tightly to outdated stereotypes, It could perhaps illustrate that the human experience is something we all share, regardless of race. Or hey, maybe it'll simply be a show you'll binge watch one day.
And sure, there will be those viewers who want punchier jokes and more intense moments of action to keep them entertained, but it will be those viewers who bemoaned The Wire after Season 2… or didn't even give Grounded for Life a chance (just kidding, just kidding!). So where is Atlanta going to go? I'm not sure. But this sweaty, earthy, funky story appears to have the beginnings of a great series. Hopefully Glover and company remain brilliantly true to what the city's really all about. It's something Atlanta needs now more than ever.
Sign up here for our daily Atlanta email and be the first to get all the food/drink/fun the ATL has to offer.
Mike Jordan seriously thinks
Atlanta
could end up being one of the greatest shows ever. Discuss it with him on Twitter once you've seen the first two episodes; he's at @michaelbjordan and is crunk as hell that the show is as good as he hoped.