The best Summer ever lasts for 500 days and ends with you hooking up with Minka Kelly, obviously. But the second-best Summer involves drinking with zombies, drinking with stormtroopers, and everything else on our list of 12 things you absolutely must do in Atlanta this Summer:
What: Virginia-Highland Summerfest
When: June 7th - 8th
Where: Virginia Ave between N. Highland and Monroe.
The Highlands kick things off with the city's largest block party: roam the streets with a beer in hand, (legally, this time), grab some street meat, and chill listening to your favorite local bands. Oh, and there's also a bunch of art and stuff, so watch your drink intake, or you might walk home with some Decaturite's finger painting.
What: Polaris re-opening
When: June 10th
Where: On top of the Hyatt Regency
After being closed for a decade, the giant, blue, rotating romance-spot is triumphantly re-emerging, and giving you a full view of the city every 45 minutes while you feast on steak, lobster, veal, rabbit, and other protein, or sip scratch cocktails, including some made with honey from the bees they're keeping (safely?) on the rooftop.
What: Watch the World Cup at a soccer bar
When: June 12th - July 13th
Where: Brewhouse Cafe, Fado Irish Pub, Midway Pub, Limerick Junction
Grab a scarf, bone up on your futbol, and raise a pint with Atlanta-based ex-pats from across the globe/actual American soccer fans from wherever the heck they come from, while catching a match or two and enjoying drink/food specials.
What: Atlanta Summer Beer Fest
When: June 21st
Where: The Masquerade Music Park
The largest, loudest, and beeriest festival returns for its fifth year in the greenery of the Masquerade, and brings with it over 150 beers, tremendous bands, and a late-ish end time (9pm!) that ensures things won't end until your day-drinking-induced nap is over.
What: Tailgating at the Peachtree Road Race
When: July 4th
Where: Buckhead to Midtown
There are two types of dehydration in Atlanta on July 4th: you get the first one running from Lenox to Piedmont Park with 50,000+ of your closest friends. You get the other by not joining the tens of thousands of other people who grab a cooler full of cold ones, (or red, white, and blue Jell-O shots), and join in the revelry. Sans running, obviously.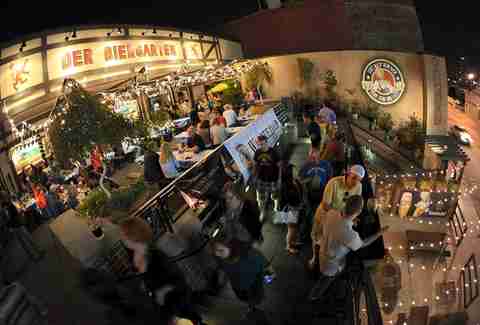 What: Hang in one of Atlanta's signature rooftop bars
Where: All over the city
When: Any time it's not raining
Whether it's pre-gaming for a big Friday, recovering on a hung-over Sunday, or a half-day Tuesday, Atlanta's rooftops are the perfect place to soak in the sun while soaking in the booze.
What: The Atlanta Street Food Festival
When: July 12th
Where: Piedmont Park
Want to try every single food truck in the city, but don't have the time to wait until they show up near you? This is your perfect opportunity to stuff yourself full of every single taco, sandwich, and fried piece of goodness that our wheeled food professionals sling.
What: Attack of the Killer Tomato Festival
When: July 20th
Where: The Goat Farm Arts Center
Dozens of the city's top chefs and bartenders work with a single theme: make tomatoes something you'll actually eat -- if they aren't in salsa/pizza sauce -- by stuffing 'em with meat and cheese, or combining them with bourbon (?!).
What: Atlanta Annual Zombie Pub Crawl
When: July 26th
Where: Diesel Filling Station
Atlanta's Walking Dead bar is coping with your withdrawals by letting you drink like a zombie... with the help of professional makeup artists who'll make those scabs and sores look realistic enough to scare the Highlands bartenders into making your pour plenty heavy.
What: Drinking on Lake Lanier
When: Any weekend until Labor Day
Where: Sunset Cove Beach Cafe & Club
You might only have your toes in the trucked-in sand, or you might have been smooth enough to talk yourself onto a party boat, either way, Lake Lanier is the only name in Atlanta-area, H20-based fun.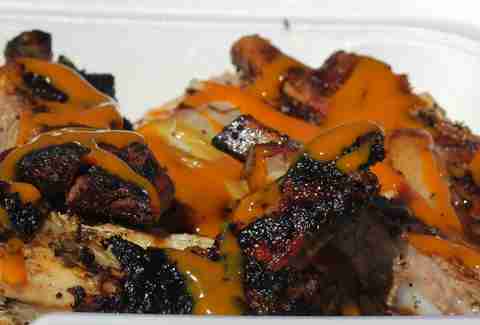 What: Atlanta Bar-B-Q Festival
When: August 15th - 16th
Where: Atlantic Station
Atlanta's largest meat convention descends on Atlantic Station with literally tons of pork, beef, chicken, lamb, bison, and other meats you haven't had slow-roasted. Yet.
What: Dragon Con
When: August 29th - September 1st
Where: Downtown Hyatt, Hilton Atlanta, Courtyard Marriott, Sheraton Atlanta, Westin
Tens of thousands of the world's drinking-est nerds take over the entire Downtown area for a costume party that will make every Halloween party from now on a disappointment, unless they also involve doing body shots with dozens of Princess Leias, and pounding pints with Optimus Prime.