Gentlemen and ladies dressed in their finest attire used to ride by horse-drawn carriage through the town as they engaged in elaborate, expensive courtship rituals, but today it's more about the connection you naturally have with someone -- the compatibility that money can't buy. And that's because we're all broke.
Love may not cost a thing, but a date sure does, so we've rounded up a variety of smart and fun things to do, from hitting a museum to catching a cheap flick. And if that's not enough, well, we also listed everything fun happening around ATL at any given time right here.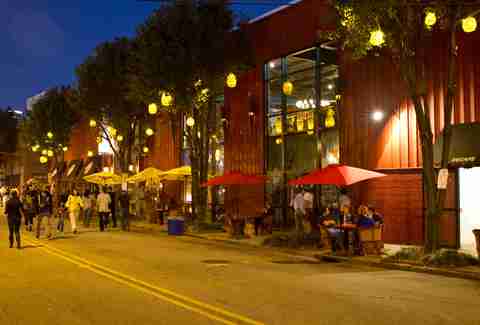 Art isn't free, as you might know if you've ever looked at the price tags on beautiful paintings and sculptures. But art strolls like the Castleberry Hill version are; just show up on the second Friday of the month, and you can zip through galleries like ZuCot, Mindzai Creative and Granite Room. Then end the walk with a $10 wine tasting at Wine Shoe, or if your potential partner likes cigars, have a smoke at Habanos.
Pioneering a place in SoBu with a potential "NuBu" is always romantic. And the newly opened East Pole coffee shop, which roasts and sells its own beans, is a great place to discover together, as long as you don't mind being seen -- the place is well-lit and has tall windows, which gives it a "it's fine if we end up in the friend zone and just become coffee buds too" kinda vibe.
The Georgia Aquarium has monthly workout classes for $10 each, and you can pick between yoga, Pilates, or bootcamp (but maybe do bootcamp alone because it's incredibly sweaty). They're led by local fitness instructors and suitable for all experience levels, and process benefit research and conservation efforts.
If both of you find it hard to squeeze in time on weekends or late evenings, get with one-hour weekday specials at Saltyard, where you can share fancy popcorn, hummus, and other approachable upscale bar snacks from chef Nick Leahy, specially priced at $6 or less. You can also add two glasses of their wine-of-the-day for $14 (or have two pints of whatever $3 draft beer of the day each), and still land under budget.
No, don't do drugs on your date; take her or him to the High Museum of Art on Second Sundays, when it's free for anybody, instead of the normal fee of $30 for two. They also have art-making workshops from 1 to 4pm in case you wanna hang around after checking out the permanent collection.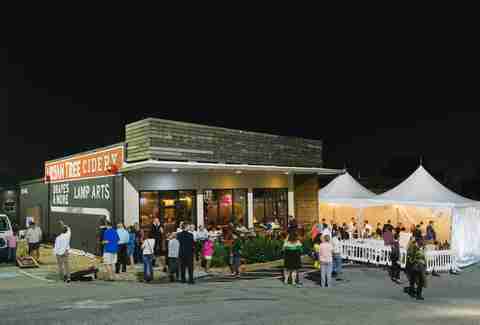 If drinking is an option, cider is one of the best, since men and women alike generally agree that it's a delicious way to work up a buzz. Urban Tree hosts a comedy night with local funny people, Hot Mic Comedy, once a month for a $10 door cover. But you can pay half if you buy tickets online in advance for the upcoming February 3 event or the forthcoming months.
No matter the weather, you can join a session led by Westside Yoga's Amber Barry free of charge in the Piedmont Room at Park Tavern. You'll both get a free post-class beer for participating. Bring your own mat.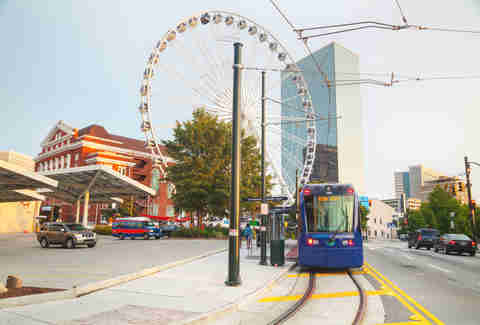 A one-day pass only $3, and not only can you ride the Streetcar through central Downtown, through areas of Georgia State, and pass by the Old Fourth Ward bars, but there's something even sexier about paying the fare for yourself and your fairest: You'll probably have the car all to yourself. The Streetcar is hardly ever crowded, and it's unbelievably clean.
The Fernbank just began a new second Fridays monthly event series called "Fernbank After Dark." Sexy right? It's adult-only (21+), and will feature "unique after-hours experiences" that probably don't include sexy time near the dinosaur bones, but will allow access to exhibitions with the added bonus of alcohol from full bars, tapas, and live music to go with new science demonstrations with changing monthly themes. The only catch is you need to be a member to get $10 tickets, but why not just join and keep going year-round?
The food at Krog Street Market isn't known for being inexpensive (don't blame them; that's some costly real estate), but Suzy Siu's Baos has Taiwanese-inspired street buns for under $5 each, and they have a deal where you can get all six baos on the menu (Korean BBQ brisket, fried chicken, etc.) for $20.
Step your sweets game up to Paris-level luxurious at Amorino, where gelato artists will shape delicious flavors of frosty sweet cream into edible flower petals. Also get the French/Italian café's macaroons, gelato cakes, pastries, and even their version of pancakes and waffles for breakfast, if things really work out.
You still can't beat Kimball House in terms of oyster freshness, flavor, and financial accessibility, since those delicious bivalves are half-priced on weekdays between 5pm and 7pm. You might not be able to go crazy on the cocktails (maybe get beer or something), but you should easily be able to split six or so with someone special.
Until it closes, there will never be a better date night deal than Atlanta's legendary drive-in theater. You can bring your own food and drink, plus it only costs $9 to watch two movies from the sanctuary of your car, with the heat turned up, looking up at a big giant screen like they used to do in old romantic movies. Hopefully you haven't seen Poetic Justice (RIP Q-Tip).
Sign up here for our daily Atlanta email and be the first to get all the food/drink/fun the ATL has to offer.