The 16 Best Summertime Date Spots in Atlanta
We've already told you why dating is different in Atlanta than anywhere else, but you know what's not different? The places people go on dates (like one of ATL's most important restaurants, etc.), which is why now that sexy-people-season -- aka summertime -- is here, we've prepared a list of 16 seasonally appropriate date spots that'll set you apart from the rest...

Piedmont Ave
It's every Thursday (it just started this month, and goes through September) for four hours starting at 6pm, and it comes with live music from a DJ crew, chef demos in the Edible Garden, and a cash bar where you can cop some pretty awesome, citrusy buzz-creators like a gin-based Banana Creamsicle, a Corona-/tequila-based "Frog-arita," and one they simply call "The Goddess."
Hampton
It'll run you at least $110, or up to $2,600, but when it's an official NASCAR automobile, or even a Lamborghini Gallardo LP 570-4 Superleggera (which is worth almost $250k), you quickly figure out that it's worth finding out how fast you can get to your intended finish line.

Fayetteville
Just south of ATL in Fayetteville you and your date can pick a variety of plump, super-sweet blackberries, blueberries, raspberries, and strawberries through mid-July. Just be sure to pick the right date before you make the 35-minute drive from Downtown, especially if your romantic interest finds you more plump than super-sweet.
Dunwoody
This summer you and bae can get into several wine-paired "educational" dining experiences that include artisanal cheeses, salumi, and antipasti from Italy (not to mention up to nine wines), Thai cooking courses (that also involve wine), and even a grape-based journey to France.

Downtown
The next one's in mid-August, but tickets are being sold now -- as long as your date's over 21 -- at just under $100 for two drink tickets, two tapas plates, and couple's access to all of the Aquarium's open galleries. Another fun idea: they have sleepovers for grownups after closing time, where they promise to let you learn "some adult aquarium content" and "explore behind the scenes areas." Float on.
Buckhead
Bowling is an easy win, unless of course you can't bowl. Even if that's the case, you'll enjoy indoor bocce, skee-ball, ping pong, and other gamey fun (giant Jenga!) while biting into wood-fired prosciutto/pineapple pizzas and downing fruity bowls of Bourbon or gin punch.
Midtown
During every Friday Night Music Remix you can pay half-price admission to ATL's world-class art museum and create drawings of a live (unfortunately clothed) model. If you can't make it to the canvas after that, blame your own lack of creativity.

Chamblee
The vibe is mom-n-pop-ish, and the menu is low-to-no-frills simple with Angus hot dogs and salmon BLTs, Goose Island IPAs, and divey vibes. Still, there's something very aspirational, or just completely unattainable, about eating and drinking on a deck next to DeKalb–Peachtree Airport, where pilots take off and land in private jets. Let your date figure out whether or not you've got that type of bank. Friday nights after 7pm are ideal, since that's when children are banned and live bands keep the patio, you guessed it… fly.
Downtown
It's right there near Centennial Park, and for $50 you can get leather seats and glass floors. Avoid the Final Destination jokes.

Buckhead
For two hours every Friday through Sunday, starting at 2:30pm, Astor Court has a $40-per-person situation in which you can sip seriously fancy leaf water from Sri Lanka, Southern Fujian Province, and St. Elsewhere, while you eat "Spring Sweets" like rose macarons.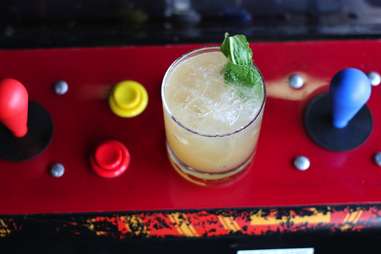 Old Fourth Ward
Nothing says, "You are the living embodiment of sexual hotness" quite like your date's face when they K.O. your chosen character (you seem like the Blanka type) using that Chun Li turbo kick to the chin in a one-on-one tournament of Street Fighter II: Champion Edition.

Atlantic Station
There are screenings all summer at "Movies in Central Park" at Atlantic Station, including Jaws on June 4, followed by Super 8, Casablanca, Airplane!, and Ferris Bueller's Day Off.
Midtown
For 16 years, Intermezzo has been setting you and a date up with late-night booze-bombed java, spiked hot cocoa, and all types of cheesecakes, pies, and mousse desserts until 2am Monday-Saturday. Eat the cake!
Fernbank Museum of Natural History
Mysteries of the Unseen World and Humpback Whales weren't meant to describe your sex life -- they're actually titles of movies shown on Fernbank Museum's huge panoramic ceiling theater. They also have respectable summer cocktails like the Italiano Manhattan and the peppered gin/cucumber liqueur/lime/mint "Sgt. Pepper," plus small plates (chorizo and manchego empanadas), salsa dancing, DJs, and live soul/jazz bands. Be sure to hit the observatory to look at the stars through the Southeast's largest telescope -- it's free on weekends.
Midtown
No doubt one of the coolest places in the city, with its French attitude and menu, great strong drinks, and a sexy patio, AD serves shrimp/scallops and grits, fruit-topped French toast (it's bomb), crab cake Benedicts, and more until 3pm on weekends. Live jazz is played inside near the bar, which you'll want to be sure can legally serve you, so don't show up with Shawty before 12:30pm on Saturday or Sunday, especially if you're badly in need of one of the house cocktails, like the Hoegaarden-mixed MANmosa or the beer/tequila/tomato juice-combo they call an Ugly Maria. Especially if you hooked up with Maria the night before and didn't realize until now that she looks better after cocktails.

Downtown
You're right in the thick of Midtown's skyscrapers on the 11th floor of The Glenn. Obviously it's not exactly as cool in terms of temperature as it is from the viewpoint perspective. Still, they serve cucumber-laced martinis that'll hopefully keep you from sweating through that nice new shirt you just bought.
Sign up here for our daily Atlanta email and be the first to get all the food/drink/fun the ATL has to offer.