The 9 Best Make-Out Spots in Atlanta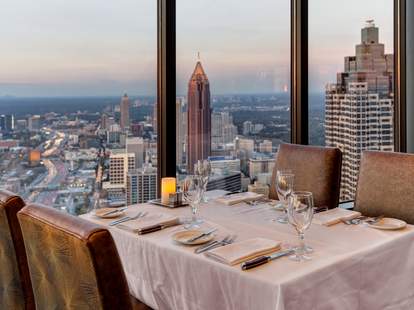 This being Atlanta, it's easy to find places to get a little freaky. But what if you're just looking for a place to get a little... err, friendly? For that you're gonna need our list of the ATL's nine best bars and restaurants (and elevators?) to make out in. You're welcome...

Downtown
One of Atlanta's
most romantic restaurants
has a special feature: the direct elevator is a long 72 floors up to the spectacular view over the city. That's a lot of time for anything your imagination can conjure. If you're just holding hands, you're wasting the time.
Midtown
You could spend a whole year here finding a different place to "cuddle" with your Mr./Mrs. Right/Right Now. On benches, on blankets, under shady trees, or even in that covered slide; there are too many great locations to have your hands wander. Just make sure there aren't any kids around on the playground. That's not a talk you're prepared to have.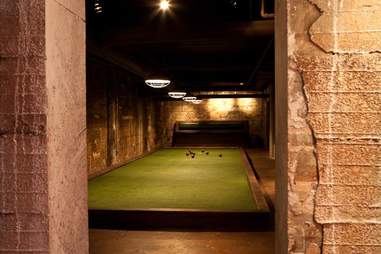 Courtesy of Ormsby's
Westside
The dimly lit labyrinthine downstairs has a great array of wooden booths, bocce ball courts, dart lanes, and other little coves for you and your new soul mate to test for proper romantic ambiance. The über-deep selection of beers and cocktails will keep you two in the right mood, and those
pimento cheese fritters
are good to keep your mouth busy between make-out sessions.
East Atlanta
Filled with dance nights, indie music, and a very dark parking lot, you'd be hard-pressed not to find a great spot to press the flesh. There're usually a few old van-bench seats floating around outside to use while the band is taking a break. That racked vinyl is more than comfortable enough for what you have in mind.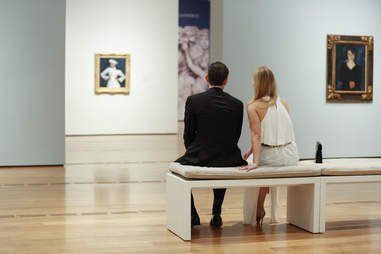 CatMax Photography
Midtown
Get cultured while getting naughty. With a smorgasbord of food, drink, and music events to go with the rotating art features, you'll have great scenery for your eyes, ears, and definitely for your mouth.
Little Five Points
While you're enjoying some grungy music, comedy, or just throwing back a few shots and PBRs, grab a little private time and commemorate the moment the old-fashioned way with a drooling, red-eyed, gropey keepsake.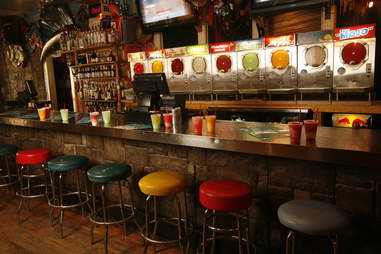 Courtesy of Flip Flops
Midtown
The upstairs outdoor deck (and side staircase) is the ideal place to set down your cup of Jet Fuel and become better acquainted with your new lip-mate. If you can, schedule your tonsil hockey before you grab one of the late-night pizza slices. No one likes Red Bull and garlic breath.
Sebastian Davis/Thrillist
Eastside
Pack something to drink, grab some popcorn from the food court, and the night is yours for necking. Crank up the movie sound on your radio and slide into the back seat so you can get a little closer while enjoying the cinematic experience. A blanket is probably a good idea, too, for full "coverage."
Westside
Roam the grounds during your desired music, arts, film, or food event, and you'll find many secluded spots for canoodling. Be careful when pressing up against the giant wall of filing cabinets, you'd hate to get buried under reports and potted plants when you're just trying plant a smooch on someone.
Sign up here for our daily Atlanta email and be the first to get all the food/drink/fun the ATL has to offer.