It goes without saying that Atlanta is pretty awesome. It also goes without saying that the traffic in Atlanta is... um, not awesome, which is why instead of driving in the ATL you should hit these 11 actually sweet road-trip destinations, both in and out of the Peach State...
Athens
Distance from Atlanta: 72 miles East; 1.5-hour drive
Why it made our list: This college town's casual vibe belies the fact that it's also an incredible place to catch live music. Home to R.E.M., the B-52s, Widespread Panic, and more, it's no wonder Rolling Stone dubbed it "the #1 College Music Scene in America." Oh, and it's not a bad place to get a drink either.
Pro tip: Enjoy a refreshing cocktail and the best poutine outside of Canada at the World Famous before you see an up-and-coming band in this intimate, eclectic venue.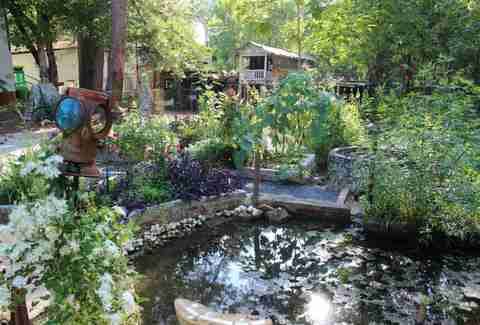 Summerville
Distance from Atlanta: 89 miles Northwest; 1.5-hour drive
Why it made our list: You'll feel like you stepped back in time when you visit this tiny, sleepy mountain town. Surrounded by scenic trees and hills, it's jam-packed with friendly locals, festivals, and park attractions and activities for the nature lover.
Pro tip: A maze of buildings, sculptures, paintings, and displays, don't miss Howard Finster's Paradise Garden, which has an international pop icon status that draws visitors from across the globe.
Toccoa Falls
Distance from Atlanta: 93 miles Northeast; 1.5-hour drive
Why it made our list: The Cherokee word for "beautiful," Toccoa Falls is the South's answer to Niagara Falls. A semi-hidden gem, it's the highest single-drop waterfall East of the Mississippi. A dazzling 186ft of swirling water that swiftly plunges into an equally gorgeous canyon, it's an impressive 26ft higher than Niagara Falls.
Pro tip: Bring along your hiking shoes and a picnic lunch. There are lots of wooded spots to relax and nosh while taking in the majestic falls.
Brasstown Bald
Distance from Atlanta: 102 miles Northeast; 2.5-hour drive
Why it made our list: In addition to being the highest mountain in Georgia, it's also arguably the most beautiful. From atop the towering observation deck perched nearly 5,000ft above sea level, visitors can catch breathtaking 360-degree views that, on clear days, include Georgia, Tennessee, North Carolina, and South Carolina.
Pro tip: Don't miss Sunrise Grocery. In business since the 1920s, they offer up deliciously authentic Southern eatin' like hot boiled peanuts, country ham, and homemade jams and jellies.
Chattanooga
Distance from Atlanta: 117 miles Northwest; 1.75-hour drive
Why it made our list: With museums, river cruises, and a plethora of city tours available, Chattanooga rocks, but the city's Riverwalk is not to be missed. Chock-full of shops, parks, restaurants, bars, and more, we'd say it's endless fun, but it's actually 13 paved miles.
Pro tip: If you're staying overnight, book a spot at the Chattanooga Choo Choo. Once the terminal station for the Southern Railway line, you can sleep in style in a gorgeously restored, authentic sleeper car once available only to the mega rich.
Birmingham
Distance from Atlanta: 146 miles West; 2.15-hour drive
Why it made our list: Alabama's largest city has a rich civil rights history, and has undergone a cultural revival in recent years that has seriously upped the city's already-cool festival game, which now includes a shton of art, film, music, and food -- especially the Greek and Lebanese food festivals -- throwdowns that aren't to be missed.
Pro tip: Sloss Furnaces, an old pig iron-producing blast furnace turned interpretative museum of industry and venue, is one of the city's oldest, most famous sites. It's also notoriously haunted.
Providence Canyon State Park
Distance from Atlanta: 147 miles Southwest; 2-hour drive
Why it made our list: Ever heard of Lumpkin, Georgia? If so, thank Providence Canyon State Park, aka "The Little Grand Canyon," for putting it on the map. With over 1,000 acres of deep, rocky canyons caused by poor farming practices in the 1800s, plus native wildflowers and vegetation, it looks totally cool and totally out of place in Georgia.
Pro tip: Bring along water, your camera, and comfortable shoes. Exploring these gullies is a little challenging, but it will seriously elevate your selfie game.
Asheville
Distance from Atlanta: 208 miles Northeast; 3.5-hour drive
Why it made our list: Nestled in the spectacular Blue Ridge Mountains, it's no wonder Frommer's declared Asheville one of the top travel destinations across the globe. A healthy mix of college kids and families in a beautiful town, it's also home to some of the country's best microbreweries, eateries, and America's largest home, the Biltmore Estate.
Pro tip: Catch a flick and sip from a rotating stream of local microbrewed beers while you stuff yourself with hot, award-winning pizza -- all at Asheville Brewing Company.
Savannah
Distance from Atlanta: 248 miles Southeast; 4-hour drive
Why it made our list: In addition to having some of the Low Country's best golf, Savannah has gorgeous beaches and endless opportunities for fun in and on the water, like parasailing, kayaking, Jet Skiing, and more. All that water also means a lot of stupid-fresh seafood that needs to be eaten. And washed down with beer.
Pro tip: Savannah is brimming with interesting folks and beautiful landmarks. Grab a go-cup and take advantage of both their open-container laws and historic architecture.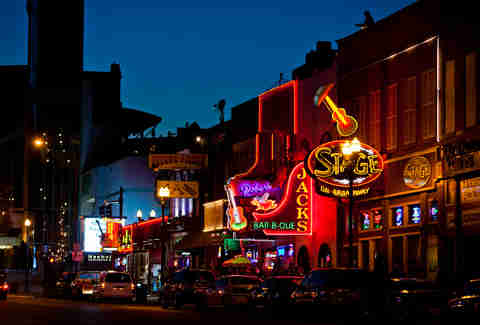 Nashville
Distance from Atlanta: 250 miles Northwest; 4-hour drive
Why it made our list: As if honky tonks, Hattie B's hot chicken, the world-famous Ryman Auditorium, and GooGoo Clusters weren't enough to merit a spot on this list, pretty much every mile of Music City, USA is part of music history. Nashville also offers up some smooth, legit Tennessee whiskey, which isn't gonna drink itself.
Pro tip: Tour and taste Nelson's Green Brier Distillery, whose award-winning bourbon is a pre-Prohibition brand that'll impress everyone from foodie/booze snobs to... well, everyone.
Charleston
Distance from Atlanta: 307 miles East; 4.5-hour drive
Why it made our list: With dive bars and five-star restaurants aplenty, Charleston is well known for being a food lover's paradise. Their diverse culinary scene is undoubtedly a big part of why it's been named the "number one city in the US" by Condé Nast for the fourth consecutive year.
Pro tip: Be sure to grab a Big Nasty Biscuit from Hominy Grill. Fresh fried chicken stuffed inside a biscuit and smothered with cheddar cheese and sausage gravy is worth the trek.
Sign up here for our daily Atlanta email and be the first to get all the food/drink/fun the ATL has to offer.