If there is one thing that people in Atlanta love it's... well, these 29 things. But if there were just ONE thing, it'd likely be strip clubs. And that makes perfect sense. You never have to wonder if the establishments serve alcohol (they do) or if the performers are nude (they are). That said, it's important that you don't waste your hard-earned dollar by tossing it into the air at some lackluster, run-of-the-mill joint. No, you should be making it rain where it matters, and that means knowing which strip clubs in Atlanta are the ones to visit. Use this guide to make the best choices in the city that's never too pretty or prude to enjoy a proper table dance.
887 Spring St NW
It's the only club in town with an actual restaurant inside. Steaks, chops, and lobster are complemented by an exquisite lasagna and duck à l'orange. Cheetah also has the classiest girls and is frequented by the most well-dressed clientele. Prepare to lighten that wallet.
Best deal: Free admission with your game-day ticket stub. Of course this goes for all the Atlanta pro teams and college games, but if you can turn that high school wrestling admission ticket into a freebie, more power to you.
1888 Cheshire Bridge Rd
The women here have the most acrobatic pole skills you'll ever see. You'll see performers in all stages of contortion, in every position, and with every body part moving seemingly independently of the rest. There are stages surrounding you on all sides, giving you a 360-degree access to dancers in front, in back, next to, and even above you.
Best deal: $5 lunch drinks and $5 dances until 4pm
789 Ponce de Leon Ave NE
At Clermont you'll find "affordable" drinks, women who are glad to be the age of your aunt, and some liberal hygiene standards. This place is an Atlanta institution, though, and if you live in ATL you need to go at least once.
Best deal: Free admission before 8pm (and $2.75 PBRs all the damn time). It's always dark inside the Clermont, so get in during the day shift and get yourself a bargain, plus a prime seat at the bar.
Westside
When Shawty Lo passed away, part of his funeral procession included one final cruise past the entrance of this Westside lounge. Killer Mike has referred to the club as the "naked truth" in songs. Yet for its popularity among native Atlantans (particularly those living near the Hollowell exit of 285) and truck drivers stopping across the street at the Petro travel stop, Blue Flame continues to enjoy mostly underground appreciation. This is part of the atmosphere -- take it in. Oh, and its website is actually pretty solid. You can buy "Strip Club Veteran" hats and tees, a 2017 calendar (oh, it is definitely not too late), and read all sorts of stories (politics! Cars! Dancers!). None of this content would matter if the content inside the shaky building wasn't up to par, but it's nice to know it appreciates the digital age.
Best deal: Free admission on your birthday. You can also enter a drawing to win free drinks on your birthday.
241 Forsyth St SW
Ah, yes. The birthplace of twerking, the absolute go-to for Atlanta's hip-hop moguls, and dancers who are incredibly athletic, talented, and all have a music video resume. This place is high-energy and boasts unparalleled talent with a 100% chance of rain.
Best deal: Free admission on Tuesdays (and karaoke?)
6363 Peachtree Industrial Blvd
Oasis is the most creative, fun, and food-friendly club on the Northside. You can really tell these performers enjoy being naked. Be prepared for a damn good time with down-to-earth women who might actually be interested in what you're trying to talk to them about
Best deal: Free daily buffet from 4-7pm, $5.95 lunch specials, and weekly themed costume nights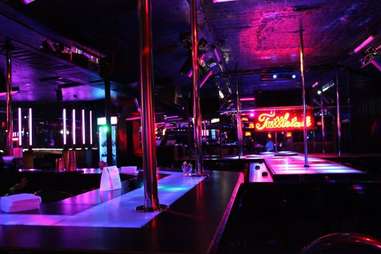 2075 Piedmont Rd N E
This cozy little spot has been located under the 85 overpass for nearly 40 years, and it has a great DJ, hardworking girls, and a real rock vibe (it was most notably mentioned in Mötley Crüe's "Girls, Girls, Girls").
Best deal: A free entrance pass that's on its website
Chamblee
The approachable attitude of Follies performers is well-known, and it's also famously aware that guests like to have choices when it comes to dancer selection. Here you'll find ladies of all races who'll sit and chat with you until you're ready for some tableside entertainment. VIP isn't cheap (expect to pay close to $150 for a half-hour), but apparently there's value in privacy. It's probably not close to where you live, but it's worth the trip any day of the week, particularly with a flat $10 dance rate.
Best deal: VIP. It's more money, but like anything else you get more value in the long term by putting up more money upfront.
West Midtown
The name rings bells outside Atlanta (especially in NYC, thanks to previously lame strip clubs and Howard Stern's strip club recommendation power), but now that it's opened off Northside we're finally able to see how a strip club franchise can hold its own on the South's pole. Part of the benefit of being a brand is that quality standards are high, so the ladies are notably beautiful. Scores also leverages its spending power to pull major talent for performances, such as 2016 Miss Nude North American Callie Jane at the grand opening in January. It also serves food, starting at noon with lunch.
Best deal: $10 Cohiba and Camacho cigars
1837 Corporate Blvd NE
Expect high-end girls, celebrities, and probably your neighbors. All the big-name touring adult stars stop in here -- almost weekly -- to acquaint you with things you've only seen on the internet so far. Get dances, autographed memorabilia, and the chance to finally meet that adult star you are definitely not following on Twitter and Instagram.
Best deal: $20 for a bucket of five beers and 10 wings
2788 E Ponce de Leon Ave
This is, unquestionably, the wildest scene in town... especially if you stay until daylight. Pin Ups is open until 8am on the weekends and it even serves breakfast at 7am. Use this information with extreme caution.
Best deal: "You Da Man Mondays" with $5 dances, $5 wings, $4 top-shelf liquor drinks, and $3 beers. And free admission before 5pm.
Sandy Springs
You'll find some of the same things you'd expect to find during the annual pre-Lent party, especially if you'd expect to see breasts. You'll also find a clean environment and great customer events such as free BBQ happy hours on certain Fridays, reasonably priced daily drink specials ($4 Sam Adams bottles on Thirsty Thursdays), and a friendly staff of girls-next-door types... if your next-door female neighbor was prone to being clad in a scant sort of way.
Best deal: Mondays give you half-off appetizers 5-7pm; and half-price VIP admission 2-7pm
Monday-Friday
Sign up here for our daily Atlanta email and be the first to get all the food/drink/fun the ATL has to offer.
Mike Jordan was briefly the editor of strip club magazine Xcitement Atlanta around 2005, so he knows what he's talking about on this subject. Tweet him your personal insights @michaelbjordan.