They say the best things in life are free, so it's safe to assume that "they" probably haven't been to a strip club lately. Either that, or they've already checked out our list of 27 great free things to do in the ATL...
Recommended Video
France's Fête des Lumières Is a Light Festival Unlike Anything You've Ever Seen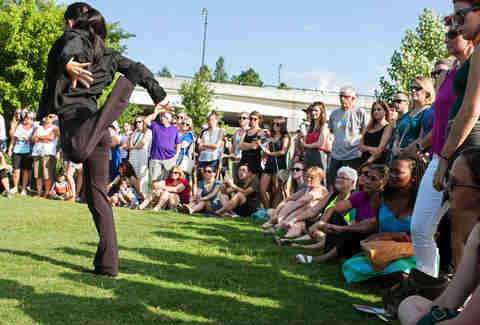 Whether you want some exercise or just to walk off all the food you ate at one of the nearby restaurants, the BeltLine (the best urban space in America) is where it's at, and it adds cool new stuff to its calendar of events regularly. 
See the biggest bird statue in the world
Yep, that's right -- Atlanta is home to the biggest bird statue in the world! Weighing 73,000 pounds and standing 41 ½ feet tall, the stainless steel statue of a falcon (appropriately) greets visitors of the Mercedes-Benz Stadium downtown. You can't get into the stadium for free, but a pic with the bird won't cost you a thing. 
With swanky stores from Christian Louboutin, Alice + Olivia, Hermès, and more, this is a prime spot to people watch and try to understand fashion. 
Take in a festival... or five
Atlanta is a festival-loving city, and not just during the summer. In addition to PSL, fall brings with it plenty of free festivals to attend, including Festival on Ponce, Little 5 Points Halloween Parade, and Chastain Park Arts Festival, to name a few.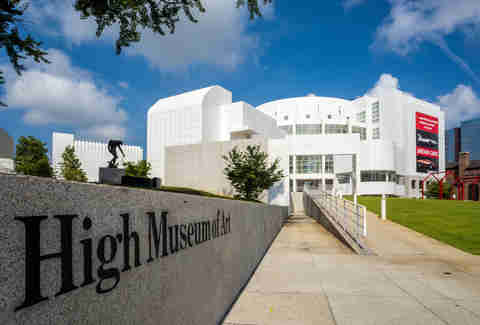 See high art for the low cost of $0
On the second Sunday of every month from 1 to 4pm, score free tickets to the High Museum of Art and expand your artistic horizons at no cost.
Catch a free flick in the park
It only happens in the summer, but hey, it's not too early to make plans. 
A funky repurposed industrial space full of interesting vendors and people, it's great for staying abreast of the best new restaurants and foods in the city, as well as for just straight-up people watching.
Atlanta's first public skatepark is so freaking cool that the legendary Tony Hawk broke it in just for you. And... well, everyone else. But still. 
Visit a bustling flea market
There are plenty across the city, but the aptly named My Favorite Place is sure to have at least one weird/cheap/random item you can't possibly live without. 
It stretches more than 61 miles, which depending on whether you are, in fact, running, walking, or biking, is between 60 and 60 ¾ miles more than you need.
Need to film a video? Take some pics? Make out? Admire graffiti and other art forms? Get here before it gets gray-washed again.
Bust out your old Dave Matthews tee and cargo shorts and hit one of the 85 disc-golf courses in the state, most of which are totally free.
Located on 46 acres of historic ravine forest, ditch modernity for a bit and enjoy its bucolic, peaceful beauty. There are also 2 miles of gorgeous walking trails to explore.
It's a legit cool look into President Carter and the First Lady's mission to make the world a better place.
Check out a book club
But not just any book club: peep Lit, a collective of people who enjoy books, booze, and great music, all at the same time.
Atlanta has a rich civil rights history, so you should take a tour of the legendary activist's birth home, the 35-acre district, and Ebenezer Baptist Church.
One of the city's top comedy clubs, Village Theatre, offers free secret shows on Saturdays at 1am!
The total transformation of the old Sears, Roebuck & Co. building has to be seen to be believed. With offices, apartments, retail shops, and restaurants aplenty, it's definitely one of the coolest things to happen to Atlanta in a hot minute.
Take an art walk
First Thursdays' ArtsWalk is a fun and free way to explore some of Atlanta's renowned art scene. And on the second Friday of every month, check out the Castleberry Hill Art Stroll, another free chance to ogle some impressive art.
Splash around (or watch others splash around) in the Fountain of Rings, which represents the '96 Games (just double check the website to make sure the fountain is on when you go), or simply walk around the historic park. There's a small but pretty waterfalls feature that's easy to miss but worth the visit.
This 6-acre park is one of Atlanta's newest green spaces and features two fountains, a very cool open-air reading room, chess courts, sculptures, a pavilion, and a custom playground.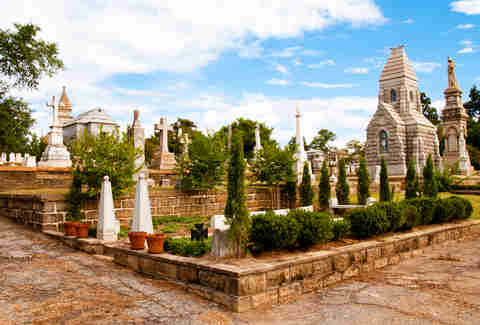 A beautiful, historic green space in its own right, it's also home to some of Atlanta's most famous deceased people.
Go on a brewery tour
Atlanta's burgeoning beer scene means there are several awesome brewery tours out there, but Wrecking Bar Brewpub has free tours each Saturday at 4:30pm.
This hidden 30-acre gem in Sandy Springs is beautiful and peaceful. Pro tip: The entrance is in a parking lot of a local office building, so it can be a little hard to find.
Ogle the mansions in Buckhead
As you drive past, slow down for a better look at how the other half lives. Or better yet, park your car and admire the estates on foot. Just don't be creepy about it.
Sign up here for our daily Atlanta email and be the first to get all the food/drink/fun the ATL has to offer.