17 Reasons Every City Should Be Jealous of Atlanta
We already told you about the 15 things you can only do in Atlanta, but those things couldn't possibly explain why every other city should be jealous of ATL, could they? Nope, but these 17 things (plus some you'll probably tell us about in the comments) totally can...
 
Our trees
Yeah, they bring pollen... a blanket of yellow powder that dyes your hair, clothes, car, and house, but they also bring beauty, air, and make for a gorgeous spring, summer, AND autumn. Plus they give us lots of options for zip-lining, and provide more shade than even Mayor Reed when someone criticizes him publicly.
 
The cost of living
Numbeo says rent is 195% higher in New York City, restaurants in LA cost you 11% more, groceries are almost 15% more expensive in Chicago, and it's just under 70% more to rent a one-bedroom apartment in the middle of Miami to get the same thing in ATL. Remind your friends who moved away for "more money" whenever they call you collect.
The long summers
After you've been here a while you almost forget that we really only have four tough months of weather. After that, you get a shifty March that seems like a tropical paradise after the harsh winter season, and from April to October you get nothing but outdoor drinking weather.
 
One word: butts
There's still a debate about why (biscuits? corn? something in the water???), but here's all the proof you need that Atlanta's the posterior capital of America.
 
Southern hip-hop
Like everybody else, hip-hop moved here and never left, and now the entire world -- no exaggeration -- takes its cues from rap music made here. Oh, and it's been that way since the '90s, in no small part thanks to Organized Noize, Outkast, Goodie Mob, and all their affiliated acts such as Run the Jewels' Killer Mike, who even Kendrick Lamar says you're sleeping on.
The airport
If you haven't heard the old joke about heaven, hell, and a connecting flight in Atlanta, here's a spoiler: basically you can get almost anywhere from the world's busiest airport, including 75 international destinations, many of which are a direct flight. Add to that how Hartsfield-Jackson's got hella food, public transportation comes right into baggage claim, plus some helpful airport hacks, and right now Southwest and Delta are duking it out over who can give us the cheapest rates to Montego Bay.
 
The Atlanta Symphony Orchestra
Whether it's your thing or not, you should know that the ASO does awesome themed shows like Star Wars and Mad Men, and has won 37 Grammy Awards.
 
Our diversity
For a Southern town, Atlanta is impressively progressive. It's a big, beautiful black/white/gay/Asian/Hispanic/Latino/Jewish/weirdo/country/metropolitan nirvana, and we couldn't escape each other if we tried (which, as evidenced by the OTP, we do sometimes).
The BeltLine
At first even Atlanta residents were like GTFOH when they said it was coming. Now, with miles of walkable trails circling through some of our best areas on the Eastside (Piedmont Park, Masquerade), a Westside expansion under construction (finally), and plans for more development, it's one of the coolest city features you can experience on foot.
 
At least one guaranteed annual snow day thanks to janky weather predictions
Meteorology in Atlanta is obviously rooted in astrology. But you don't even mind the erroneous forecast when a 100% chance of weather Armageddon nets you an extra day to "work from home."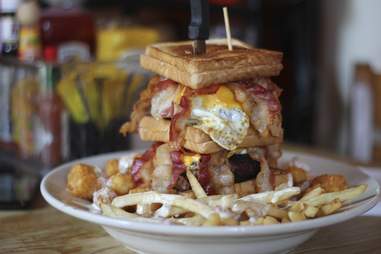 Sebastain Davis/Thrillist
The brunch life
Quit playing. The patios are great, from Midtown to John's Creek (not that you should be in John's Creek). The breakfast legacy of the South is timeless and hot like a hundred-year-old cast-iron skillet. Add your favorite bacon Bloody or booze-bubbled beverage and you've arrived at Southern Sunday Funday -- the last and best notch of the Bible Belt.
 
Our "cool"
Famous people love ATL, because they don't get hounded by broke people. Broke people love ATL because you can hang around famous people and nobody will ask for your VIP wristband. It's a town of hustlers; folks don't care if you do or don't have it made. Everybody is focused on getting theirs, and we see our neighbors strike it rich, go broke, and come right back up again all the time.
 
All our colleges
It's not only those East Cobb spray tan and Botox shops keeping the city looking so young. We have the largest number of colleges and universities in the South -- 40 places where you can earn your post-secondary degree -- including the cluster of schools in the Atlanta University Center (Spelman, Morehouse, Clark-Atlanta, etc.), and all the rest that are cool enough but weren't inspired by the movie School Daze: Emory, Georgia Tech, Georgia State, Agnes Scott, etc.
 
Atlanta style
H. Stockton, Miller Brothers, Billy Reid, and Sid and Ann Mashburn keep us classic clean, while Standard, Wish, Walter's, and Epitome keep us street-certified-sharp. We dress very, very well here, with vivid colors and broad personality. If you don't agree, you can... um, move to Seattle?
Dan Gentile/Thrillist
Chick-fil-A
Right now, in New York City, people are spazzing out -- completely losing their minds -- because a new Chick-fil-A is coming to town. They already have one, but OMG: TWO!!! Whereas here in ATL, the home of Chick-fil-A, we have 13 Dwarf Houses, and unless you're trying to go all A Beautiful Mind with a chalkboard and an endless math equation, you shouldn't even try counting the actual CFAs in the metro area.  
 
The movie business
Let's be honest -- if it weren't for the tax incentives, we'd probably not be including this one. But all it took was a few extra millions dangled like hot dogs in the faces of would-be Hollywood-bound movie makers, and now they're all about how our downtown area is perfect for films about zombies, post-apocalyptic hell, and dystopian nightmare existence. Who cares about the subject matter -- we famous!!
 
The women
Whether you're single and looking for a lady, or a hermit that just needs a friend (why not both!), women are awesome, and ATL has LOTS more than almost everywhere but NYC (we currently have 80,000 more single women than men, according to City Lab).

Sign up here for our daily Atlanta email and be the first to get all the food/drink/fun the ATL has to offer.