That movie where a lawyer gets eaten off a toilet by a T-Rex? It's now a play.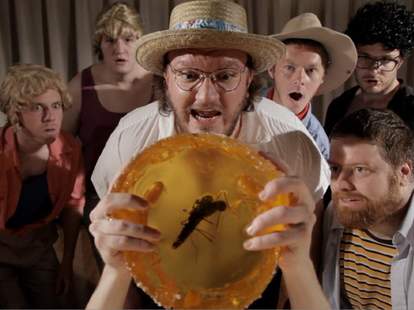 Make sure your pet raptors haven't found any weak spots in their electric fence and get to Jurassic Live, a hilarious rendition of the Newman-starring Spielberg flick from a group of SCAD-grad players, who're gonna goofily perform pretty much the whole movie in a 75min show. Welcome... to some factoids about the saurus-based madness
All of the dinos (T-Rex, raptors, stampeding gallimimus-es) are made using stuff like papier-mache and foam swim noodles wrapped in chicken wire.
Every part is played by a 20-plus-year-old male, including all women and young Timmy, who's played by a dude with a full beard.
The Goldblum character is played by a guy who "kinda looks like him", and also played the Bill Paxton character in their recent Aliens On Ice.
The show includes trailers for Congo and Mission Impossible, plus The Dark Knight Rises, so don't Bale on those previews.
When the cast switches costumes or things get "slow", they'll randomly throw in musical numbers. One you're sure to hear at this show is an adapted JP version of the mob song from Beauty and the Beast, so that should keep the crowd animated.
They've even set up some parts of the show like the JP Universal Studios ride, meaning you might have a dino pop up right next to you in the audience, as another presumably attacks you from the side while you say "clever papier-mache and foam swim noodles girl".