Ballet, the Johnny Cash way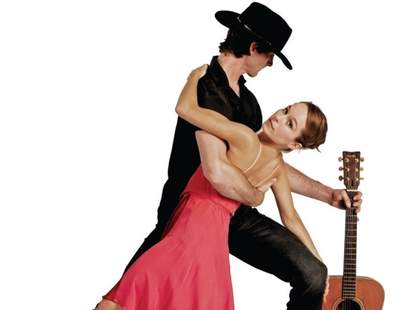 If there's one thing people immediately associate with Johnny Cash, it's rocking a crowd of inmates at Folsom Prison, but if there's another thing, it's mother-effing ballet. Helping to push the latter to the top of the list, right where it belongs: the Atlanta Ballet's The Man In Black show.
Selling tickets now for four performances starting March 23rd, Black is the show that boy named Sue always wanted to star in, taking covers the rockabilly god sang near the end of his career, then making chicks with really long, awesome legs dance to them. Said dancers somehow do their dancing stuff while wearing cowboy boots, and moves're appropriately modeled after country line, square, swing, and step, with dramatically timed kicks, lifts, stomps, flips, and stage-glides accentuating sculptural bodily gestures and groupings, and generating coordinated images that're... haha, did you actually just read that to find out more about the dancing? Busted!! Cashed versions of tunes will include The Beatles' "In My Life", NIN's "Hurt", "Further On (Up The Road)" by The Boss, and the 300yr-old English folk jam "Sam Hall", which boasts lyrics like "I'll see you all in hell; damn your eyes", exactly what Han Solo said to Greedo, before shooting him again on Hoth for good measure.
In honor of the show, Meehan's Sandy Springs is having a Johnny-themed dinner next Thurs, with The Todd Weaver Band playing Cash songs, plus five beer-paired courses including "You Wild Colorado" Guinness-braised short ribs, and "One Piece at a Time" green lipped mussels, also what those Folsom boys used to call it when some fresh fish came in.