When it's time to plan a date in Atlanta, there are a lot of sweet things to do. A lot. There are so many, in fact, that it can almost be a problem (not as big a problem as dating someone from OTP, but still), unless you've read our handy guide to the best date spots in every... err, 15 ATL 'hoods, obviously.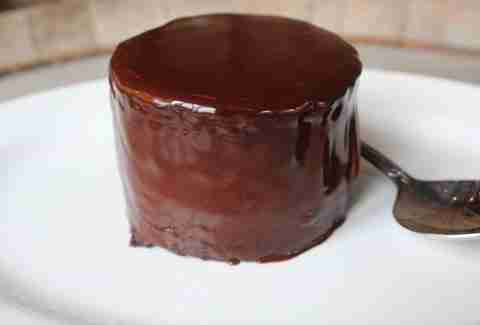 Glenwood Park
The Shed at Glenwood (address and info)
Casual yet elegant, The Shed at Glenwood not only has great ambience, it also has a daily evolving menu full of seasonal surprises, making it a great place for picky eaters and foodies alike. It also has a solid selection of libations, daily food specials (like the infamous $3 sliders on Wednesdays!), and an incredibly rich, decadent, homemade Ding Dong. Regardless of whether or not you find love, you can at least say you had a freshly made Ding Dong.

Inman Park
Victory Sandwich Bar (address and info)
Come for the upscale-feeling (yet reasonably priced) exotic sandwiches and fancy mixed drinks, stay for the spacious covered patio... and ping-pong room. This isn't your standard table for a bar, it's a monster that could be in the Olympics. If you're not into playing, you can always be a spectator. Afterwards, you can part ways or take a leisurely stroll along the Beltline.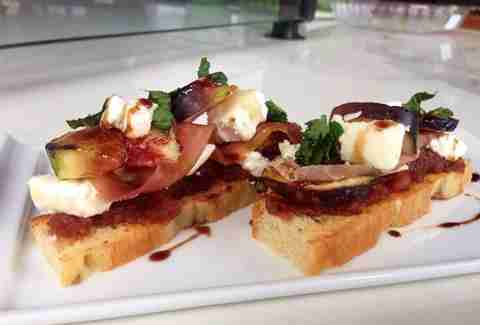 Westside
Cooks & Soldiers (address and info)
What date isn't made better with tons of gorgeous, utterly delicious small plates to nosh on, and fabulous creative cocktails? You can get them both at this Basque-inspired Westside spot. For maximum people-watching and proximity to the booze, settle into the ample seating around the main bar or the tall banquette seating with scattered high-tops. If all goes well, afterwards you can pop over to Atlantic Station, wander around under the stars, and keep the party going.

Virginia Highland
The Bookhouse Pub (address and info)
Worried you won't have anything to talk to your date about? Head here, where the strong cocktails and solid beer menu will give you the liquid courage necessary to loosen your tongue. Add to that the fact that it's decorated with books, nerdy hero paintings, and is Twin Peaks themed, and you'll feel free enough to jump into the evening (and possible burgeoning relationship?) without reservation. Oh, and the food is way above typical pub fare. Pro tip: the blue cheese chips are not to be missed.
Little Five Points
Dad's Garage (address and info)
If you can't make your date laugh with your own jokes, you can at least pay someone else to do it. Dad's Garage has been keeping folks in stitches since 1995 with improv and original scripted productions. The new venue is intimate, with a small bar/coffee house adjacent to the lobby. Inside the stage area, you have stadium seating where pretty much every seat gives you a good view of the show. Since the place is in the heart of Little Five, take your partner out for cheap drinks afterward to keep the laughs coming.

Decatur
The Iberian Pig (address and info)
Perfectly situated on beautiful Decatur Square, just walking to and from here feels fanciful and romantic. The restaurant itself is bustling and exciting without being loud or overwhelming, and the Spanish tapas are perfect for trying and sharing multiple things without getting bored, while the selection of adult beverages, including craft cocktails, beer, and wine, is nearly as big as Spain itself. The restaurant is also conveniently located within walking distance of Eddie's Attic, perfect for post-dinner live music and dancing if the pair of you just happen to hit it off over pork cheek tacos.
Midtown
Cafe Intermezzo (address and info)
This Vienna-style coffeehouse is intimate, cozy, and ambient. What's more, it has sandwiches, omelets, sweet and savory crepes -- and more than 70 pastries. In particular, the desserts are widely renowned as some of the city's best. Of course, it'll be quite some time before you're seated at this popular Midtown joint, so settle in for some small talk as you peruse the "Beverage Book," with over 50 pages featuring more than 800 beverages.

East Atlanta
Holy Taco (address and info)
If Holy Taco's delicious Mexican-meets-Peruvian-and-Colombian fusion fare featuring the likes of beef tongue and chicken heart tacos doesn't at least get you a second date, you'll know for sure your personality is the problem. For an optimum evening, grab a spot on the killer outdoor patio and enjoy what many consider the best margaritas in the city.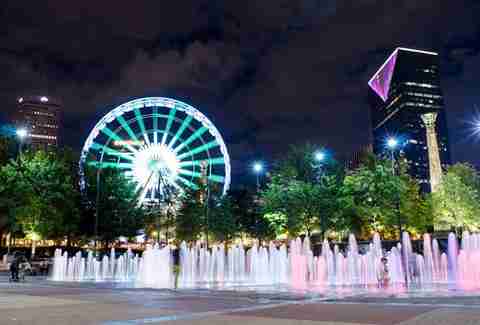 Downtown
SkyView Atlanta (address and info)
Located next to beautiful Centennial Olympic Park and full of glittery lights, you and your date can soar 200ft above ground in your own private temperature-controlled gondola. Get swept away by the heat of the moment OR the gorgeous views of the Downtown skyline atop the city's most magical Ferris wheel. Either way, it will leave you breathless.

Old Fourth Ward
Joystick Gamebar (address and info)
Restaurants are always a solid date choice, because you gotta eat. But when you pair delicious snacks (Illegal Foods started out here) with great drinks and classic arcade games, you're guaranteed to have a good time. And if you're really hitting it off, you can always wander over to the dim, cozy lounge room on the other side of the arcade and recreate Daniel LaRusso and Ali's arcade date from the original Karate Kid.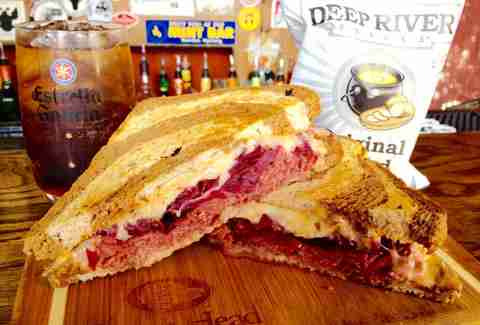 Castleberry Hill
Elliott Street Deli & Pub (address and info)
Sure you could go swanky with sushi from Bottle Rocket around the corner, but its fancy gorgeousness simply can't match the divey intimacy of this little one-of-a-kind hole in the wall. Elliott Street Deli & Pub serves up local brews, genuinely delicious sandwiches and pub food, and even has live music throughout the month. Bonus points? It hosts the Castleberry Art Stroll iron pour!

Kirkwood
Le Petit Marché (address and info)
From the Anthropologie-esque decor to the absolutely decadent food, this cozy and intimate family-run French-style bistro in Kirkwood is a lovely little spot to eat, drink, and figure out whether or not you should've swiped right. There can't be a soul alive that wouldn't love the menu: fresh cakes, French toast sandwiches, and more, freshly made using local and seasonal ingredients.
Morningside/Lenox Park
Morningside Nature Preserve (address and info)
A hidden green gem in the bustling Morningside/Lenox Park part of town, Morningside Nature Preserve is made up of two sections separated by a cool suspension bridge going over South Fork Peachtree Creek. Explore the trails, say hi to the dogs at the "dog beach" (a section beloved by dogs near the creek), and pretend to rough it in the "wild" for a while. With all that walking and fresh air, you're bound to work up an appetite. If your date's not a total bore, you can hit up local faves Rosebud or Alon's together afterwards.

Buckhead
Czar Ice Bar (address and info)
With an ice bar, shimmery glass chandeliers, mood lighting, hundreds of bottles of vodka shelved on the wall, fancy cocktails, and supremely fancy (and delicious!) sushi, Czar Ice Bar is so over the top it accomplishes the near impossible: it is actually fun for people who are genuinely impressed by that level of glitz and for those who want to clown it. Pro tip: get the vodka flight -- served in ice cubes, it's a really fun, delicious way to "drink."

Grant Park
Grant Park (address and info)
Not only is the city's oldest park beautifully sprawling and dotted with some of the tallest, most gorgeous trees in the city, it's adjacent to Zoo Atlanta and a variety of restaurants with eats ranging from pizza, seafood, pan-Asian, and more. The possibilities are endless.
Sign up here for our daily Atlanta email and be the first to get all the food/drink/fun the ATL has to offer.