Bowling and bacon waffle sundaes in Marietta
Brunswick's classes up a bowling scene ripe with dimly lit lanes, watered-down beers, and cold nachos by spareing no expense in turning a 40,000sqft space into a one-of-a-kind entertainment center and grub spot, with everything from burgers and tacos, to chicken and waffles and bacon sundaes... seriously!
This isn't the Brunswick Zone you remember. They've got 40 lanes of upgraded bowling equipment and plush seating, and a new onsite pub-fare concept, Tavern 45.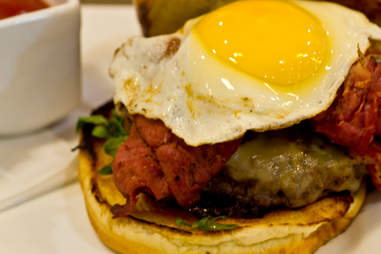 Available lane-side or in the restaurant, T45's eats include a titular burger w/ Swiss cheese, applewood-smoked pastrami & a fried egg.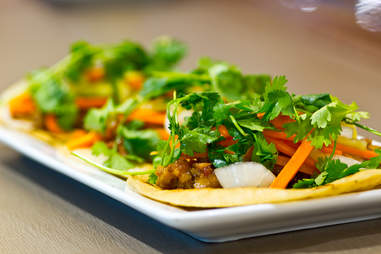 They've also got Vietnamese pork belly tacos w/ banh mi vegetables and cilantro...
... and these fried chicken & bacon waffles where the bacon is actually inside the waffle. Get the black pepper gravy if you want it savory, or the pure maple syrup if you prefer 'em the way it feels to bowl a strike: sweet.
Because it's, like, illegal, or at least seriously frowned upon, to bowl without beer, Brunswick's got flights of local faves from Monday Night Brewing, to SweetWater and Wild Heaven.
Prefer cocktails? Try (from L to R) the Bootlegger's Choice w/ Crown Royal, Cointreau & Fee Brothers Cherry Bitters; the Moonshiner w/ Midnight Moon Cranberry Moonshine, apricot brandy & Blue Moon Belgian Wheat; or the Temptation w/ American Harvest Vodka, Cointreau & Angry Orchard Hard Cider.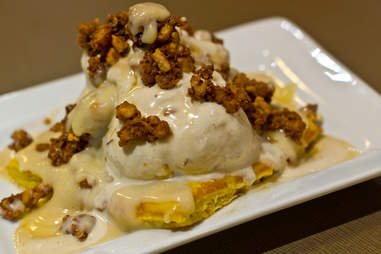 Oh, and if you strike out with all the hot girls hanging out at... um, the bowling alley(?), you can console yourself with this bacon-waffle sundae w/ maple-nut ice cream, toffee chunks & bourbon-vanilla sauce.