Recommended Video
The Most Overlooked Mediterranean Paradise in Europe
Swing at Trapeze
Trapeze Swinger Club (address and info)
Westside
This Westside club is where people go to swap stories, good times, and a lot more. It's BYOB, so bring that. But it has a dinner and breakfast buffet, towels, and plenty of "accessories" to keep you safe.

Compete at Amateur Wednesday...
Strokers (address and info)
Clarkston
... and win $500 for your skills!
Get Gospel Brunch
Lips (address and info)
Buford Highway
Chicken and waffles, eggs Benedict, and steak are all on the menu for your Sunday recovery. Oh, and there's going to be a full-blown drag show under the disco ball. If your weekend's going to be weird, you might as well go all the way.

Enjoy nature
Paradise Valley Resort & Club (address and info)
Dawsonville
This sprawling nudist resort just up 400 has a large number of permanent residents scattered in quaint cabins. As the visitor, though, you're going to want to get one of the rentable suites, grab some food, drinks, and a dip in the pool before you go out and really meet your new neighbors.

Go to the Underwear Comedy Party
The Village Theatre (address and info)
Old Fourth Ward
Some of Atlanta's funniest people want to get semi-nude and make you laugh. Guys and girls get in their skivvies and try not to make jokes about how cold it is in the Decatur St theatre.
Take a naked steam
Jeju Sauna (address and info)
Duluth
For $25, you get a whole day's worth of relaxation, steam, soaking, and you can usually catch a nap, too. You'll have to deal with a whole lot of naked folks in the gender-exclusive areas, but you'll be so loose that it will all be a big, rubbery blur.

Go to Frolicon
Hartsfield–Jackson Atlanta International Airport
This yearly comic book/fantasy/sci-fi/nudity convention is always the best thing to land at Hartsfield. You'll have a great time at the various panels, like "how to use food in 'relations'", and there will be a bunch of naked versions of your favorite superheroes roaming around, plus a no-pictures-allowed dungeon where you can practice all the techniques you learned.

Party at Studio Eris
Studio Eris (address and info)
Buckhead/Midtown
There aren't many venues that can call themselves an "intimate dungeon and event space." That's why Eris is one-of-a-BDSM-kind: You might not know what a "Saint Andrew's Cross" is, or what it feels like, but you will after you leave.
Go to the bathroom at Mezcalito's
Mezcalito's Cocina & Tequila Bar (address and info)
Grant Park
The satisfying brunch at this Grant Park cantina is accompanied by this lady, her dog, and her kitty. Before your next Bloody, take the time to marvel at the lines, colors, and the deeper meaning behind this big woman and her little canine.

Buy something lacy
Looks of Atlanta (address and info)
Morningside/Lenox Park
You might need to outfit your girl for a job at one of our finer gentlemen's establishments, or maybe it's just for a private home showing. Either way, Looks has every shape, color, and style of undergarment to kind of cover.

Play foosball
The LOFT (address and info)
Midtown
This large, lofted adult playroom right off 75 has three poles, seven private rooms, and one "glorious" cylindrical opening. There are many more amenities, but that's going to be up to you to explore.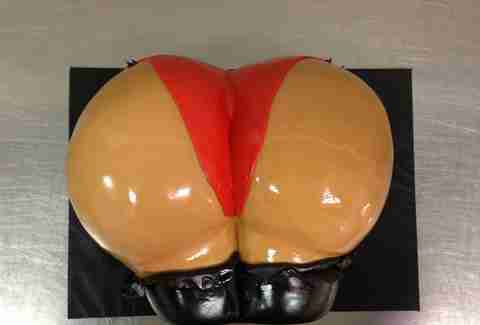 Get a dirty dessert
Naughty Cakes ATL (address and info)
Online delivery
There is real art and craft put in to each of these perverse pastries, so you'll be thoroughly impressed with the detail and texture in each part of the upstairs, downstairs, and derrieres. It's almost a shame to eat it. The cake, that is.

Rub the Midtown Vortex's wooden phallus for luck
The Vortex (address and info)
Midtown
Before you feast on one of the city's biggest meals, be sure to give this polished wooden piece a pat, or pose for a picture if you like, we're sure one of the comely bartenders, servers, or hostesses will be happy to get your good side.
Sign up here for our daily Atlanta email and be the first to get all the food/drink/fun the ATL has to offer.