Entertainment
Sponsored by

10 Places in Atlanta That Will Leave You Feeling Cultured
Sponsored by

From the outside, visitors might think Atlanta is just Southern rap and barbecue. And sure, it has those things, but locals know the unofficial capital of the south is more complex. It's just as much Outkast as it is Indigo Girls, just as much fine dining as it is comfort food. Atlanta has mixed up a whole gamut of subcultures into its own magical thing, and diving into all the city has to offer leads you down a path of endless possibilities (including a secret show in a major hotel). So here are our picks for the best places to discover the breadth of Atlanta culture.
Atlanta's bustling comedy scene offers a substantial number of options for seeing a show. And while you can always catch bigger names at the Punchline, Laughing Skull, or other theaters around town, if you're looking for an improv theater specializing in all things weird, go to Dad's Garage. Whether you want to see major improv groups on tour or a puppet show that'll never be seen again, you'll come away with a one-of-a-kind memory. Pro tip: Check out Cagematch to see two improv groups duke it out live.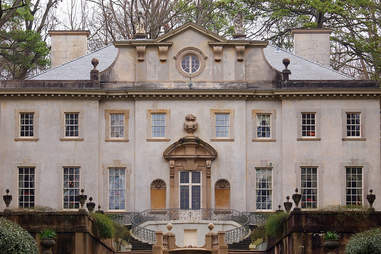 Atlanta History Center
If you're seeking a crash course in ATL's past, there's no better place to find it than at the Atlanta History Center. They've got exhibits on everything from the Civil War to a history of barbecue in the South. While the central 33-acre campus is the main attraction, other outposts like the Margaret Mitchell House, where Gone With the Wind was written, offer another unique view of the city's story.
Become a wine expert at Vino Venue
Just outside the city is a crash course in all things wine-related, where you can learn the fundamentals of vino with a group of like-minded fans. Or, if you're looking to get serious, you can take follow-up classes on cooking with wine and even get certified in a number of wine programs. Even if you're not trying to build a career as a sommelier, you can always just visit the restaurant or attend one of its tasting dinners, where a multi-course meal is tastefully matched with hand-picked wines.
Nick Ellsworth
See a secret show at a Hyatt Centric hotel
A major hotel doesn't sound like the place you'd usually see great local music. But Hyatt's hookup with secret-show organizer Sofar Sounds means guests can catch intimate shows featuring local artists -- not just at Hyatt Centric Midtown Atlanta, but at Hyatt Centric hotels all around the world. Even if you don't make it to a Sofar show, Hyatt Centric hotels are right in the middle of the action, so there's a whole city of art and adventure to explore right outside.
Not a lot of cities would list a tunnel as a cultural hub, but not every city has something like Krog Street. Graffiti isn't so much permitted here as it is encouraged, so the walls serve as an ever-changing canvas for street artists. And while it's an Insta-friendly spot to check out local artists, it's also a place for people to post about concerts, activist meetings, and other cool events happening in the area. Spend 10 minutes checking out the flyers and paintings and you're sure to find something that sparks your interest.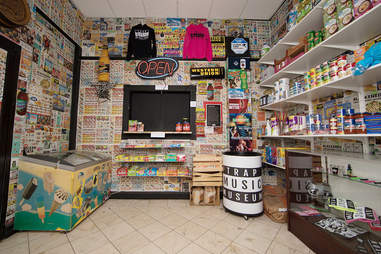 Mr. Wattson
Learn about Atlanta's favorite genre at the Trap Music Museum
Trap music isn't a genre that takes itself too seriously, but there's a lot more depth to it than you might imagine. It's best discovered at Atlanta's most unique museum, the Trap Music Museum. Opened by Atlanta rapper T.I. as an homage to the sound that shaped ATL and the culture it inspired, it's less of a static gallery than it is an interactive art exhibit. In any case, it's almost certainly the only place in America to see oil paintings of rappers and a pink Chevy Caprice in one spot.
Blues has a storied history in Atlanta (there's even a society for it), but it's often overshadowed by more recent genres when it comes to live shows. Luckily, there's the Northside Tavern, blasting live blues seven days a week. They've stayed true to their roots as a dive bar, so you can still get a cheap drink despite their growing popularity (the pool tables can get crowded, though). Be sure to check their website for lineups, jam sessions, and more.
Watch competitive writing at WRITE CLUB
Yes, competitive writing is a thing. WRITE CLUB (now broadcasting as the Tender Bloodsport podcast) is a monthly event at the Highland Ballroom where two writers get three rounds to face off on a given topic. Heckling and drinking is encouraged, so the vibe is less Proust and more Hemingway. Audience applause determines who wins, and the winner gets to donate a portion of the cover charge to the charity of their choice.
Tomas Espinoza
Eat alongside fine art at Atlas
Like many fine-dining restaurants, Atlas has earned raves for its ever-changing menu that incorporates fresh ingredients from local farms. But it's not just the food that draws customers. Atlas also features The Lewis Collection, one of the largest private collections of art in the world. Here, the walls are adorned with an impressive array of 20th-century works of art, including Picasso's "Portrait De Dora Maar." It's the one place in town to get a perfectly-cooked steak with a side of art history.
There are few better places to find inspiration than on a sprawling 12-acre campus dedicated to the arts. Callanwolde is a community conservatory that offers classes on a number of pursuits, whether you're interested in jewelry making or music production. As a nonprofit, it even awards some scholarships so everyone can get involved. Even for those not looking to learn a new craft, the center hosts a ton of events, including artist markets and "Calloween," an over-the-top artsy Halloween bash hosted in Callanwolde's Tudor Mansion.