The 5 best ways to hit the water in Atlanta
Summer's finally here and it's too hot to do anything except hit the nearest pool or lake, and presumably do a bunch of crunches and push-ups immediately prior to hitting said pool or lake. With that in mind, a certain men's lifestyle site (this one!) is making sure you don't even have to do anything to find the sweetest places to go swimming in the ATL, by power-ranking the best of 'em.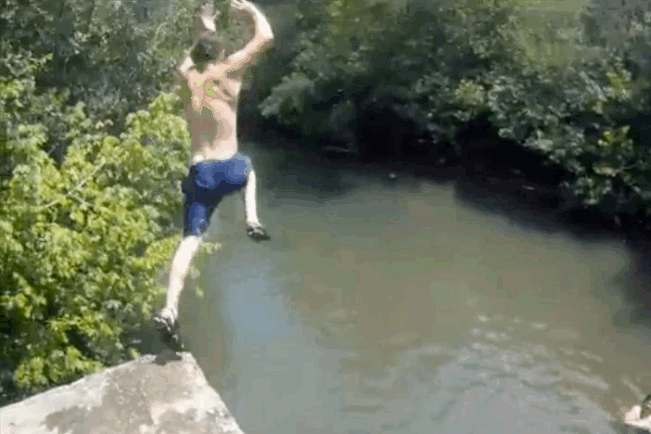 5. Thomas Creek Rockmart Swimming HoleSummer's the perfect time to try new things, like hiking/mountain biking up the Silver Comet Trail to a deep, hidden swimming hole at the Rockmart quarry near Thompson Creek. Sure, it's a pain getting there, but you can use the time it takes to pump yourself for a leap off the concrete base of an old pump station.
Piedmont Park Conservancy
4. Piedmont Park Aquatic Center
1345 Piedmont Ave NE; Midtown; 404.875.7275
This isn't the kiddie pool, it's a massive pool party in the the heart of Midtown complete with lap lanes, a shaded pool deck, and a recreational area for water sports like volleyball, water polo, or presumably, given your level of athletic ability, Marco Polo.
3. Shoot the Hooch on the Chattahoochee River
203 Azalea Dr; Roswell; 770.650.1008
What's the only thing better than a relaxing 1.5 or 3 mile ride down the Chattahoochee River with tube purveyors Shoot the Hooch? Shooting beer! Lucky for you, StH is BYOB, but you can't bring bottles or styrofoam coolers, so, even more lucky for you, we've assembled a list of 33 sweet canned beers that're totally fair game.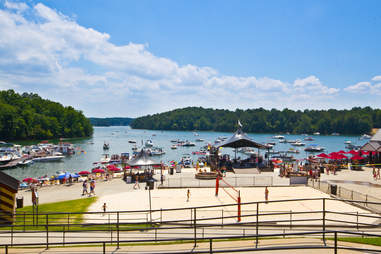 2. Lake Lanier Islands Resort
7000 Lanier Islands Pkwy; Buford; 678.318.7887
Basically the Hamptons of Georgia, this 1500-acre getaway complete with New England-inspired lake houses, fishing, and boating destinations is the perfect retreat from the hustle and bustle of city life, so get ready to launch your luxury mini-yacht and recreate the Big Pimpin' video or, if you're sans speed boat, just... um, hang out at LanierWorld water park?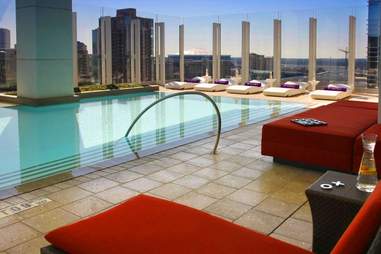 1. WETBAR, WET, & WET Deck Pools, W Downtown, W Midtown, W Buckhead
Not only do they have heavily-curated cocktail/food menus, and host sweet Sunday pool parties with some of the ATL hottest DJs, the W Atlanta's three rooftop pools in Downtown, Midtown, and Buckhead also have amazing views... of the Atlanta Skyline, not of, like, bikini clad ladies or anything. Ok fine, there are plenty of those too.