It can happen to anyone: a sibling, grandparent, or old college buddy breezes into town and totally wrecks your weekend Law & Order marathon plans. But don't worry, we've assembled a foolproof visitor's guide that'll make it easy to entertain pretty much anyone (even Jerry Orbach... if he were, you know, alive) who wants to see the best of the ATL.
THE GUEST: YOUR SISTER AND HER THREE-YEAR-OLD KID Unless you want your bachelor pad turned into a toy landfill, or your DVR filled with soap opera episodes, you'd better find ways to keep mom and her child occupied. Take 'em to

Imagine It! The Children's Museum of Atlanta, 275 Centennial Olympic Park Dr NW; Downtown; 404.659.5437 A museum dedicated to building the youthful mind… with food and games.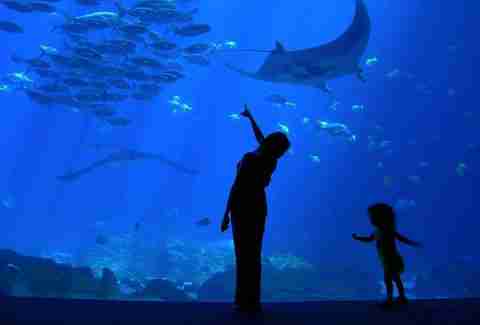 Georgia Aquarium, 225 Baker Street NW; Downtown; 404.581.4000
Kids love aquariums. Take them to the world's largest aquarium.

Atlantic Station, 1380 Atlantic Dr; Atlantic Station; 404.733.1221
Face painting for the kid. Shopping for mom. And 130 taps at Yard House for you. Perfect.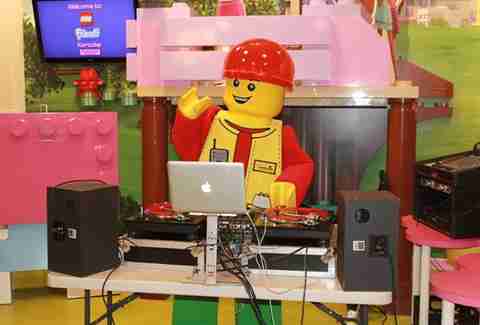 LEGOLAND Discovery Center Atlanta, 3500 Peachtree Rd; Buckhead; 404.848.9252
Intricate ATL monuments made out of building blocks, a big box of LEGOs to jump into... forget the kid, this place is awesome!

West Egg Cafe, 1100 Howell Mill Rd NW; Home Park; 404.872.3973
Kids are picky and want crazy stuff all the time. Is all-day breakfast at West Midtown brunchery West Egg crazy enough for ya?


THE GUEST: YOUR GRANDPARENTS
Your grandparents typically visit to make sure you're still breathing and/or take subtle shots at your lifestyle and career choices. Keep them occupied with these thought-provoking activities and they won't even have a chance to bring up the girlfriend that dumped you ages ago, or that you don't even have a savings acco... wait, you don't have a savings account?

Mary Mac's Tea Room, 224 Ponce de Leon Ave NE; Midtown; 404.876.1800
Mary Mac's sets the standard for Southern cuisine that doesn't involve Paula Deen. Give 'em a taste of what the South is really all about.
CNN Center, 190 Marietta St NW; Downtown; 404.827.2300
They watch Anderson Cooper's magically quaffed hair on TV every day. Take them to where the magic happens at CNN's world headquarters.

High Museum of Art, 1280 Peachtree St NE; Midtown; 404.733.4444
Give them a dose of culture (that... um, doesn't involve yelling BINGO!) at the leading art museum in the Southeast.
World of Coca-Cola, 121 Baker St NW; Midtown; 404.676.5151
Open happiness and history at this Willy Wonka-esque tribute to the Southern elixir.

The King Center, 449 Auburn Ave NE; O4W; 404.526.8900
A living memorial to civil rights icon Martin Luther King Jr. also highlights Gandhi and a collection of speeches your folks probably saw live(!).


THE GUEST: YOUR FRAT BUDDY WHO CAN'T DRINK ANYMORE FOR VARIOUS REASONS
Your college buddy swore off all liquor after "the incident" you're not allowed to talk about to anyone. Ever. So try these adult entertainment options that don't require adult beverages.

Atlanta BeltLine, 86 Pryor St SE; 404.477.3003
Lazily walk this trail while posting pics of some cool graffiti and vistas of the ATL to your Instagram.
Velocity Motorsports, 20 Duck Thurmond Rd; Dawsonville; 678.235.4737
No matter how Fast & Furious things get, remember: you're not Vin Diesel, and your boy's not Johnny Tran... no matter how badly you want to hit him.

Cheetah Lounge, 887 Spring St NW; Midtown; 404.892.3037
No ATL trip is complete without seeing the local "talent", so take him to this high-class Midtown strippery.
Game-X, 275 Baker St; Downtown; 404.525.0728
The board games of your youth are in digital format at Downtown adult arcade Game-X.

Kevin Rathbun Steak, 154 Krog St NE; O4W; 404.524.5600
Treat your friend to the best steak in his entire f*$#ing life. Seriously, it's pretty good.