The 6 things you must do in Atlanta this weekend
Atlanta It's finally chilly here, so the best way to get warm is to... well, a trip to one of Atlanta's best strip clubs, obviously. But the second best way is to down a bunch of seasonally appropriate foods and beverages at these six can't-miss event this weekend...
Thursday, November 13th: Learn how to make the perfect cup of coffee while drinking your favorite can of beer at Brew & Brew. The professionals at Taproom will keep you from being a basic coffee brewer, and they're also really beer-smart, too, so take their recommendations when it comes to what to drink at night. Continue Reading
Saturday, November 15th: Dozens upon dozens of your favorite crafters will serve you and 1,500 of your friends their sweetest beer creations at the Ponce de Leon Beer Festival. There will also be numerous specialty small-batch brews for you beer pioneers.


Saturday, November 15th: An entire roasted hog is always an occasion to celebrate, but that's not the only thing being smoked at Meehan's Blues and Que, where there will be smoked wings, brisket, plus a slew of sauces to top 'em with.
Saturday, November 15th: No beer event can get more small-batch than the 8th Annual Homebrew Hootenanny, a soul food dinner at WonderRoot that comes with gallons of the neighborhood's best brews and live music from the best up-and-comers.
Sunday, November 16th: You're always the winner when you play beer roulette, and Sprig in Decatur is honoring all those who enjoy a nip on a Sunday with a $4 blind beer-pull. Don't worry, whatever comes up from the ice-cold cooler is sure to please (and will hopefully be a pretty sweet deal, too).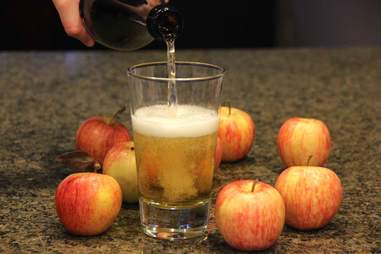 LEE BRESLOUER
Sunday, November 16th: There is much to be learned about the science of turning boring apples into delicious booze, and The Beer Growler Suwanee wants to pass that expertise onto you... and give you "homework" in the form of a 32oz growler, at the Hard Cider School.