9 Crazy ATL Secrets You Probably Didn't Know About
Like a great lover, it would take a lifetime to fully "know" Atlanta, and even most lifelong residents don't have all the goods on the A-Town and its hidden charms. Here, then, are nine of the more intriguing (and likely little-known) facts about the ATL that you should be aware of...
 
1. You've been living in "Snake Nation" this whole time
In 1848, a bunch of actual snake oil salesmen, who called themselves the "Free & Rowdy Party" and hung out in what we call "Castleberry Hill" (weak!) but they dubbed "Snake Nation" (gangster!!), defeated their arch rivals -- the "Moral Party" -- in the city's first mayoral election. When they lost the 1851 election, they did cool stuff like steal a canon from Decatur, point it at new mayor Jonathan Norcross' shop, and blast it with gravel and sand, as a warning. Ultimately they wore out their welcome and had their shanties burned down by disguised ATLiens, and now we have No Mas! Cantina.
 
2. There's an alternate dimension called "Adalanta Desert" on the westside
Part of a global parallel universe called Kcymaerxthaere (whose experience includes "books, performances, Internet, embroideries..."), Adalanta is apparently something that either happened or is happening right now. Hidden in plain sight, you'll know you found it when you see the historical marker mounted on a wall in the lower courtyard near Bacchanalia, which is much like a parallel universe itself if you're not a millionaire.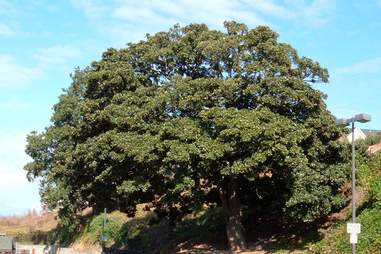 <a href="https://upload.wikimedia.org/wikipedia/commons/0/0a/Ponce_de_Leon_Park_magnolia_tree.jpg" target="_blank">Wikimedia</a>
3. Babe Ruth hit a home run into the tree behind the Ponce Whole Foods
Before it became a shopping plaza where you could spend $80 on a pound of strawberries, Ponce de Leon Park, or "ol' Poncey," was the home of the Atlanta Crackers and the Atlanta Black Crackers. For years, a huge magnolia stood in the actual field -- in deep right center -- and The Babe actually cracked a homer into its leaves during an exhibition game. Drive behind the strip mall and you'll see the tree still standing
 
4. There used to be a real/fake ski slope behind the Cumberland Home Depot
If you're able to make it back to the '70s this summer, be sure to look for a circular three-story building sitting atop a 780ft decline. This was called Vinings Ridge Ski Area, and it used watered-down AstroTurf and plastic pellets to simulate real powder, because everybody knows what happens when you put an inch of snow on the ground in ATL.
5. The are ghosts at The Masquerade
It only makes sense in a music venue with stages named after the afterlife. Some say the ghosts are victims of tuberculosis outbreaks, fires, and structural accidents, and worked there during the building's days as a mill. Current employees are said to have heard screams from the stairwells and other unexplainable noises, and that huge amplifiers are sometimes turned upside down overnight. Others swear there's a vampire living in the building. Most folks would say that's just whoever's behind the window when you pay all that money to get inside.
 
6. Samuel L. Jackson held MLK Jr.'s dad (and others) hostage at Morehouse
No, really. Sam and friends demanded curriculum and governmental changes back in '69 when he was a student. To show he wasn't playing, he and his crew kidnapped the board of trustees (including MLK Sr.) on the campus of ATL's historic all-male institution. The standoff ended peacefully and changes did come, but Sam was charged with a second-degree felony for the trouble. Still, they let him come back and graduate after a two-year suspension.
7. They'll give you free bags of money at the Federal Reserve building
Seriously. It's part of the free tour they offer to visitors, where you can learn all this history of money and how it's made, and maybe even why you never seem to have enough. Oh, did we mention the money is shredded? Oh well, at least it's real.
 
8. There is a secret, invite-only skate park underneath Phipps Plaza
You need talent or really cool friends to enter pro skateboarder Stevie Williams' subterranean setup below what used to be Niketown at Phipps. Once you're in, you'll see art installations by Greg Mike, huge murals of Tupac and Biggie over wallpapered images of Shepard Fairey's Andre the Giant stencil, and of course, a bevy of obstacles for your board. Tony Hawk, Lil Wayne, and others have shot videos there.
 
9. Chuck Norris once saved East Atlanta from Latin American guerrillas
It's kinda true! The movie Invasion U.S.A. was shot in Atlanta and Florida, and this scene right here shows Chuck going hard with the hardware right on Glenwood Ave, defending the home of many a future weirdo. Fun extra fact: they even allowed the movie production crew to blow up houses near the airport that were pegged for demolition due to runway construction. U-S-Aye!
Sign up here for our daily Atlanta email and be the first to get all the food/drink/fun the ATL has to offer.