Having one of America's busiest airports and one of the country's busiest hip-hop scenes pretty much guarantees one thing... lots of rap lyrics about flight delays? Nope! It's lots of the one thing that both lonely travelers and rappers love more than anything: strip clubs. Lucky for them (and you!), we've got a guide to the city's sweeter gentleman's establishments that's as good as anything you'll get in the VIP room. Well, almost that good.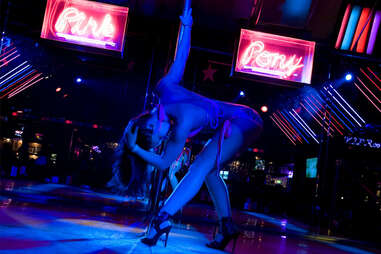 Best Buffet:Pink Pony
Brookhaven
Whether it's their free Thanksgiving buffet, wing and beer specials, or all-you-can-eat prime rib deals, Pink Pony knows what guys want: a ton of inexpensive food AND scantily clad women. Now you'll have two reasons why you'll have to wait a minute before you can stand up and walk out.
Best Club To Hang With A Rapper:Magic City
Downtown
The aforementioned rappers, from Lil' Wayne to T.I., are always making it rain at this smoke-filled mainstay, and some of 'em -- Shawty Lo, Gucci Mane, etc. -- even helpfully suggest the best night to go: Mondays.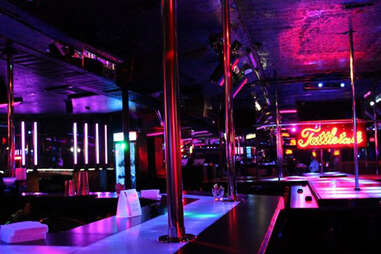 Best Place To Hear Motley Crue On Repeat:Tattletale Lounge
Piedmont
When your club gets name-checked in "Girls, Girls, Girls", you're going to ride that honor until Vince Neil stops touring, which will likely be never, so you've got plenty of time stop under the I-85 overpass and check out a pretty talented group of ladies dancing, as often as not, to guess what 80s hair metal song.
Best Restaurant:The Cheetah Lounge
Midtown
Sure, they've got dozens of the hottest (naked!), women in Atlanta, but they've also got Alluvia -- a high-end eatery where you can score things like blackened lobster w/ cheesy grits & fried okra, while helping your waitress pay for college too!
Best Club To Catch Your Gramma Making Extra Denture Money:The Clermont Lounge
Ponce
It is a legend frequented by every visiting celebrity and TV show. All because there are 65-yr-olds taking their clothes off every night to $2 PBRs. Pro tip: DON'T go on the weekends. It's full of tourists... and the dudes from Mumford & Sons, assuming they haven't been kicked out yet.
Best Spot To Learn Spanish:Oasis Goodtime Emporium
Chamblee
Their famed lunchtime special provides a real "bang" for your buck. No word yet on whether the lovely young women whispering sweet nothings into your ear -- in a variety of different languages, of course -- will provide the same thing.
Best Place To Hook Up:Main Stage
Sandy Springs
This is a male and female strip club sandwich, without all the gooey mess. On one side is a male strip club (Main Stage), on the other, female (Coronet Club). DO NOT GET THEM CONFUSED. Though, after midnight, the patrons of both spots mix, so you're almost guaranteed to land a lady all "worked-up" by the show... and then to disappoint said lady.
Where To Get Your Money's Worth:Mardi Gras
Cumberland
In true New Orleans spirit, the fine folks at Mardi Gras provide you with cheap beer, excessive nudity, and a lack of pretension that will delight even the most jaded naked person-connoisseur. As a bonus, unlike the real Mardi Gras, there are almost no idiots puking on your shoes.