The Most Famous Film & TV Landmarks in Georgia
Georgia now ranks third in the US in film and TV production -- trailing just behind LA and NYC. And this has earned its capital, Atlanta, the lauded title of "Hollywood of the South"... but with much nicer people, cheaper rent, and actually affordable, authentic food. So the next time you're thinking about a trip West to see that Hollywood sign. Stop, and remember there's a whole world of great film landmarks right in our backyard.

Chippewa Square/Savannah History Museum
From: Forrest Gump
Address: 303 Martin Luther King Jr Blvd, Savannah, GA 31401
Chippewa Square is where Tom Hank's titular character waits on a bench for a bus, telling stories of friendship, love, war, running, and ping pong. The famous bench now resides in the the Savannah History Museum (a short walk away), so make it a point to stop by both locations and harass locals with lines from the film. They love it (no they don't).
Swan House at Atlanta History Center
From: The Hunger Games: Catching Fire and Mockingjay 1 & 2
Address: 130 West Paces Ferry Rd NW, Atlanta, GA 30305
The Swan House was used as President Snow's mansion in Hunger Games: Catching Fire and Mockingjay 1 & 2. Now here are a couple interesting facts to tell your friends who love J-Law, and money: Catching Fire is the highest grossing movie that was filmed in Georgia, netting a total of $865 million worldwide. Also, in Hollywood, it's typical of movies to film outside of a house, then film interiors on a soundstage, but that's not the case here. You can actually take a tour of the house and see the rooms in which the movie was filmed.

The Beach at International Park
From:The Hunger Games: Catching Fire
Address: 2300 Highway 138 SE, Jonesboro, GA 30236
Built for the '96 Atlanta Summer Olympics, and located in Clayton County Park, this beach was the perfect spot to film the book's description of the Quarter Quell (and the Cornucopia). For $11 for adults, $9 for kids, and free for kids under 2, you can enjoy it all day. Without mutant dogs chasing you.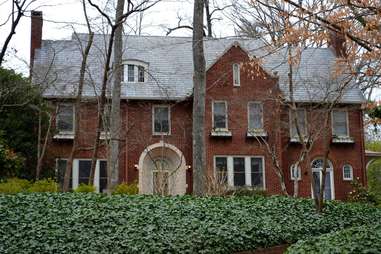 Druid Hills
From: Driving Miss Daisy
Address: 822 Lullwater Rd NE, Atlanta, GA 30307
Fans of this film will recognize this house as Jessica Tandy's home in the 1989 classic Driving Miss Daisy. You can't go in, as the house is now privately owned and on the market for a whopping $2 million, but you can drive around Druid Hills and probably take pictures of it.
Whistle Stop Cafe
From:Fried Green Tomatoes
Address: 443 McCrackin St, Juliette, GA 31046
Jessica Tandy apparently loved filming movies in Georgia. Here we find ourselves in a small town called Juliette, which was made famous because of the film Fried Green Tomatoes. They received so many visitors after the release of the movie, they decided to open up the Whistle Stop Cafe and made it mirror the one in the film. If you want to take a trip down nostalgia lane, Whistle Stop is open 11am to 4pm daily and you can get items like Southern fried chicken, country fried steak, and their popular fried green tomatoes sandwich.

Jackson Street Bridge
From:The Walking Dead
Address: 170 Jackson St NE, Atlanta, GA 30312
Jackson Street Bridge is known as the perfect place to get a beautiful shot of the Atlanta skyline. The producers of The Walking Dead must have known this, because the view was made famous in the first episode of AMC's hit show, where you see a lonely Rick Grimes on a horse, trotting down the road and noticing all of the abandoned cars on the other side. Most of that scene used CGI, but it's still an iconic shot. Try getting there early to avoid crowds before sunset.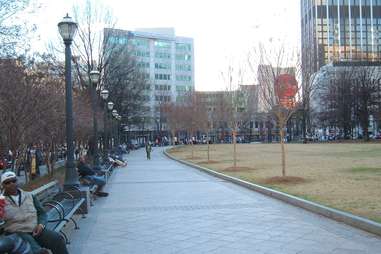 Woodruff Park
From: Anchorman 2
Address: 51 Peachtree St NE, Atlanta, GA 30301
In the heart of Downtown, Woodruff Park is where Ron Burgundy fought his epic, star-studded battle in the sequel to Anchorman (which was supposed to be set in NYC). Not only can you walk the field where so many celebrities got to fake die on camera, but you can also stand in the exact spot where Kanye West was hired to act.
Family Feud Set
From: A live taping!
Address: Atlanta Civic Center, 395 Piedmont Ave NE, Atlanta, GA 30308
Taping is currently on hiatus, but will be returning this summer. And if/when you attend a taping, you're invited to stay for two episodes which are about an hour a piece. Tickets are free and can be obtained here. Try to get tickets for shows that have priority available because you will have guaranteed admission. General admission tickets are given on a first-come, first-served basis, so you would need to arrive early if you want to get even a glimpse of Steve's amazing mustache.

Bellwood Quarry
From: National Lampoon's Vacation, The Walking Dead
Address: Westside Reservoir Park, Lois Street NW, Atlanta, GA 30318
A mile from Midtown, this astonishing 400ft quarry was mined for its granite that was used in buildings and roads. It was also where they filmed the whitewater rafting scene in Vacation and numerous scenes in The Walking Dead. The quarry was bought by the city 10 years ago, and by 2018, it will be the biggest park in ATL (we're talking 300 acres). You can catch a view of the quarry from behind a fence, but in order to get to the bottom you'd have to take the Atlanta BeltLine Tour, which is currently not stopping there due to the city working to convert it into the reservoir.
Agnes Scott College
From: Scream 2
Address: 141 E College Ave, Decatur, GA 30030
This women's liberal arts college has been featured in several films (over 25), with its most popular being Scream 2, Road Trip: Beer Pong, or Van Wilder: Freshman Year -- depending on your tastes. The first film was shot there in 1955, and it doesn't look like it'll be slowing down anytime soon. The college gets good money for use of their campus and facilities and the town's local businesses benefit from the influx of cast and crew members.
Sign up here for our daily Atlanta email and be the first to get all the food/drink/fun the ATL has to offer.
Damian Jason White is an actor and writer that enjoys the movie Lion King, a little too much. Follow him on Twitter @DamianJsonWhite and remember to stop and look at the balls of gas burning millions of miles away.