20 things Atlanta does better than any other city
The next time you find yourself stuck in traffic because everyone from OTP left for work at the same time, or because everyone from OTP is afraid of a little snow, take a moment to think about all the things there are to love about Atlanta, about all we get right, about these 20 things that Atlanta does better than anyone.
1. Sitting in traffic
Thanks in part to people like this, we sit in traffic more than almost anyone else, so lord knows we've had some practice.
2. Urban sprawl
Our traffic blows for a reason: our metro has 28 counties and 140+ cities and one meager public transit system. It's enough to drive you to drink... except some municipalities don't even allow Sunday sales.
3. Waffles
The rest of the country can thank us for the scattered, smothered, and covered eats at Waffle House every time they wake up feeling less than 100%, or every time they're headed home from doing what'll make 'em feel less than 100% when they wake up.
4. Almost winning at sports
You'd think the Braves could do better than 1-16 in the postseason, but nope. In fact we're so good at losing, we're losing the Braves themselves after next season. And we lost a hockey team. Twice!
5. Drinking Coke
We gave America... nay, the world... this bubbly concoction, but we love it so much that, in addition to putting it in everything we can, we call all other sodas "coke".
6. Fish
Just try and argue about this after getting the VIP package at the world's largest aquarium.
7. Cartoons
LA can keep Disney and Warner Bros., we've got Cartoon Network... and most importantly, Archer.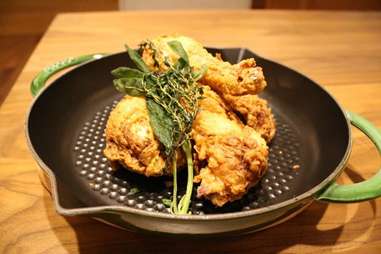 8. Soul food
We cook our vegetables in meat juice, bake everything with cheese on it, and if there's any doubt, we deep-fry it. If it's slow-cooked and bad for you, we've got it down.
9. Fried chicken
Speaking of which, we're the home of America's (and therefore the world's) best fried chicken sandwich slinger: Chick-fil-A. And some other pretty good poultry options, too.
10. Actually... all fried food
Just take a look at these fried eats and try to imagine a town that's better at slowly killing itself with deliciousness. You can't.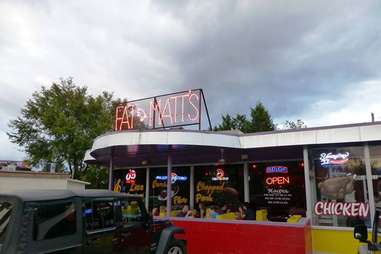 11. Shackstaurants
We have so many tiny, cramped, and almost-falling-down hole-in-the-wall restaurants turning out great road-side eats we had to come up with name for 'em.
12. Southern belles
Our local colleges keep turning them out like they're coming off the Coca-Cola bottling line. Now if only they were as easy to get your hands on.
13. Hip Hop
We didn't invent rap like New York, and we didn't make it mainstream like Los Angeles, but thanks to countless rappers from the Dirty South (shout out to the newly reunited Outkast!), ATL is now the hip hop capital of the world.
14. BBQ
While everyone else has been boring you with the Texas vs. Kansas City vs. Carolina debate, we've been busy slow-smoking pork (and everything else, but mostly pork) to perfection.
15. Strip clubs
Having one of America's busiest airports and one of the country's busiest hip hop scenes pretty much guarantees one thing... lots of rap lyrics about flight delays? Nope! Lots of strip clubs, which probably explains why we're also better than anyone else at...
16. Twerking
Sure, maybe a 'Nawlins DJ invented the term, but the Ying Yang Twins put it in popular culture... and the girls at number 15 have kept it there.
17. Comedy
35 comedy clubs, a handful of professional improv groups, the aforementioned Cartoon Network (and Adult Swim!), and a burgeoning TV/movie industry has quietly made the ATL a better place for laughs than even NYC and LA. See, if you're from either of those places, you're laughing right now!
18. Frat boys
Atlanta is at the epicenter of the SEC, and -- for good or for ill -- it's also where all the bros at that conference's fine state institutions go in search of Southern belles, and jobs (presumably) when they graduate.
19. Curing diseases
You can thank us later, everyone else in the world, 'cause the good people at a little place called the Center for Disease Control are keeping you safe. At least until...
20. Outbreaks
The Walking Dead might have been right: maybe we should rethink having the planet's largest collection of infectious diseases right off Briarcliff.