The 18 All-Time Greatest Things to Do in Atlanta
Take in iconic Atlanta sights in the (somewhat) crisp air or see the city light up for the holidays.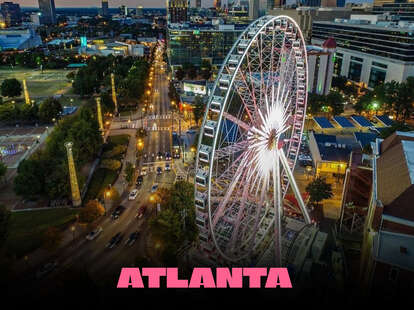 Photo courtesy of SkyView Atlanta; photo illustration by Thrillist
Photo courtesy of SkyView Atlanta; photo illustration by Thrillist
Folks have been calling Atlanta the center of the South for, well, a minute now. And it's because of so much more than our never-ending traffic, sprawling landscape, and massive airport. There's never a shortage of fun things to do in ATL, but the fall and winter seasons offer an extra-special slate of activities. Take a trip to the BeltLine and Piedmont Park to take advantage of the moderate weather or settle in for a cozy night at one of the city's best restaurants (which are currently getting more attention than ever). Once the holidays roll around, you'll be pressed to avoid the gorgeous twinkling lights that take over the city at Christmas markets and holiday light shows. So no matter how you hope to spend your time on a visit or during a well-deserved weekend in the city as a local, here are 18 bucket list-worthy things to do in Atlanta.
Things to Do Outdoors in Atlanta
Atlanta Botanical Garden
Midtown
During the fall, the Atlanta Botanical Garden has holiday-themed activities just in time for the cooler weather and Halloween season. Visitors can enjoy experiences like Scarecrows in the Garden, Fest-of-Ale, The Great Pumpkin-Carving Festival, Goblins in the Garden, and more of your fall favorites. As the winter months approach, look forward to holiday-inspired events, culminating with the ever-popular Garden Nights and Holiday Lights, which runs through the new year.
SkyView Atlanta
Downtown
Atlanta's skyline is a beautiful sight to behold. Whether you're at a rooftop bar or looking out from a highrise apartment, an unhindered view of the 404 is second-to-none—but there's one way you can take it up a notch. Towering nearly 20 stories above Centennial Park, the SkyView Ferris provides guests with breathtaking panoramic views of downtown Atlanta and the surrounding metropolitan area. It's the perfect activity for any downtown adventure, and it's paramount if you're searching for a romantic date night idea.
Piedmont Park
Midtown
Just because the temperature has dropped doesn't mean you can't enjoy the beauty of the outdoors. Piedmont Park, one of Atlanta's coolest attractions, is home to so many different sites and activities. For the health enthusiast, the park offers weekly bike and walking clubs, or you can work on your green thumb by learning with garden manager Matthew Bagshaw in interactive workshops. There is also a top-notch farmers market where you can support local farmers and small businesses every Saturday, featuring the best in produce, meat, dairy, bakers, jams, and other artisan goods. The coming months also bring events like the Holiday Wreath workshop, trivia nights, and Homeschool Days, where students will be able to celebrate the winter solstice through a series of experiments and games.
The BeltLine
Various locations
Food? Check. Fun? Check. Art? Check. Anything you may want to do, the BeltLine has you covered. This long, winding trail runs through different parts of the city and connects the culture of Atlanta in a beautiful way. You'll see people participating in picnics, playing games, jogging, and more and it still remains the place to be regardless of what time of year it is. Along the walkways, you can see some of the best works from local artists, and eat at amazing restaurants such as Bazati, Two Urban Licks, and Bully Boy, among many others. The rooftop at New Realm Brewing gives attendees the perfect view of the city, and The James Room remains one of the best places in the city to hear live music.
Zoo Atlanta
Grant Park
There's something about seeing wildlife that brings out the kid in all of us. Open since 1889, Zoo Atlanta has become a staple in the city and a great place to spend your time during the fall. One of its biggest attractions during the cooler months is the Illuminights at the Zoo: A Chinese Lantern Festival. This one-of-a-kind experience includes vistas of illuminated wildlife and awe-inspiring sights await in a nighttime wonderland celebrating the beauty and wonder of the natural world. This year brings new lanterns and scenes for lighted works of art that are more stunning than ever.
Live Music and Nightlife in Atlanta
The Fox Theatre
Midtown
The next few months are loaded with things to do at the historic Fox Theatre in Midtown. Take your pick of one of its 4,665 seats and enjoy plays like MJ The Musical, The WIZ, and The Hip Hop Nutcracker, or laugh the night away with popular comics such as Theo Von, Tina Fey, and Amy Poehler. In January, the Alvin Ailey American Dance Theater will be back for its yearly run, and you can also check out the 50th Anniversary of Kansas: Another Fork In The Road before the end of 2023.
The Battery
Cumberland
Battery Park is an epicenter of entertainment in Atlanta, to say the absolute least. Not only is it home to the Atlanta Braves' stadium, but the atmosphere is always energetic, regardless if there's a game going on or not. Punch Bowl Social and PBR offer a place to quell your competitive spirit with games while having a few drinks, while the Coca-Cola Roxy and the state-of-the-art Silverspot Cinema offer visual entertainment. Nighttime is when The Battery is at its best, because whether it's Halloween, Thanksgiving, or Christmas, the entire place is lit up to the nines and really exudes that holiday cheer.
The Roof at Ponce City Market
Old Fourth Ward
The Roof at PCM is the place to be all year 'round. Pull up throughout the week to play some fun carnival-style games at Skyline Park and sip on some specialty cocktails from 12 Cocktail Bar or 9 Mile Station while overlooking Atlanta's awe-inspiring skyline. Towards the year's end, the Rooftop Terrace will transform into a winter wonderland, where guests will be able to ice skate, have dinner in igloos, or enjoy cocktails at the Holiday Social Bar. Folks can also hit up Mixmas at 12 Cocktail Bar, the swankiest holiday bar in the tower at Ponce City Market's Roof for holiday-themed cocktail classes.
Edgewood
Old Fourth Ward
Edgewood Avenue has become a staple in Atlanta. In the past, spots like The Department Store and Sound Table were frequented by many of the city's notable musicians and entertainers. Now, it still remains a great place to grab a drink and have a great time. Establishments such as Sister Louisa's Church, Cafe Circa, and Joystick Gamebar, are uniquely themed watering holes that are can't miss options for a night out.
Sports in Atlanta
Mercedes-Benz Stadium
Downtown
The Mercedes-Benz Stadium is lively in any season, but it goes all out during football season. You can catch the Falcons play on Sundays, or enjoy some of college football's best and brightest during the week. It is the home of the SEC Championship and will host this year's Peach Bowl in December. The stadium also sees its fair share of concerts and other live events, you can also join thousands of other supporters to experience the other kind of futbol matchups as Atlanta United chases another MLS cup.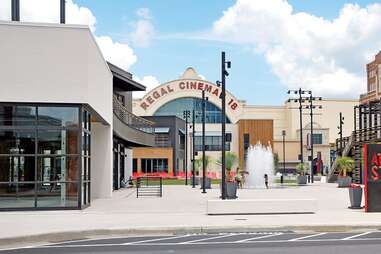 Where to Go Shopping in Atlanta
Lenox Square
Buckhead
Since 1959, this mall has been the top shopping destination in Atlanta. Located in the heart of Buckhead, Lenox Square features luxury stores like Burberry and Tiffany & Co. It is also right up the street from Shops Around Lenox, the high-end strip that integrates fashion, art, design, and food. Both of these establishments house some of the world's leading contemporary brands, independent boutiques and artisan restaurants, making for an amazing experience for anyone looking to make a top-tier purchase.
Phipps Plaza
Buckhead
Amidst the hustle and bustle of Atlanta's Buckhead neighborhood lies Phipps Plaza, one of the most popular shopping destinations in the city. It's home to more than 100 stores, a range of dining options, and two amazing lodging options: the AC Hotel Atlanta Buckhead and the NOBU Hotel. After all the shopping and eating, you can catch a movie at the 14-screen AMC Theater.
Atlantic Station
Midtown
This open-air establishment is all-purpose to say the least. With an assortment of more than 50 stores ranging from chains to smaller boutiques, cafes, restaurants, a movie theater, and more, Atlantic Station has become a go-to destination for visitors and locals alike. Outside of its many shopping options, it also hosts dozens of events and activities throughout the year, so keep an eye on the calendar.
Museums in Atlanta
The High Museum of Art
Midtown
With two of the High Museum's most popular fall exhibitions—In the City of Light: Paris, 1850–1920 and A Long Arc: Photography and the American South since 1845—still going strong, this art hub maintains its vibrancy no matter the time of day. In November, check out the Parisian Art and French Wine Night, and experience the connection of much and visual art at the establishment's monthly High Frequency Friday event. Beatrix Potter's Drawn To Nature is currently on display until the beginning of 2024, so make sure you pay Atlanta's favorite art museum a visit before fall ends.
Trap Music Museum
Westside
Definitely one of the most unique museums in the country, this Westside establishment sits in "The Bluff," an iconic section of the city. It was first presented as a museum that featured artifacts from artists like Gucci Mane, Jeezy, and 21 Savage, among others, and highlighted the history of trap music in an immersive and unique art experience open to the world. In addition to the museum, visitors can also enjoy a drink at the bar, explore its escape room, or take a photo in front of the legendary pink car from 2 Chainz's rollout for the 2017 album, Pretty Girls Like Trap Music.
Where to Eat and Drink in Atlanta
Michelin-starred restaurants in Atlanta
Various locations
Well, well, well. After decades of being heralded as one of the most exciting food cities in the country, the Michelin Guide finally made its debut in Atlanta earlier this year. The first-ever guide awarded five restaurants a one-star distinction: Hayakawa and Mujo, two top-notch omakase counters; Lazy Betty, a tasting menu spot that pays homage to the flavors of the South; Atlas, a spot for celebrations inside the St. Regis Hotel; and Bacchanalia, an upscale eatery that also took home Michelin's green star for its dedication to sustainability. For those looking for more budget-friendly picks, the guide also includes a Bib Gourmand section that highlights some of the city's best eateries.
The Varsity
Midtown
A trip to Atlanta isn't quite right if you don't stop at The Varsity. This iconic diner opened its doors in 1928, and hasn't looked back since. Customers can enjoy its nostalgic atmosphere while tasting the delicious hamburgers and hot dogs that have satisfied ATL for almost a century. The Frosted Orange milkshake remains a fan favorite, while the onion rings go with just about everything. Whenever you're yearning for a great time and even better food, head over to The Varsity and hear the classic catch phrase "what'll ya have?"
Cocktail bars and speakeasies
Various locations
Atlanta's food establishments may have been getting a lot of the glory lately, but only a rookie would overlook our famed drinking dens. From swanky standbys like The St. Regis Bar to kitschy dives like Dad's and a whole slate of hidden speakeasies, there's something for everyone in Atlanta's vast nightlife scene.
Okla Jones
is an Atlanta-based journalist who writes about food, fine arts, and entertainment. His work also appears in
ESSENCE
,
Creative Loafing Atlanta
, and
Consequence of Sound
. Follow him on Instagram at
@coolhandoak
.
Joshua Robinson is an Atlanta-based contributor for Thrillist. Follow him on Instagram and Twitter at @roshrisky.