Actually Cool Things to Do in Atlanta This Fall
You deserve some fun.
Call it a hot take if you want, but fall is arguably the best time of the year here in Atlanta. Temperatures finally start to cool down—meaning that you can actually go out without feeling like you're melting—and beyond the welcome change in the weather, Atlanta just looks downright gorgeous as the leaves gradually turn from that bright, summery green into subdued orange, red, and yellow hues. This fall season is set to be especially great, too. Several annual summertime events were rescheduled for the autumn months due to COVID-19 concerns, meaning that the next few months are set to be even more exciting than usual.
Before you rush out to enjoy everything that Atlanta has to offer this fall, however, remember that we're still in a pandemic. We know you've seen all of the Delta variant memes, so continue to be as careful as possible when exploring the city. Vaxx-up if you can, continue to wear your masks, and social distance whenever you're out. Now, with that said, here are all of the cool things that you can do in Atlanta this fall.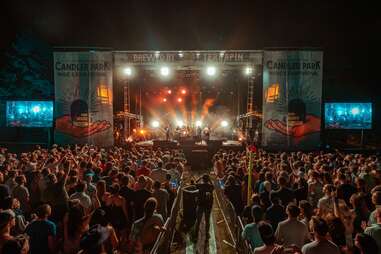 Attend as many music festivals as possible
Various locations
Last year, every major music festival in the city had to delay their star-studded events in order to keep the fans and artists safe, so now, this fall has become the official start of music festival season in Atlanta. In addition to typical September and October music festivals like Music Midtown, A3C Conference & Festival, Imagine Music Festival, and ONE Musicfest, the next few months will now feature must-attend music events like Shaky Knees Festival, Atlanta Jazz Festival, Candler Park Music Festival, Finster Fest, Tunes from the Tombs, and House in the Park.
Midtown
Getting through quarantine at the start of the pandemic was hard for all of us, but thanks to streaming services like Netflix and Hulu, there were plenty of great movies and tv shows to keep us entertained throughout it all. One of those movies that debuted last year was Hamilton, and whether or not you watched it on Disney+, now is your opportunity to see the critically acclaimed musical live at the Fox Theatre. From now until September 26, there will be multiple showings of the genre-bending production, so make sure you see Hamilton in Atlanta before it leaves this fall.
Various Locations
If sampling beer, wine, and cocktails with friends is one of your favorite pastimes, then you'll be pleased to know that following the Atlanta Summer Beer Festival this June, there are still several drinking festivals in store for this fall. In October, brunch fanatics will rejoice because both the Atlanta Mimosa Festival and the Atlanta Brunch Festival will take place just weeks apart, at the Historic Fourth Ward Skate Park and Atlantic Station, respectively. And if you're a fan of bourbon and whiskey, then you can look forward to the Atlanta Bourbon Festival in November.
Hampton
Every fall, the Georgia State Fair sets up shop at the Atlanta Motor Speedway, and although it was technically open last year as well, a lot of people understandably sat it out due to health and safety concerns. Now, the fair is back from October 1 to October 10, meaning that Atlantans have ten days in which they can enjoy fair food like turkey legs and funnel cake, get on some carnival-style rides, and witness some spectacular live shows.
Tap into the city's neighborhood festivities.
Various Locations
From East Atlanta to Buckhead, each neighborhood in Atlanta has its own unique flavor as well as its own tight-knit community, and over the next few months, many of them will be hosting various fall festivals. In October, Decatur is bringing back the renowned annual AJC Decatur Book Festival. Candler Park will be hosting its two-day Fall Fest, and the Little 5 Points Halloween Festival & Parade will return this year as well. In November, Cabbagetown will be welcoming local chilli lovers back to the Chomp & Stomp, and Chastain Park will also be hosting its annual Fall Arts Festival.
Stone Mountain
This year marks the 25th anniversary of Atlanta's favorite haunted house: NETHERWORLD. To celebrate 25 Seasons of Screams, the horrifying, self-guided attraction is debuting two brand new haunts starting on September 24. This spooky season, visitors will be able to get into the Halloween spirit by braving RISE OF THE NETHERSPAWN—a haunt based on a primordial monster known as The Ganoga who summons twin entities FEAR and TERROR and leads an invasion of hideous creatures—and RETURN TO PLANET X—a 3D adventure that follows a mutagenic experiment gone awry. After getting scared out of your mind during NETHERWORLD's newest haunts, you can keep the spooky season vibes going by checking out the attraction's escape rooms and outdoor laser tag arena.
Austell
Six Flags Fright Fest returns to Georgia's favorite amusement park this September and October, and it's definitely gearing up to be one of the best Halloween-themed moves this fall. In contrast to the park's minimized Fright Fest in 2020, this year's spooktacular celebration will be back in its full glory—complete with family-friendly shows, thrilling rides, and haunted attractions. Also, it's worth noting that Six Flags' monthly membership program has made visiting the park more cost-efficient than ever, so be sure to look into it if you're going to be hitting up Six Flags Over Georgia more than once this fall.
Midtown
Black Lives Matter just as much in 2021 as they did in 2020, and to show your continued support for the movement, you can participate in the inaugural BLM 5K Atlanta Festival this November. Organized by Slutty Vegan CEO Pinky Cole's The Pinky Cole Foundation, the event will take place at Piedmont Park from Thursday, November 18, to Saturday, November 20, with the final day culminating in the titular 5K race. Those interested in running, walking, or jogging, can participate in person or virtually, and for those who are more interested in the festival, there will be live music, food trucks, vendors, special guests, and motivational speeches from Black community leaders.
Midtown
Earlier this year, the Atlanta Botanical Garden completely transformed for its stunning dual exhibitions SUPERnatural: Aerial Art in Motion, Glass Art in Bloom. Luckily, SUPERnatural doesn't conclude until October 31, so you'll still have an opportunity to check it out for yourself this fall. Whether you prefer to slide through for a sunny day in the garden or for a breezy cocktail-fueled evening shindig, you'll be able to witness "Dream Flora" (a custom-created skynet billowing in the air above Storza Woods) and over 150 over-scale glass floral sculptures placed throughout the garden.
West Midtown
When the nights get chilly later this fall, warm up with craft cocktails and heated mini-golf competitions at Puttshack. The new Atlanta attraction is an upscale, tech-infused mini-golf hangout where you can eat, drink, and compete with friends for putt-putt bragging rights. Puttshack is a 21+ affair every day from 8 pm to midnight (and 1 am on the weekends), so don't hesitate to squeeze in some late-night practice sessions. By the end of the fall, you'll (hopefully) be a mini-golf champion.
Cobb
Atlanta has a reputation for having some of the most difficult and well-produced escape rooms in the South, and one of the most exciting ones that you can experience is The Escape Game at The Battery. With captivating games ranging from breaking out of prison to executing a museum heist, The Escape Game boasts several challenges that will test your wits and deductive reasoning skills. The entertaining Battery attraction recently debuted its latest escape game—an underwater challenge set inside of a submarine. Players are tasked with completing "forbidden research" in the submerged laboratory, and while going through the hour-long game, they will experience boundary-pushing sound and lighting design, interactive video, and immersive technology. Give it a shot this fall, and if all else fails, you'll at least get a cool submarine photo out of the experience.
Old Fourth Ward
As we've already mentioned, Atlanta is just breathtaking during the autumn months, and there's no better place to admire the city's fall beauty than from atop Ponce City Market. The Roof at Ponce City Market offers an inimitable view of the city, and with themed seasonal drinks available, it's practically calling your name. In addition to the fact that it's just flat-out cool that you can hang out at such a high altitude, you can play games at Skyline Park, learn how to make cocktails at 12 Cocktail Club, and grab some exceptional food from Nine Mile Station. The Roof is where it's at, so don't hesitate to visit the Ponce City Market hangout this fall.
Cobb
One of the coolest pandemic-inspired innovations has been the private screening specials offered by local theatres like Midtown Art Cinema, and following the grand opening of Silverspot Cinema earlier this summer, there's no better way to get familiar with Atlanta's newest movie theatre. Three-hour theatre rentals are available at Silverspot Cinema, and renters have the option to watch a flick from their preferred streaming app or Silverspot's current lineup. This fall, must-see movies like Shang-Chi and the Legend of the Ten Rings, No Time To Die, Venom: Let There Be Carnage, and Top Gun: Maverick are all hitting the big screen, so book a private screening at Silverspot Cinema for a dynamic, one-of-a-kind viewing experience.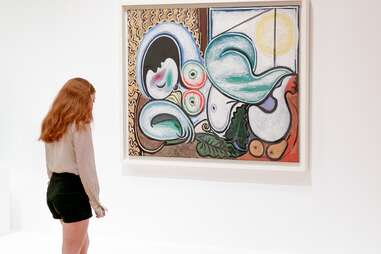 Midtown
Over the next handful of months, there are a lot of amazing exhibits setting up shop at the High Museum of Art, including Really Free: The Radical Art of Nellie Mae Rowe, Picturing the South: 25 Years, and much more. To ensure that you're able to thoroughly experience all of them, now is the best time to purchase a Museum Pass for the High. For $4 a month, you'll have access to unlimited daytime admission to the Museum's collection and most special exhibitions, and by the time fall is over, you'll be a high art aficionado. And of course, you can't forget about Second Sundays, when admission to the High is absolutely free.
Old Fourth Ward
For an arts experience that is sure to get your creative juices flowing this fall, check out the Splatter Studio at Ponce City Market. The innovative space sidesteps typical painting events and puts visitors into space where anything—like literally getting splattered with paint—is possible. Each session at Splatter is one hour long with enough space for two to eight people to participate, and each participant gets a disposable poncho, disposable shoe covers, sterilized gloves and goggles, a 16 x 20-inch canvas, and access to splatter paint. Go unleash your creativity all season long.
Stone Mountain
There's no better way to end a breezy autumn night than by sitting around a campfire with your closest friends. This fall, reconnect with nature by going on an overnight trip to Stone Mountain Park's campgrounds. Stone Mountain Park offers a variety of nice camping experiences, so whether you want to go the traditional tent on the ground route or rent a lakeside Yurt, you'll have plenty of options. And if you think it'll be hard to convince your friends, just promise them that you'll supply the s'mores.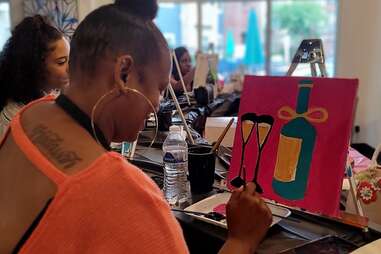 Online
If you'd much rather marvel at Georgia's fall beauty from the indoors, then a private at-home paint-n-sip is exactly what you need. The Paint Factory is a great Black- and locally-owned mobile paint-n-sip company that regularly hosts themed in-person events, and it also offers private at-home paint-n-sips for those looking for a more intimate art experience. That way, you can still have fun while you social distance this fall.
Various locations
Atlanta and its surrounding areas have no shortage of visually striking outdoor recreation areas, and now that the summer's 80+-degree days are slowly fading away, now is the perfect time to truly appreciate Georgia's beautiful outdoors. This fall, take a visit to all of the visually striking hiking trails, natural landmarks, and outdoor reserves scattered across Georgia. You'll be able to go on extended hikes and take in the overall beauty of autumn in Atlanta—all without worrying about heat exhaustion. Plus, you'll be able to continue social distancing while getting some fresh air.