The more changes that come to Atlanta, the more we need to take a second to remind ourselves how awesome our city already is. We don't blame you for looking forward to the latest crop of restaurants, but there's a buffet of things out there right now that show you the best of Georgia's capital city -- places to eat, drink, play, and stay until you've had your fill of whatever it was that brought you out of the house. Get out there and enjoy Atlanta for all its worth.
Take a tour of Atlanta with us
In this episode of Gatekeepers, our go-to ATL expert shows Thrillist what Magic City's all about. We roll around iconic skating rink Cascade, eat a truly insane amount at Eats, get educated at the Trap Museum, take in the views atop Ponce City Market, finish it all off with a nightcap at Parlor, and more.
Drink local beer on the BeltLine
$-$$
Old Fourth Ward, Midtown, West End
We're getting more choices for beer-sipping on our incomplete intown pedestrian corridor all the time, and one day when we finally legalize outdoor alcohol consumption it will be amazing. Until then, you can always hangout inside or on the patios of Eastside Trail breweries like New Realm Brewing in O4W, and Orpheus near Piedmont Park. For newer brewers, hit the Southwest side of town at Lee + White, where Monday Night Brewing anchored the development with its Garage facility, before being very recently joined by the second location of Wild Heaven Beer, and then Best End Brewing, both of which offer food and hella space.
Be in a movie
Free
Everywhere
Those tax incentives Georgia created for the film industry must be really nice, because you can't walk down the street anymore without seeing a production crew shooting something. "Y'allywood" is booming, and that means you have a shot at fame and fortune, or at least a check to help with gas, craft services, and wrap party invites. You don't even have to go hunting and dealing with bogus agencies; the Georgia Department of Economic Development has a list of credible casting companies that hire extras as well as crew members if that's your thing.
$
West Midtown
That storied little building sitting just south of White Provisions -- among Howell Mill's cute and trendy shops and eateries -- is pretty much the holy grail of the Atlanta blues music. Local bluesman Mudcat still plays and books outside bands, the bartender still breathes fire, and the pool table still has all sorts of questionable stains. It gets no grittier. (RIP to owner Ellyn Webb; she'd be proud to know the show goes on).
Playing tour guide around Atlanta requires a versatile ride. The 2020 Acura ILX can handle a trip out of town just as well as an excursion to a haunted hotel.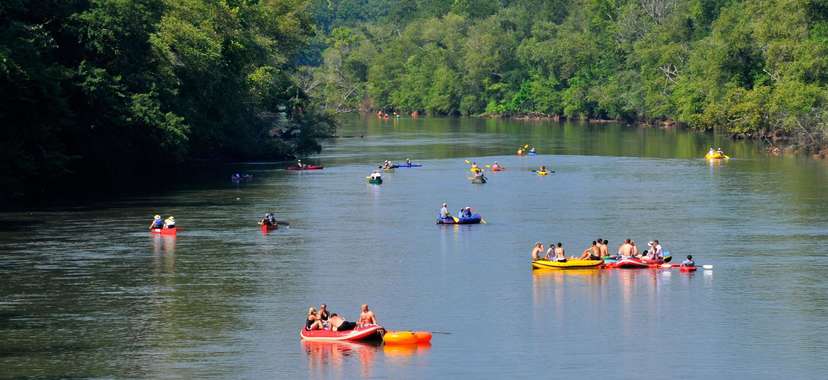 Free
Various
Atlanta's original Hoochee-Mama is the river that runs through it, and while there are definitely a few parts of the river you'd probably want to avoid, there are places above and below Metro Atlanta with great views, hiking trails, and hangout capabilities, whether you're in Newnan at Chattahoochee Bend State Park, or Riverside Park up in Roswell.
Visit Atlanta's LBGTQA epicenter
Free
Midtown
It doesn't even matter if you aren't in need of a cup of Caribou Coffee, a Flying Biscuit, or feel like eating at either TEN or 10th & Piedmont. There's something worth visiting just to say you walked across at least one of the streets at the intersection of Piedmont Avenue and 10th Street, where Outwrite, an iconic gay bookstore, once stood. If you get lost, just ask for the rainbow crosswalk.
Free
Decatur Square
Since you can walk right out of the MARTA train station and right into some of the area's most fun restaurants and bars (Leon's Full Service, Brick Store Pub, The White Bull, Kimball House, The Iberian Pig), it's a great place to be if you're unsure of what you should be doing on a day around Atlanta and don't feel like thinking.
Eat Atlanta barbecue
$-$$
Fox Bros. makes amazing barbecue. So does Daddy Dz, DAS BBQ, Heirloom Market, and of course B's Cracklin', which closed due to fire, but has a new location at the just-opened BeltLine Kroger. And we just got a new contender: Wood's Chapel, from the crew behind The General Muir. We may not be Memphis, Austin, St. Louis, a city in the Carolinas or even Decatur, Alabama -- places that have created a distinct, nationally recognized style of barbecue. But our locally famous barbecue joints have brought Atlanta to the point where people are going to ask if you've had B's brisket when you were in town, or Wood's Chapel's smoked salmon, or anything at Fox Bros. This is, after all, the capital of the South, so we love everybody's barbecue. Get out and start eating some.
Free
Though its namesake didn't live to see it, Bobby Jones Golf Course is now renovated and better than ever on the westside of Buckhead. The 130-acre course is 1 year old, $23 million nicer, and open to the public (unlike East Lake), and was redesigned with a reversible nine-hole setup that changes direction every other day. You can see the city skyline from the grounds, and it's a quick ride back towards Midtown and everything golfers do after they've spent a day hacking away at an expensive patch of grass in prime real estate.
Free
One way to find out what Atlanta's artistic and activist community is doing at any given time is to head east on Dekalb Avenue and check out the graffiti-laced tunnel at the Krog intersection. You'll see always-changing street art that includes social messages, as well as event flyers in mural format. And it's all okay with the city, so nobody gets ticketed or harassed for putting a little paint on it for whatever reason.
Hit up the Downtown landmarks
$-$$
Just because you're staying Downtown doesn't mean you're stuck in a dead zone. The area around Five Points, both above Underground Atlanta and beyond, is getting much cooler these days, especially if you're close to Centennial Park. There's the Center for Civil and Human Rights, the Georgia Aquarium, Der Biergarten, some great pizza spots (like Amalfi and Max's Coal Oven), and you're not that far from the home venues of three of ATL's four major league sports teams.
$-$$
Poncey Highland
It has survived longer than a hell of a lot of beloved ATL entertainment establishments, and that's because Atlanta still loves hip-hop and dancing. It's underground, always hot as hell when it fills up, and is not the right place for a craft cocktail. But that takes nothing away from the fantastic night of ass-shaking you'll experience thanks to some of our city's best DJs.
$$-$$$
Cumberland
Look, The Battery was designed so you can be on the perimeter of supporting The Braves without actually going to the game, and for some Atlantans that's a desirable scenario. But it only works because The Battery has kept things consistent with great food and drink tenants, from Antico to Garden & Gun Club, Punch Bowl Social, C. Ellet Steakhouse, and H&F Burger. True, that traffic situation can be tricky at certain times of day, but once you're there you can enjoy great food and drinks whether you're inside SunTrust Park or just on the edge of it.
$-$$$
Hotel Clermont
The Georgian Terrace is obviously historic, but now that Atlanta's most famous hotel is back, it's hard to deny the temptation to stay in a room just above one of America's most famous strip clubs (and Atlanta's first), just to see for yourself if there are any ghosts roaming the newly restored building's halls. The best part? Rooms aren't even that expensive; you can get a night in a king bed for $179, pre-tax. But with its Astroturfed rooftop, French brasserie Tiny Lou's and lobby bar with late-night eats, you'll never want to leave -- at least until you see something in the Clermont Lounge that scares you worse than any ghost story you hear about the hotel's rowdier days.
Free
The King Center
Not only does it include Dr. King's birth home and the final resting place of he and Coretta Scott King, but you can peruse The King Center's library and archives, which has all sorts of interviews, papers and historical artifacts relating to the Atlanta native's inspiring work for humanity.
$
The Jimmy Carter Presidential Library and Museum
Admit it: Whether it's you visiting Atlanta or someone else that's staying with you, you probably haven't been to visit in a while or ever. That's a shame -- the man was POTUS and continues to do great things for the world! Go get a piece of that peanut history!
Eat some authentic soul food
$-$$
Various
You've gotta visit The Busy Bee Cafe, period. And Mary Mac's is also not to be missed. But there are a lot of other extremely worthy soul food restaurants in Atlanta, from old-school neighborhood favorites like The Beautiful, to newer spots like Kandi Burruss' Old Lady Gang, and definitely chef Deborah VanTrece's spot Twisted Soul. Todd Richards has you covered at Richard's Southern Fried, and… well, that should keep you busy enough for now.
Go to one of our many great festivals
$-$$$
Atlanta
Whether you like ice cream, African-American films, BBQ, blues and bluegrass music, or finding shade from this damned ATL heat, there is certainly a festival for you and your friends. And it doesn't end in fall either -- from Pride to Imagine Music Festival, the outdoor party never stops.
$
Dark Horse Tavern
Your friends will curse you if you let them come to Atlanta, eat a bunch of delicious food, have fantastic drinks, enjoy all the greatness of this city and everything, but forget to take them to 10 High Club for our long-running heavy metal karaoke event. The TL;DR is this: heavy metal karaoke, but with a live band. Get there early. And get some out-of-town friends who are more appreciative too, maybe.
Get a lapdance
$-$$$$
Various
Look, it's no secret Atlanta has THE best strip clubs in the world -- Magic City, Follies, Cheetah, Blue Flame, Pink Pony, Onyx… you have lots of choices (even Clermont Lounge!). And you know you've seen and heard the videos and songs, and felt the only thing missing was you with a stack of one dollar bills shooting from your hand automatically. So yes, you can still enjoy Atlanta's world-famous strip clubs in class and style. No cameras though. Not now, not ever.
$$
Everybody is doing tiki these days. But one famous chain of tiki bars that made its name in the late 1930s as the "Home of the Original Mai Tai®" only has a few locations left in the U.S.: the San Jose airport, Emeryville on the San Francisco bay, and right here in Atlanta at the downtown Hilton. Surrounded by bamboo and decked with island-inspired tiki figures and other artifacts from around the globe (even paintings made by founder Vic Bergeron), it's a liquid escape to the mid-century tropics, and we don't have any real beaches within a few hours but we can certainly drink like we do.

Visit the Poncey magnolia tree
Free
Before the building was built that became Sears, Roebuck & Co and then Ponce City Market, there was an amusement park. And across the street, there was a baseball stadium called Ponce de Leon Park, which was briefly renamed Spiller Park (like the coffee shop inside PCM today), but usually called "Poncey." The park was demolished, a shopping center was built, it was demolished, and another shopping center was built, which is there today. But one thing was left alone: a big, beautiful magnolia tree, which still stands today in the back of the parking lot across from Home Depot. Go there, take a picture with a piece of living Atlanta history, and feel the city's enduring shade. 
$-$$
When T.I. first opened the Trap Music Museum, it was intended as a marketing piece to coincide with the release of his most recent 10th album, "Dime Trap." Since then, it has become a straight-up lounge, where you can see paintings and exhibits that are constantly being added and tweaked (a Kodak Black area was replaced with Nipsey Hussle), and yes, there's now a $10 cover fee, because thousands of visitors come by every weekend. There's also the Escape the Trap activity, where you have to try to get out of a trap house before police arrive and arrest you for something you didn't do. And the most recent addition is the Sip & Trap weekly "Trappy Hour," which is every Thursday from 4-10pm, and gets you a glass of bubbles, two-for-one drink pricing and a private tour for $20.
Sign up here for our daily Atlanta email and be the first to get all the food/drink/fun the ATL has to offer.