You're gonna die. Not today (hopefully), but yeah, the Reaper has your name on his bucket list. And while you should definitely do responsible things, like write a living will or whatever, you should also develop an ATL bucket list of your own... or just let us do it for you. So without further ado, here're 41 things to do in Atlanta before you die:
1. Shop at Murder Kroger
Buy a bell pepper at least. Come see how your folks are living on the real side of one of Atlanta's weirdest and most historic streets. Wear Teflon just in case.

2. Go roller skating at Cascade Fun Center
They shot ATL there! Also, every year they have events that bring all sorts of folks out to slide around on that slick, shiny floor. Word of advice: you might bust your ass trying that old reverse-in-motion trick you used to do in middle school, so don't get too "turnt."

3. Find and visit the Land Trust
Although it's pretty easy to locate online, part of the fun is accidentally discovering this completely hidden commune near Candler Park and Lake Claire. The other part include an emu named Big Lou who lives on the property and the monthly "drum circle" performances.
4. Visit MLK's home
Damn you if you don't stop by and at least see the porch swing in front of the Auburn Ave house where the greatest Civil Rights icon the world has ever known was born. Damn you in the most nonviolent way possible ("darn you"?).

5. Walk the entire BeltLine
They have tours, and you can break it into sections, but why not spend a day going all the way? Or if you're like us, maybe make a week of it.

6. Eat wings at Dugan's
They're some of the city's best and most consistent, with solid fries and low prices on the pours.

7. See an Alvin Ailey show at The Fox Theatre
You have to pay homage to one of Atlanta's greatest performance venues, and to better way to do that than buying a ticket to see one of the world's most famous dance troupes. It's a great date night, and there're people in tights. Also, you know, the culture and thangs.
8. Take the Coca-Cola Tour
According to the FDA, we're all going to die of diabetes anyway, so you might as well celebrate Atlanta's thick, syrupy blood by going straight to the heart that feeds the city's financial arteries. For extra fun, ask your tour guide what they do in Rahway, New Jersey.

9. Visit the College Football Hall of Fame
It's time to walk inside that half-built football on Marietta St erected in honor of young athletes who spent spend their college years earning major cheddar for "educational" institutions, and then pray to Joe Namath that your future son or daughter can be the next Cam Newton.

10. Hang in Southwest Atlanta
You can't pretend to know your ITP if you don't know what's in the area (Cascade Springs Nature Preserve, prominent soul food restaurants, golf courses, high schools that produced some of the music industry's biggest names, etc.) or what SWATS stands for (Southwest Atlanta Too Strong). As Dungeon Family rapper Cool Breeze once said, "These grounds are holeeeey!" Get out from under your elitist nose and go check it out.
11. Eat a Holeman & Finch cheeseburger
It used to be hard to do, unless you got to the bar in time to hear the 10pm bullhorn and order one of only 24 made for the night. But thanks to popular demand, they started making 72 for weekend brunch, and now they've added it to the regular menu. Give that thing your teeth's most jagged edges before you croak.

12. Drink beers from every local brewery
This is still actually doable since Atlanta's got a lot more craft beer than it did five years ago, but it isn't nearly close to its Northeast neighbor Asheville in terms of catalog. If you give it the whole seven days you might be able to knock out the entire list simply by hitting all the Taco Macs in town.

13. Take a selfie at Headland & Delowe
If hearing Andre 3000's opening bars to "Elevators (Me & You)" doesn't make you love East Point, you suck. Go there. Take a picture of yourself at the intersection. Leave before you start looking like a mark.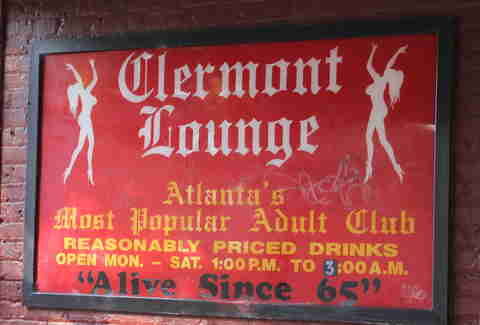 14. Have Blondie crush beer cans for you
It's crazy. It's weird. It'll make you feel alive. And like Blondie, it'll never get old.

15. See a famous rapper at a local restaurant and let it be no big deal
Waka Flocka Flame is known to have sit-down business meetings at Whole Foods. As Slick Rick would say, this type of s*it happens every day.

16. Order a personalized shank from The Goat Farm
It's not just cool that David Sturgis lives and works from a space surrounded by beautiful, super-old bricks, which once encapsulated a 19th century factory, but he also makes blades, and as a chef whose credentials include working with some of Georgia's best culinary minds, you know he can make you something that you'll be forever afraid to use. The slice is right.
17. Go to Flux Night
It's once a year, and it's crazy. There are a lot of light-based art installations, plus filthy hipsters, old weirdos, and actual cool people who are all drinking out in the open in Castleberry Hill until the morning's wee hours.

18. Hear live blues at Northside Tavern or Blind Willie's
The air is thick with cigarette smoke, and the crowds aren't exactly the friendliest to newcomers, but that's what you have to deal with to appreciate some of the best tell-it-like-it-is music you'll ever hear in Atlanta.

19. Leave a StoryCorps recording at the Atlanta History Center
Yes, you too could make Steve Inskeep cry in front of the nation on NPR's Morning Edition.
20. Visit Mr. Peanut's Oval Office
The Carter Center's (insert Lil' Wayne joke) presidential library sits right between Midtown and the Old 4th Ward. Hit the presidential library to see a replica of the seat of power.

21. Shoot the damn Hooch
No, ATL doesn't have a place where you can re-enact the tragic scene where Tom Hanks' canine friend took the bullet for him. It does however have a river running through it, and that river lends itself particularly well to canoes, kayaks, tubes, and riverboats.

22. Support an Atlanta sports team
Everybody loves underdogs, until they move to Atlanta. Pick one of ours and show unconditional love (on the condition they start showing up on the court/field/diamond).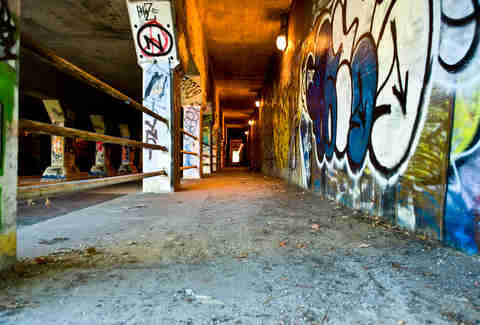 23. Write your name on Krog Tunnel
It's not even illegal (the company that owns the tunnel allows it to be tagged), so don't run from the police, and pay no attention to any hipster curators who try checking your street-art credentials.

24. See an emerging indie musical act perform live
There are lots of places to do this: Smith's Olde Bar, Apache, The Masquerade, The Star Community Bar, and others.

25. Be able to rank your five favorite BBQ spots in town on demand
That means you have to try the ATL's best BBQ at places like Community Q, Fat Matt's, Bone Lick, Fox Bros. Bar-B-Q, D.B.A., Grand Champion, Daddy D'z, and Heirloom Market… poor, unlucky you.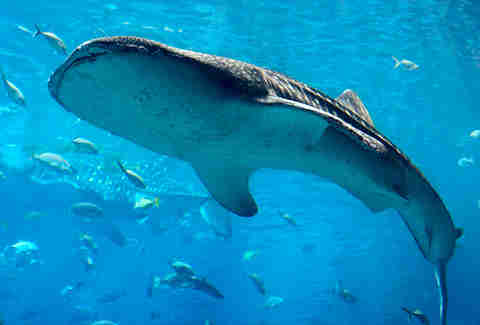 26. Swim with whale sharks at Georgia Aquarium
Not only can you gawk at colorful underwater wildlife (well, not really "wild" anymore, per se), but you can also get in the tank with huge, thankfully peaceful, fish (whale sharks, manta rays) and get an underwater-shot DVD of it all.

27. Buy a pair of shoes at Walter's
Serious sneakerheads say the best kicks in the city are sold from this Decatur St shop for fashionable feet.

28. Drink rare beers at Brick Store Pub or The Porter
They're both world-renowned and internationally respected. The fact that they're in plain sight if you hit Little Five Points or Decatur Square makes it that much easier to insult your Milwaukee friends by telling them about some strange suds you've slurped down that they'll never taste nor appreciate.

29. Perform heavy metal karaoke at Metalsome
Five days a week, just beneath Dark Horse Tavern, you can headbang and belt out one of more than 200 songs, organized in genres ranging from punk to glam metal, with a live house band backing you up.
30. Walk through the Atlanta Botanical Garden like Rich Homie Quan
There's something about those Georgia Plumes and Hoyas (the flowers currently in bloom, not those wilting college football teams) that'll make you wanna click your feet together from the sheer joy of being in the middle of some of Atlanta's most awesome flora.

31. Accept or reject a free poem in Little Five Points
If you walk near Euclid and Moreland, eventually you'll be propositioned. Who knows if it's actually good or not -- you've gotta find that dude and at least say no just to be counted in the census.

32. Eat a King of Pops popsicle
You'll catch the cart all over the city, from festivals to random sidewalks in Inman Park. Having one when it's hot outside is worth any traffic you'll encounter getting to it.

33. Attend a day party in the summer
Right around Memorial Day, many of your favorite restaurants and bars turn over the doors to promoters, who bring in DJs who play classic jams for shiny, tipsy people wearing their best and breeziest britches and blouses.
34. Shoot a photo of ATL's skyline from Freedom Parkway
It's the shot from The Walking Dead, and it's said to be one of the best skyline views in the city.

35. Finish the Peachtree Road Race
That first word is important.

36. Spend a night where Clark Gable once slept
Get Rhett-y to show just how little of a damn you give by reserving a room on the ninth floor of The Georgian Terrace, which famously hosted the
Gone with the Wind star back in the 1930s.

37. Tour CNN Center
Those Turner layoffs made it pretty obvious that tomorrow isn't promised for the iconic news channel's headquarters. See it while you're both still around.
38. Buy vinyl from Criminal Records
Those guys behind the counter know their tunes. That helps when you have thousands and thousands of 12-inch 33 ⅓, 45, and 78-RPM wax songs and albums. Lose yourself in the music.

39. Attend Art, Beats + Lyrics annual art show/concert
Artist Dubelyoo and promoter Jabari Graham, who was the first to bring Drake and Kendrick Lamar to Atlanta (and put on a brilliant Goodie Mob reunion a few years ago), throw a free show (with free drinks!) every year, showcasing the best local artists (C. Flux Sing, Shawn Knight, Fabian Williams, Fahamu Pecou, Eric Nine, etc.) and amazing performances that have included DJ Quik, Scarface, Teddy Riley, Digital Underground, Master P, and more.

40. Crawl Virginia Highland
Do it on a Saturday; you're not going to make to work the next day.

41. Run through the water fountain rings at Centennial Park
Return to your childhood for a few soaked seconds. Don't run over the real children.
Sign up here for our daily Atlanta email and be the first to get all the food/drink/fun the ATL has to offer.