Oysters, brand-new beer tours, and a bloody valentine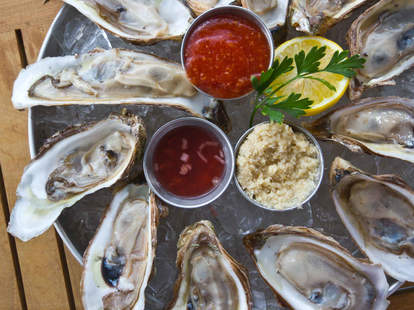 Atlanta Event of the Week
Saturday, February 8th, 1pm: A full day's worth of seafood, beer, and bands at Park Tavern's largely outdoor Oysterfest is the single best way to A) eat oysters, obviously, and B) pretend a snow storm didn't just shut down the entire city a week ago.
Thursday, February 6th, 8:30pm: Cineprov loves making fun of craptastic movies, and romance, apparently, so they're screening a flick so bad that the shirt you picked out will totally look sweet in comparison: '80s horror "classic" My Bloody Valentine. Continue Reading
Friday, February 7th, 5pm: Atlanta's biggest scary movie convention, Days of the Dead, spooks up the Downtown Sheraton with a shton of exhibitors, and an even bigger shton of *cough* celebrities, like Rowdy Roddy Piper, Jason Mewes, and Dee Snider.


Saturday, February 8th, 11:30am: The biggest problem with hitting Atlanta's badass breweries is figuring out how to get home after all those "samples". Southern Beer Tours is solving all that with a chartered bus to three of our city's best suds-­makers. Tickets, tickets, tickets!
Sunday, February 9th, 9pm: Atlanta got to see what the apocalypse might be like last week, but to see a zombie apocalypse, you've got to catch the return of Diesel's magnificent Walking Dead viewing parties. Costumes, prizes, and some of the Highlands' best bar food make this a Sunday can't­-miss.