15 Things We'd Like to Change About Atlanta
There are a lot things that Atlanta is really great at (drinking, drinking outdoors, hopefully waking up indoors after a day spent drinking outdoors, etc.), but let's face it: it's time to address some of the dumber, lingering things we keep forgetting to fix. Seriously, here're 15 things we'd change about Atlanta...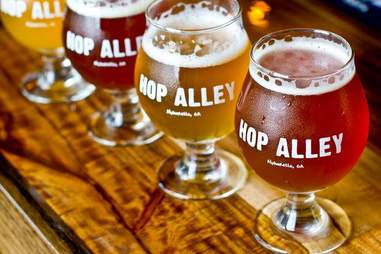 Thrillist
Prehistoric liquor laws
You are a grown adult and you can't buy beer, wine, or whiskey until a half hour past noon on church day. And we've got some great beer! Just think about that. Savannah has better drinking rules than ATL, which says everything about how progressive Atlanta is.
 
Our citywide work ethic
Nobody works in December. That's great if you make a ton of money, or are a member of the ATL Falcons and you take that part of the season off anyway, but for the rest of us it's just annoying.
DAN GENTILE/THRILLIST
Chick-fil-A's weekly schedule
The sweet chicken-slinger is based here in Greater Atlanta, just South of the Perimeter. We could rise up and stage a really passive aggressive protest… eating burgers in front of the Dwarf House!! On Sunday!!
 
The air near the intersection of South Atlanta Rd and Bolton Rd
It smells more like the intersection of Death and He-Who-Smelt-It-Dealt-It Ave.
 
The strange recent street art
The 100+ Living Walls murals are great, but the new stuff popping up around town, particularly all this white-eyed, Zuul-ish humanoid cartoon character weirdness, doesn't reflect the neighborhoods it's being put in, and only makes the city look like our buildings are secretly getting together at night to smoke illegal substances.
Decisions made by Atlanta sports teams
Because who needs Chris Paul when you're the Hawks and you can get Marvin Williams, right?! See also: trading Brett Favre for Tony Smith (who?), making Joe Johnson a trillionaire, moving the Braves to Cobb County, giving Dominique to the Clippers (the same team Chris Paul plays for!), and putting what's going to be a $2 billion stadium in Vine City.
 
The fact that we're actually in Georgia
Atlanta life will make you forget Georgia isn't exactly the coolest state for all sorts of reasons/state laws, or that to the North there's nothing but mountains and strange wine, and to the South it's just endless fields of onions.
 
Kasim Reed's emotions
The fact that there aren't a lot of people walking around saying they hate Mayor Reed is a sign of political success. The fact that he is easily offended and quick to throw public shade at less-powerful people -- on morning radio -- is a sign that he sometimes doesn't realize he's winning.
The quality of The Varsity's burger
Those patties taste like they're every bit as old as the building itself (75 years). Time for a new recipe and less hype.
 
Proximity to a real beach
The closest options are four hours away (Tybee, Myrtle, etc.), and you can't count Lake Lanier because it sucks and is basically an above-ground pool kids still piss in but is much harder to drain and clean.
 
People who act "Buckhead"
Look, we don't have a problem with our city's greatest drinking destination, we've got a problem with people acting like a few more dollars in their pockets makes them better than someone from say, Smyrna (it doesn't).
Joy-destroying traffic
There was apparently a time when your car would actually move on one or all of Atlanta's interstates. There was also apparently a time when your Grandpa walked 12 miles to school up hill. Both ways! The point is that whenever this stuff was allegedly happening, if at all, it was so long ago it's hard to tell if it's worth believing or not. And besides, thanks to people like this, it's sure not how things are today.
 
The quality of restaurants below I-20
Look at Camp Creek Blvd: just down the road from the world's busiest airport, in one of America's culinary capitals, your eating options are Fridays, Five Guys, Ruby Tuesday, LongHorn, Johnny Carino's, or a sushi spot that'll probably make you sleep with the fishes. Let's get some better meal options on the Southside, please.
Underachieving public transportation
Is this the best we can do? (No, it isn't!) Why can't they serve biscuits on MARTA? If we're not driving, shouldn't a beer be legal like it is on a passenger plane? Can't they play some James Brown? Oh, and seriously, now that SunTrust Park is bringing the Braves to Cumberland, isn't it time to stop treating the Cobb County line like the transportation equivalent of the Berlin Wall?
 
The pollen count
A normal count is somewhere around 120 pollen grains per square meter of air. Atlanta goes zero to 6,152 real quick every spring, which makes breathing through your nose similar to trying to suck wine through a corked bottle, still using your nose.
Sign up here for our daily Atlanta email and be the first to get all the food/drink/fun the ATL has to offer.