For decades, "Ms. Ann" Price personally made every order of her iconic, chili-topped "Ghetto Burger" (crowned best America by the Wall Street Journal in 2007), routinely seeing a three-hour line of people afraid of being kicked out for violating her rules (though "no babies on the counter" is pretty easy to follow if you don't have a baby). Things won't be the same without her, but hopefully visiting Ann's Snack Bar will remain a unique Atlanta institution.
Because we love this city, we sat down and thought up 15 more things you can only do in ATL -- not New York, not Charlotte, just here. Make the most of every moment you live in this fine metropolis, and take advantage of 'em all.
1. Walk into the building that spawned the Waffle House
The 24-hour breakfast spot is now scattered/smothered/chunked all over the country's highway exits, but it launched 60 years ago in Avondale Estates. The building is now a museum, and with 48 hours notice you can access the diner and kitchen for a tour, and even make your own waffles.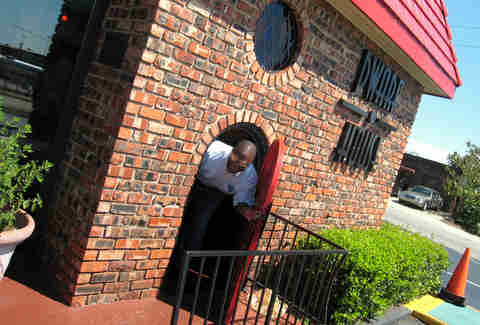 2. Walk into the building that spawned Chick-Fil-A… through a gnome door
S. Truett Cathy "invented the chicken sandwich" at Dwarf House on the south side a few years before he opened the first CFA in Greenbriar Mall, and almost a decade before Waffle House fired up its grill. Why start a diner for hobbits? Who knows. Just get your ass through that little entry point and try not to eat so many chicken biscuits that you can never get back out again.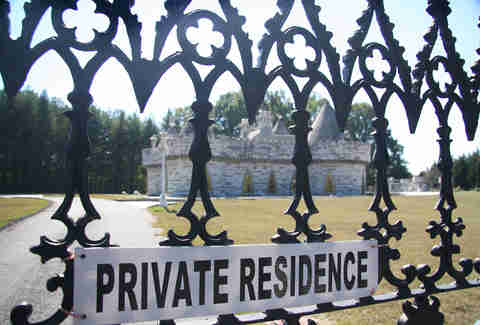 3. Drive by a house built like an elf castle
Seriously, this is weird, especially because they don't seem to make cookies here, but... awesome! But also, again… weird. If you want to experience Cagle Castle yourself, take Hwy 140 and get yourself to 12570 Arnold Mill Road at the SW corner of Cagle Road in Alpharetta.
4. Watch your grandma do exotic dancing
It's not like we know how old Clermont Lounge's Blondie Strange really is, but she's definitely an O.G. #Experience #BrickHouse #TheGreatestGeneration #PossiblyImmortal
5. Attend a beer festival, concert or marathon on the grounds where Bobby Jones is buried
There are some really amazing and trippy events at Oakland Cemetery, the graveyard for famous southerners, and a venue for all sorts of other shenanigans.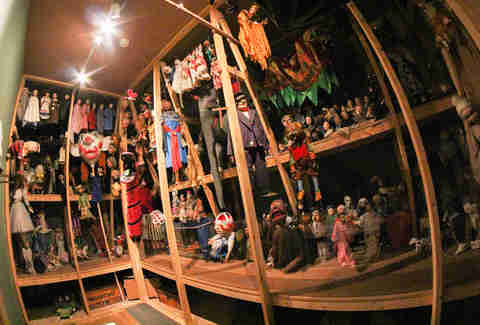 6. See a Kermit-endorsed, awesomely weird adult puppet show
Jim Henson and Kermit cut the opening ribbon for the Center for Puppetry Arts in 1978. Every year they host pros and amateurs performing during Xperimental Puppetry Theater, where you'll see everything from silhouette puppet films to handmade metal bands.
 
7. Get arrested for letting your draws hairs get longer than half a foot.
Look it up; it's the law. You've been warned. Shave it.
8. Roll up on White House South
An Iran-born ATLien fixed this place up to look exactly like 1600 Pennsylvania (because his wife wanted columns, so he naturally took it extra far), and just looking from the curb you'll agree it's ridiculous, perfect, and ridiculously perfect. If you can get him to let you in (you probably won't), you'll apparently find copies of the Emancipation Proclamation and Bill of Rights (in the fake Lincoln Bedroom), and an Oval Office.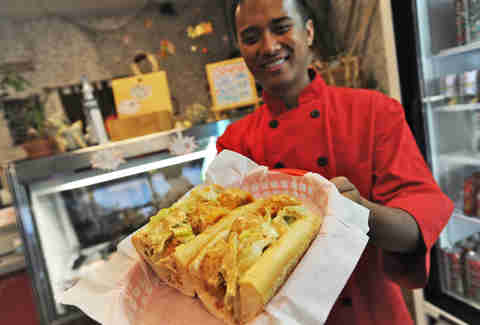 9. Eat up America, Japan, Korea, and Mexico on a single highway trip
A fantastic international culinary voyage starts just northeast of Lenox Mall. Bring Rolaids.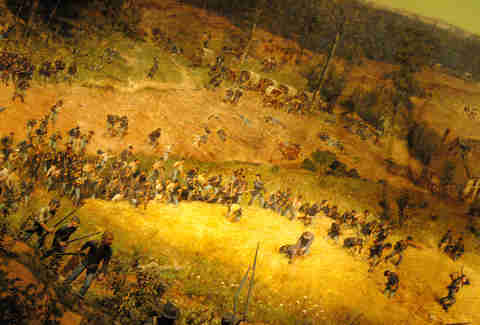 10. Trip out while staring at the world's second-biggest oil painting... which rotates
Named like a rave with people pedaling around the dance floor on 10-speeds wearing knee pads, Cyclorama is one woozy-inducing spectacle. See it in Grant Park before they move it to Atlanta History Center.
11. Behold the biggest Hindu temple outside of India
Even Creflo Dollar would say the idea of getting your spiritual on at BAPS Shri Swaminarayan Mandir Atlanta -- a $19 million, 32,000-square-foot building made of Italian marble, Turkish limestone and Indian pink sandstone -- is a total boss move.
 
12. Buy a new hand
"Curiosities and antiques" sold at Avondale Estates include the mitts of chickens, gators, and one special claw the owners aren't convinced isn't a monkey, lemur or humanoid.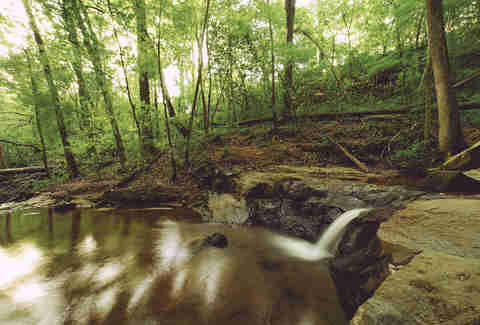 13. Purify yourself in the spring waters of a Civil War battle site
It's one of the city's best kept natural secrets, and ironically just about the most peaceful place you'll find around here.
 
14. Visiting a family mausoleum in a Walmart parking lot
There really is a 12-foot stone mound containing 13 members of the Crowley family in the back of the Walmart on Memorial Drive -- in Avondale Estates (how awesome is Avondale Estates?). Be careful how you let your car roll back when you're behind the building.
15. Bow to a giant wooden chicken idol
It's finger-licking good, though it might haunt your dreams.