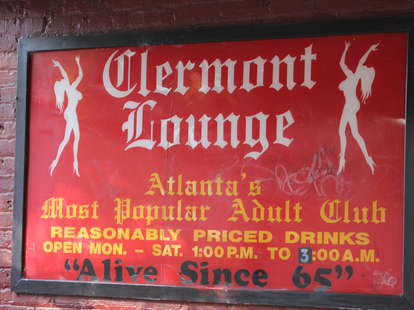 You already know that Atlanta's most notorious naked watering hole is one of the city's best strip clubs, but there are a lot of things you probably don't about the Clermont Lounge. At least 21 of them in fact. So, whether you're a regular or are hitting it up for the first time, this is a must-read primer. Think about how embarrassing it would be for you and your date to be kicked out.

1. There's a day shift!
Yes, the sexiness starts at one in the afternoon. There will be at least one bartender and one girl on hand ready to delight. Call it a late business lunch and write it off.

2. There are NO pictures
Of course you'd love a selfie with Blondie. Tough ta-tas. The large amount of nudity (and the desire for patron anonymity) means this is a hard and fast rule. Keep your phone in your pocket and enjoy the music, drinks, and "lively" conversation.
3. The jukebox is for dancers only
These women know what inspires them, so keep your Jock Jams to yourself. Whether it's Willie, Foghat, or Luda, leave the music in their very capable, uh, hands.

4. PBRs are only $2.75
The Clermont's house brew is stacked deep in well-iced coolers, and you don't need to feel self-conscious about drinking it. The Clermont's been serving Pabst since before it was cool, and will be doing so well after.

5. You do NOT tip with change
Yes, when these women were young, a quarter was worth more than it is today, but it don't pay the bills. Throw change, and you'll be thrown out.

6. There's no cover until 8pm
Save your cash for a late-night burger and slide in before they start charging. You'll be able to grab a sweet seat at the bar and have plenty of time to learn the backstory behind each girl's tattoos.
7. The bar is mostly black duct tape
There's some padding underneath, but the design is secretly genius because: 1) repairs are only a roll away, 2) it's a soft and comfortable resting place for your arms, and 3) if you slip while leaning over to tip the dancers, your landing will be cushioned.

8. They are closed on Sunday
Just like Chick-fil-A, they've got a built-in day of rest.

9. They've been open since 1965
Their birth coincides with the Falcons and even pre-dates the Braves by a year.

10. Cash is king
Hit the ATM well ahead of time. No cards are accepted and you don't want to be hit with multiple fees at the house machine.
11. Blondie has been there for 35 years
The Queen of the Clermont has been working nude longer than many of us have been alive. The grand dame is famous for crushing your used beer cans between her boobs and even autographing them (suitable for framing at home). You probably didn't know, though, that she's an author.

12. There are books and movies about the Clermont
Grab a classy pictorial fit for any coffee table (or home bar), or ask Blondie about the comic book series she's written. Or, head over here and check out the very honest doc about her life.

13. You should wash any merch you get
Anything you buy on site is going to smell like smoke (and probably whiskey, too). But it's worth it to stylishly advertise local nudity like Jack Black did when he wore his Clermont tee on @Midnight recently.

14. You do not belong backstage
Seriously, you don't want to see how the sausage is made.
15. Saturday night is disco dance night
You might as well embrace the fact that Saturday nights attract all kinds of OTPers and tourists and just dance the night away. Besides, there are still plenty of naked, mature ladies to accept your tips... they're just doing it under a musty, but still glistening mirrored ball.

16. The liquor bottles make it hard to tip, but...
... don't let the large gap between those jiggling bodies and your dollar bill daunt you. Get your feet up on the side of your bar stool, fold and extend your dollar length-wise, and reach over those plastic pour-tops.

17. Karaoke is Tuesday night
It's the only time the girls turn over the music selection to the customers, but remember, whatever you're singing, they're still dancing, so you better brush up on your Ginuwine.
18. Don't wash your hands at the bathroom spigot
Just trust us. Don't touch it. Bring hand sanitizer.

19. Al Capone and GG Allin both stayed at the hotel
A lot of very famous dead people have walked these halls and stayed in the now condemned rooms upstairs. Thankfully, it is currently being renovated, so you may be able to own your own little piece of Clermont soon, bedbug-free!

20. You're likely to run in to Bill Murray, Kiefer Sutherland, or Jennifer Lawrence
Our little Atlanta secret is a favorite for visiting celebs. But, don't think about snapping a selfie because...
21. There are absolutely NO PICTURES!
Unless you work for a certain lifestyle site that rhymes with "illest", obviously.
Sign up here for our daily Atlanta email and be the first to get all the food/drink/fun the ATL has to offer.