28 Things You Have To Do Before You're Really From Atlanta
It's rare you meet anybody actually born and raised in the A, and even rarer to find someone who doesn't really mean "Suwanee" or "Macon" when they say ATL. Lucky for you, the ATL is full of Southern hospitality and welcomes anybody to claim it as home as long as you can follow just a few prerequisites...
1. Get hired/fired from Coke, Turner, or Home Depot
Kasim will give you a key to the city for getting both at all three.
 
2. Wear another team's jersey at a Hawks game
This season notwithstanding. Maybe.
 
3. Almost get into a public fistfight arguing over Fox Bros. vs. Fat Matt's barbecue
It's crips vs. bloods serious. 
 
4. Find landmarks mentioned by Outkast and Goodie Mob without Google Maps
Or at least stop repeating the lyrics like you know where they are.
 
5. "Survive" an apocalyptic winter "storm" 
In ATL it's totally understandable if more than an inch of snow kills you.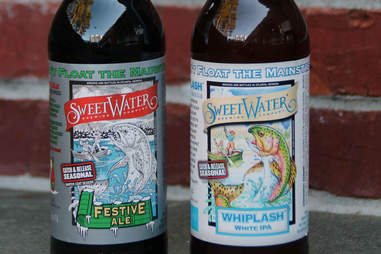 COURTESY OF SWEETWATER BREWERY
6. Talk smack about SweetWater, while drinking SweetWater
If Terrapin's really that much better, why didn't you buy one?
 
7. Drive to Athens at midnight
Forget "why" -- it's Athens! 
 
8. Eat at the Greenbriar Mall Chick-fil-A
It's the site of the world's first Chick-fil-A, and the only reason to visit Greenbriar in 2015... or ever again.
 
9. Have successful buds who barely graduated from Woodward, Westminster, Paideia, or Pace 
Inheritance > intelligence.
 
10. Spend Whole Foods money at Dekalb Farmers Market
Wait, $200? For kale?!? Daphuq?
11. Wonder if King of Pops and Sublime Doughnuts use crack as an ingredient
Or why drug dealers don't make Sublime-/King-of-Pops-flavored crack. 
 
12. Get delicious ramen and an amazing foot massage in the same plaza on Buford Hwy
Sounds weird; feels awesome.
 
13. Crash into the Atlanta Streetcar
Everybody's doing it!
 
14. Pee in Piedmont Park
So you can call it Peed-mont Park and sound really mature.
 
15. See a world-famous singer's show get abruptly cut for going past Chastain's curfew
Artists from Jewel to James Brown learned the hard way about the noise ordinance.
16. Lie about hiking to the top of Stone Mountain
It's not like anybody's ever really done it anyway. You could say you met God up there and nobody will contest it, because fat and lazy.
 
17. Dance to the Ying Yang Twins "Wait" or "Get Low" at a local wedding reception
Fact: they'll be divorced in a year if the DJ doesn't at least play "Salt Shaker."
 
18. Try to purchase beer from Kroger or Publix at 12:15pm on a Sunday
That 15-minute wait of shame is the worst.
 
19. Make a reference to "trapping" during a sales meeting at your job
Your colleagues will love you; your boss will have no idea what you're talking about.    
 
20. Somehow received a traffic citation in Cobb County for driving under the speed limit
Count On Being Busted.
21. Forget to switch MARTA trains and end up in North Springs instead of Brookhaven
It feels even better the second time.
 
22. Forget where you parked your car in the W Midtown garage and spend an hour looking for it
At 2 am.
 
23. Let a meteorologist fool you into wearing the exact wrong outfit for today's weather
It's cold? You wore a swimsuit. It's hot? You wore a parka. Shout out to The Weather Channel!
 
24. Ask "Shawty" or "Miss Lady" if she'll let you "cut" or "frap"
You'll know she's also from ATL if she says yes.
Sebastian Davis/Thrillist
25. See something at Clermont you can never unsee
Blondie and the gang can still get pretty creative with those beer bottles.
 
26. Order and eat shellfish at a strip club
Please not the clam.
 
27. Watch a Donna & The Wolfman commercial
Who cares if they don't air on local TV anymore. YouTube it.
 
28. Arrive 90 minutes late to work, after leaving the house an hour earlier than necessary
Looking for "the back way" will only make it worse. Atlanta traffic is Zod; kneel to it.
Sign up here for our daily Atlanta email and be the first to get all the food/drink/fun the ATL has to offer.