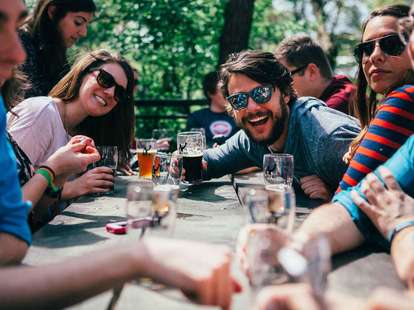 Since almost nobody in Atlanta is actually from Atlanta, we spend most of our time telling out-of-towners why they can't go about finding attractive, eligible people to mate with the same way they did back home, because dating in the ATL isn't like anywhere else, and is downright mysterious for the uninitiated. In fact, "uninitiated" is just what your sex life will be if you don't learn the unique ins-and-outs (no pun there at all) of dating in the A. Here's what you've gotta know:

1. Men can be scrubs because there are a billion women...
You don't need statistical studies to know the ratio of women to men is out of freaking control, which many Atlanta women will tell you is exactly how dudes here behave. If you're a single straight guy and you don't live here, you're an idiot.

2. ... but in spite of the numbers, women still run the game
Because they've learned to ignore idiots. This means that unlike men, women in Atlanta workout, have great jobs, multiple degrees, high-performing investment portfolios, rental properties, on-call hairdressers, and personal chefs. Yes, that means all the single ladies; word to Beyoncé. And you, homeboy, shoulda/woulda/coulda put a ring on it, but instead you overplayed your poker hand, as well as other poker parts, and now you're played out.
3. Men: your weight is fine as long as you can cook
Let's say you're a fat guy, which -- let's be honest -- is not all that hypothetical. You can also be jobless, balding, and emotionally fragile, but as long as you can prepare a quality breakfast and at least two other good meals (even if they're two more breakfasts), you don't gotta worry about those 50 extra pounds.

4. Women: your weight is fine too
There are no "fat" women in Atlanta, only "thick" ones.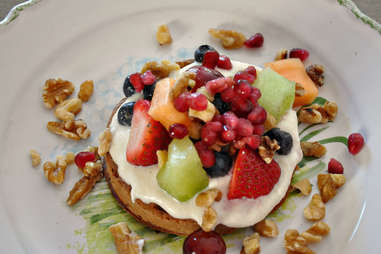 5. You'll attend either church or brunch with your significant other every Sunday
Get used to the lifestyle. On the brunch side, you'll eat ridiculously big, relatively inexpensive, boozy, and delicious meals with your boo every weekend, so obviously that's ideal. On the other, you might be expected to team up and ask for double-forgiveness after what you did together Saturday night. Just tell the pastor you were only trying to burn off the brunch calories.

6. The cost of living makes one's financial status somewhat unclear
Wealth is as attractive as a person's physique, yet Atlanta's a city where you can be unemployed for years and still somehow seduce/fool people into thinking you're a tycoon. You should consider asking for a W-2, especially if on closer examination the "Michael Kors" on their watch is spelled like the beer.
7. Have a car -- MARTA will get you nowhere
This is true both in geographic and romantic senses.

8. Older men/women will totally take that girl/guy you've been eyeing
Thousands of divorced cougars and silver foxes descend on Buckhead every night, locked in eternal competition for dominance of the ATL's romantic, midlife-crisis dating scene. If you're under 40 and not rich, they are a real threat to you. You've been warned.
9. Everybody's a celebrity
Your new female love interest is either related to Julio Jones or has dated him. That means she can definitely get you into the club, but you'd better believe she's gonna drop you just as quickly when her famous friends tell her she's invited to VIP. Oh, and we've all been on Real Housewives, Love & Hip Hop, Sorority Sisters, and every other reality show filmed here, so please don't get excited if cameras show up somewhere.

10. Cuffing season is real
When people think they've got a shot at a "relationship" or whatever, they lock each other down quickly (for two months). Especially when it's colder. ATL's nightlife population decreases by half after fall because apparently we'd rather spend the winter with the one we're with (no matter who they are) than look for love when the temperature drops around Halloween.
11. You can absolutely pick up a date at the airport
The airport is one of the two MARTA destinations that it make sense to ride to. Hartsfield-Jackson is so big/busy that it's actually got some pretty sweet bars and restaurants, all of which are perfect for meeting someone from another state, or maybe even someone from overseas interested in a little "foreign exchange."

12. You gotta learn when to say when
Anyone who's been pursued by a Southern woman knows she'll feed you like she's trying to make foie gras from your liver. You'll have to lose 50 pounds just to be a reasonable facsimile of your formerly desirable self if you break up and have to hit the meat market again.

13. Never take your date to a weekend "day party"
Every year super-dapper single dudes suit up in seersuckers and hit the town's breeziest rooftop bars to slurp down Moscow Mules and Greyhounds in the company of similarly saucy women, cliqued up and fancy in fly summer dresses and getting steadily geeked up on strong, spritzy, and fruity drinks. All of them want your man or your woman. All of them.

14. You've gotta be ready to hit the ground running when the weather breaks
Springtime in ATL is like Hammertime was in 1990, except the only people saying "Can't Touch This," are married (well, maybe), so you might want to try getting in shape by tax time. If you're not sexy by then, you'll have to do something from another MC Hammer song, "Pray," if you want to get any action.
15. Taking your significant other to a nude bar is par for the course
We've got some of the best strip clubs in the world, and we're all adults here. Men: let the lady pick the performers you tip. Ladies: let your date spend a few ones. Play this right, and even if you don't leave with a dancer (and yeah, you actually don't wanna ever do that) you'll both leave happy.

16. Everybody's got a concealed weapon
Georgia gun laws are pretty lenient. Think about this before you stand someone up for a date. If they can find you on LinkedIn, they can easily find you in Lithonia, and they're probably always strapped. Pro tip: if they ask you to meet them somewhere in public, make sure it's not the sporting section at Walmart.
Sign up here for our daily Atlanta email and be the first to get all the food/drink/fun the ATL has to offer.