The definitive guide to Atlantic City's best gentlemen's clubs
Sure, Atlantic City has beaches and stunning views from rooftop pools, but the best way to enjoy AC's natural and... um, unnatural beauty is in the area's finer gentlemen's establishments, which we've tirelessly scoured so you'll know which ones are full nude, which ones have liquor (sadly, you can't have both), and which ones give you the most bang for your buck. Noooo, not like that...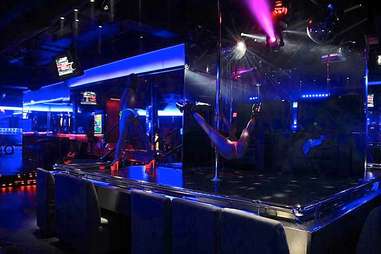 Best All Nude Club
Bare Exposure (address and info)
AC's largest all nude club, this (usually packed) Trump Plaza-adjacent spot manages to live up to its name by being BYOB, which means you've got money left over for the $20 cover (and cellphone holding fee), and $35 for a hot-seat dance: you in a chair on stage, with two of their 100+ girls, for two songs.

Best Place If You're Tired Of Getting Hassled For Tips
AC Dolls BYOB Gentlemen's Club (address and info)
You can't miss this BYOB (aka all nude) spot -- it's a clamshell-pink colored building a block from the beach -- and it's nothing fancy on the inside, but it's got the right ingredients: mostly hot women, $20 cover on the weekend, plus it stays open 'til 5 or 6am. Oh, and the ladies are actually nice too... no, not THAT nice, but still.

Best Place To Drink
Crazy Horse Cabaret (address and info)
Formerly Delilah's Den, this sprawling spot's about five minutes from the Boardwalk and offers a free shuttle from casinos and hotels, and drink packages with beer/liquor specials -- which they can offer since they have a full bar/the girls are all in string bikinis/lingerie. Pro tip: go during the day when there's no cover from 1-8pm and table dances are only $10.
Best Place To (MAYBE) Get Lucky
Babe's Gentlemen's Club (address and info)
Close to Pacific Ave, this place has a lower cover ($15), $20 table dances, a full bar (aka more string bikinis/lingerie), and a tiny dance floor, which is just one reason to hit the upstairs VIP area, where there's another bar and at least a chance you might... *cough*... get your money's worth.
Best Place To Take A Date
Scores (address and info)
While you may not, umm… score here, you will find good-looking girls, a fun-loving ambiance, and the only strip club in a casino spread over seven different swanky entertainment spaces (a sports bar, an outdoor deck, the main showroom, etc.) and modeled after the New York original. Only downside: it's $30 to get in unless you get a business card pass.
Best Place To See A Show
Ivan Kane's Royal Jelly Burlesque Nightclub (address and info)
More old Hollywood than an actual strip club, this place promises pasties and tiny V-strings during stage shows set to a live jazz band. They do have poles placed in the VIP section, but those are mostly for customers who want to do some dancing while waiting for one of the two shows (12:30am and 2am) to start. $30 cover unless you get on the guest list and enter before 11:30pm.