Atlantic City

| Mia2you/Shutterstock
Atlantic City

| Mia2you/Shutterstock
Every year around August, the annual brood of buzzkills announce that "summer is almost over," their voices hovering over us like dark clouds threatening to water down our Aperol spritzes. But the fall equinox doesn't land till September 23 -- giving us plenty of time to venture out into uncharted waters at beaches near and far.
Atlantic City -- a town of perpetual reinvention -- is more than boardwalk tchotchke shops and half-smoked Marlboro Lights lounging on penny slots. It's also an adult playground for the sizzling months, with plenty of ocean-front bars, thrill rides and, yes, high-roller tables if you're watching your complexion, but not so much your wallet.
It also touts an uncrowded, free beach that's great for sun bathing or swimming. Lifeguards are on duty from 10am to 6pm and you can rent beach chairs and umbrellas from spots like the Tropicana. Kayaking and windsurfing are also permitted in the water off Jackson Avenue, if you're feeling a bit more adventurous.

And, although you could spend your whole vacation happily on the shores of America's Playground, there are even more beautiful beaches to explore when you're craving a change of scenery. These are the best beaches near Atlantic City.
For a less hedonistic vibe you can head to the island just north of AC. Brigantine has more of a sleepy ocean town feel with a beautiful shoreline. Tags for beach access are $10 daily, $15 weekly and parking will run you an extra eight bucks, but it's well worth it for the added tranquility.

Once you've gotten that all sorted, stock up on necessary provisions and famous hoagies at the Wawa within walking distance of the ocean.
If you need to break up all your #sunset vacay 'grams, head south from AC to Margate and take a tour of the surreal, six-story Lucy the Elephant. Climb Lucy, a historic landmark dating back to the late 1800s, and you'll feel like a big-budget cartoon king riding into a PG battle.
With that image emblazoned in your mind you can take a short walk back to the peaceful beach for some more daydreaming. Margate also requires a beach badge, which you can pick up at the Bloom Pavilion on Huntington Avenue for $15.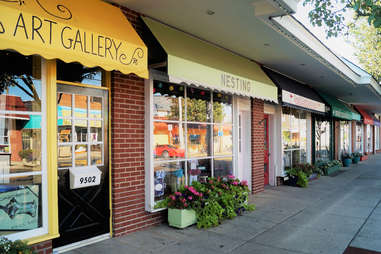 Just about a 45-minute drive south of AC, this beach is a relaxing retreat from the frenetic boardwalk.
A friend and lifelong visitor describes Stone Harbor as "not a crazy party town," but still replete with fun bars and a beautiful beach. Make like the locals and stop by the "always seedy, slightly divey Fred's Tavern" for live music, $2 Bud Lights, and Taco Tuesdays.
Daily beach passes are just $6. Glass bottles and alcohol are prohibited on the beach, but here is a totally unrelated story!
For some sexy socially progressive sand and surf, hit New Jersey's only legal nude beach at the northern tip of Sandy Hook. Gunnison is on federally controlled land, meaning you'll be liberated from pesky local open container ordinances and free to imbibe. (We don't know why the cops want you to get drunk and naked, just keep it in a plastic container and enjoy.)
Access is free, but $10 daily parking is a modest de facto fee. Photographing nude bathers is frowned upon -- for obvious reasons -- so maybe keep this trip Insta-free. And, although you don't have to strip, no one wants to be a stick in the mud.
Another beachgoing friend -- I swear, I have at least two -- suggested this chill spot, a 15-minute drive south of Asbury Park. Admission is $10 and bans on smoking, food, and dogs keeps the shore clean. If you're looking to party, you'll find upscalish oceanside dining, and cabana nightclub vibes nearby. There are also several quaint bed and breakfasts, for a more romantic weekend getaway.
Speaking of partying near Asbury Park, you could always just start there. The formative creative home of Bruce Springsteen has revitalized its boardwalk since The Boss slummed it by the sea. Weekend badges are $7, and the boardwalk boasts Korean taco joints, vegan ice cream shops, vibrant murals, and Brooklyn-lite shops. Legendary music clubs like the Stone Pony still thrive among newer watering holes like the Asbury Festhalle & Biergarten.
Perched on Jersey's southern tip, Cape May is famous for its beautiful Victorian homes, some of which sit right on the beach. The area is rich with elegant spots made for lazy afternoons sipping mint juleps on the porch. ("Well behaved children" only, please.) This entire city is a National Historic Landmark and it hosts events like winter's West Cape May Christmas Parade and fall's restaurant week year-round. In spite of Cape May's unrelenting class, daily beach tags are only $6.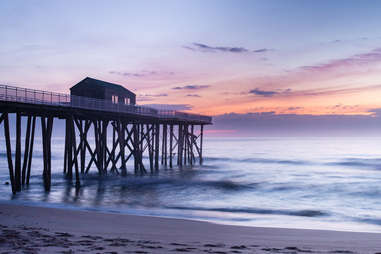 A third friend (!) recommends this centrally located beach, which features a mile-long boardwalk, clean, wide beaches, and plenty of space to set up camp -- all open year 'round. It is also a popular spot to hit the waves. More kid-friendly than Cape May, the beaches here are dotted with playgrounds every couple of blocks. The $9 daily beach badges get you close to boogie boarding, kayaking, and volleyball.
Your $6 daily badge will be cross-honored at Stone Harbor beaches, and vice-versa. Miles of white sand make for uncrowded lounging, and surf chairs are free to rent (reservation recommended). The area skews a little bougie -- take a stroll to the Princeton Bar and Grill to drink and dance among a throng of popped collars.
Townies brag that this was one of country's original seaside resorts -- with spots including Seven Presidents Park, named for former beachgoers like Woodrow Wilson. Today, the park is appointed with showers, abundant picnic areas, volleyball courts, and a skateplex, just as ol' Woody would've wanted. Daily weekend badges are $7.
A little north of Seaside Heights you'll find this much more laid-back ocean town. Spend the day relaxing by the smaller waves on the beach or bay, then grab some fresh seafood at The Crab's Claw Inn. Daily badges are $6, and parking is a bargain at free dollars, so be sure to get there early for a spot.
Sign up here for our daily NYC email and be the first to get all the food/drink/fun New York has to offer.
Ben Fractenberg is a Thrillist contributor.