Not actually an homage to Albert's intramural soccer nickname, Diving Bell Biergarten's instead a massive, just-opened suds-and-grub tent pitched 1000ft out in the Atlantic at the end of Steel Pier, ready to test your sea legs with awesomeness that is..

ON DECK: Just the tip -- literally! -- of a $100m, 3yr food-court-and-nightclub-constructing redesign, DB's open noon-to-midnight, far removed from the funnel cake, carnies, and claw games, and centered around a canopied stage and dance floor that'll host a full lineup of live shows, DJs, and battle of the bands-es

ON TAP: Multiple outdoor bars'll pour 16 draft & bottled beers, including $3 weekday specials on frosty pints of Sam Adams, Landshark, and Victory (and $2 weekday specials on not-those-beers), plus there's a house-special sangria, tons of frozens, and a top-shelf liquor well so deep even Lassie couldn't pull you out of it

ON MENU: No joke, there's a rotating menu of TOTALLY FREE fried-and-grilled happy hour eats (4-7p on weekdays) that counts burgers, fries, dogs, and pulled pork, the only thing ham-ier than Albert Belle when he's diving.
Recommended Video
This Tea Changes Color Like a Mood Ring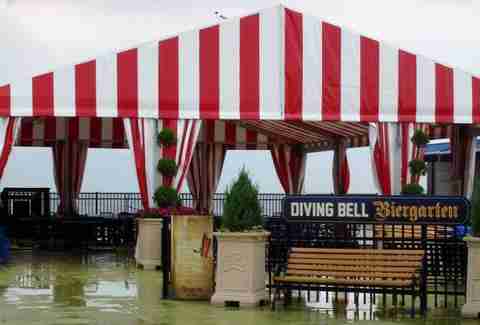 Previous Venue
Next Venue
Venue Description
1. Steel Pier
1000 Boardwalk, Atlantic City, NJ 08401
The Pier offers helicopter rides, family-friendly attractions, and roller coasters, including the famed Rocket -- over 100mph at top speed. Should you chug a few cheap beers at the Steel Pier Pub before going no-hands, eyes-open? Hard to say.