The 8 most epic pools in Atlantic City
Atlantic City has some pretty great restaurants (at least 13 of 'em!), but you'll probably never go to any of them. Why not? Because you're supposed to wait an hour after eating before you go swimming, and that's something you definitely won't want to do after checking out our list of AC's eight most epic pools:

H20 Pool + Bar
Golden Nugget Hotel & Casino (address and info)
Sure there's a pool, and hot tubs, and a fire pit, and private party cabanas, but this rooftop swim spot's also got tennis/basketball courts (!) and a cafe/bar, where -- instead of what the place is named after -- you should probably order the Spiked Tea (four different types of booze w/ a "splash" of Coke), and maybe some coconut shrimp tacos.

The Pool at Harrah's
Harrah's Resort (address and info)
Thanks to its towering glass roof, this 86,000-gallon water park/weekend party destination boasts lush tropical plants, chirping birds, and year-round 82-degree humidity, not to mention hot tubs, VIP cabanas (with a TV, iPod docks, a mini-fridge, bottle service, etc.), and an elevated deck/bar, where you can gorge yourself on lobster rolls and boozy slushies for as long as you want without worrying about getting sunburned, since the dome above you is UV-absorbent.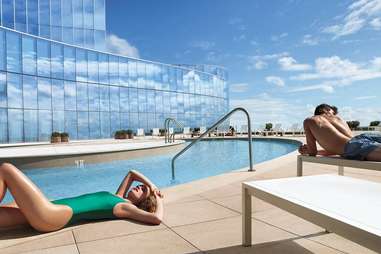 InOut Pool
Revel (address and info)
This heated, year-round pool starts inside and winds past an island in the center and a "play zone" stocked with pool tables and big screens, to the outdoor roof deck, which you could skip altogether, since the enclosed section of the pool has floor-to-ceiling windows that make you feel like you're already out there.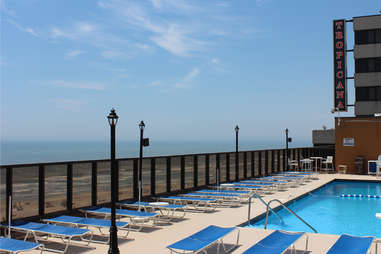 Blue Parrot Beach & Pool Bar
Tropicana Casino & Resort (address and info)
With both an indoor, year-round pool and an outdoor, seasonal one (called the Blue Parrot Pool Bar), this secluded, outdoor oasis with ocean views on the sixth floor of the North Tower is the perfect place to sprawl on a lounge chair and let the world slip away... at least until the DJ starts playing and the cocktail waitresses start serving drinks with names like the Frosty Sunbather.
Cabana Club
The Chelsea Hotel (address and info)
Located on the fifth floor of this casino-less spot, the CC's a Vegas-style destination complete with some seriously pimped-out cabanas (they've got plasma TVs, mini bars, PlayStation 3s, and a DVD/game library) and DJs spinning all day on weekends.
The Rooftop Pool
Caesars Atlantic City (address and info)
It may be smaller than its counterparts, but it makes up for it with a killer canopied bar and an adults-only sun deck with lush chaises and waitresses who'll keep the drinks/room service eats coming, or set you up with a cabana that comes with either two drinks and a fruit basket, or a massage... from a professional, not from the waitress!
Indoor / Outdoor Pool
Resorts Casino Hotel (address and info)
This domed, indoor/outdoor pool offers an adults-only swim every hour, but it's almost completely unnecessary, 'cause this place is almost never packed, making it the perfect place to take in some sun on their sprawling tanning deck, while consuming a copious number of frozen cocktails from their frozen margarita machines, in what passes for privacy at AC's pools.
The Water Club
Borgata Hotel Casino & Spa (address and info)
This Mediterranean-style spot sports five heated pools -- two indoor, two outdoor, and a 25-yard infinity-edge lap pool -- plus a bar partially hidden by palm trees, eats from Manhattan Chef Geoffrey Zakarian, private cabanas, and no kids, since you've got to be what you haven't been getting at the tables, 21, to get in.