The 9 things Atlantic City has that Vegas doesn't
Sure, Vegas has a lot of things Atlantic City can't compete with: a really big ferris wheel, a bunch of vintage neon signs, a functioning economy. Oh, and did we mention the topless pools?!
But Nevada's glamorous gambling mecca doesn't have everything. In fact, besides the obvious stuff like its seaside location, the country's oldest boardwalk, and bearable summer weather, AC's got at least nine things going for it that Vegas doesn't.
The beach
Ok, so what if 200 needles washed ashore in 2008 alone? It's still the kind of place where you can lie out in the sun, or bury your friends in the sand, or built giant sand sculptures. It's a
real
beach, while the best Vegas has to offer the
TAO Beach Club
, a high-intensity, Strip-side party, with great sushi and tons of gorgeous gir... alright, so maybe it's best to stop while AC is ahead.
Cassie Hepler
Pedicabs
For a flat rate by blocks (or sometimes for free if you're a pretty girl), you can have someone push you in a hooded cart just like when you were a toddler. Vegas used to have 'em but they were shut down in 2003... probably 'cause it's so frickin' hot there.
Seagulls
Vegas has yet to develop a fake bird that will totally come down and steal that slice of pizza you just got at
Bally's on the boardwalk
.
Absecon Lighthouse
Located behind Revel and fresh off a multi-million dollar restoration, this 150-year-old lighthouse is the third tallest in America and offers soaring views of Atlantic City's skyline and the Atlantic Ocean, if you're down to climb the spiral staircase's 228 steps that is.
Surfing
Skip the wave pool at the Mandalay Bay (it's not even one of
Vegas' 10 best pools
), and hit up the AC Surf School for a chance to catch a real wave.
Desperation
With the Trump and the $2.6 billion Revel closing next month (just two years after the latter opened), AC's in trouble. So much so that the girls at
the best strip clubs
will probably be extra excited to see you. Unless you think oddities like the six-story high Lucy the Elephant are enough to keep the economy going.
Steel Pier Amusement Park
Sure Vegas has rides and a pretty epic new zipline, but it doesn't have anything like this old-school, water-side destination complete with a human slingshot above the ocean and a bar at the entrance.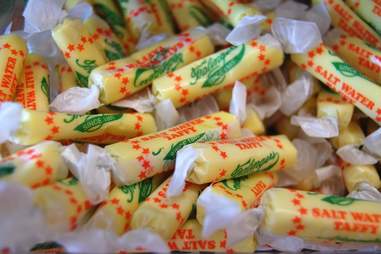 Cassie Hepler
Salt water taffy
AC is called the "salt water taffy capital of the world" for three reasons: Fralinger's, James' Candy Company, and Shriver's, all of which make such good sweets there is now a bill trying to make taffy the NJ state candy.
The Jersey Shore
Where else can you find the country's favorite hard-drinking, Italian-American stereotypes? I mean it's not like one of 'em is a
celebrity DJ
who plays Vegas all the time or anythi... oh, wait... never mind.