When anyone talks badly about Austin, you have to realize that they are just jealous. We are city of people who work hard and play hard. Our entertainment calendar makes other cities weep. However, what kind of people would we be if we couldn't step back and laugh a little at ourselves? (Probably, Dallasites). When it comes to these 19 things, Austin just can't help itself.
1. Making stuff
Homebrew, bitters, soap, cold brew coffee, mustache wax, kombucha, mosquito repellant — WE CRAFTY.

2. Animals
How many of your friends have a gaggle of rescue dogs, are raising chickens, and/or are avid Facebook re-posters of missing or found dogs? Mmmhmmm. Bonus points for chickens with cool names.

3. Green living
This can present itself in many forms and levels of effort: recycling, composting, driving a Prius, riding in a Prius, buying Seventh Generation TP, using Mrs. Meyer's cleaning products (go team lavender!), etc.

4. UT football
Don't even think about dropping into Crown & Anchor for just a "casual hamburger" on a game day. These fans are committed to their team -- and their table.
5. Tacos
Breakfast tacos, fish tacos, Paul Qui's favorite tacos... ANY TACOS!

6. Apple products
Because you aren't going to catch the eye of coffee shop babes sitting behind a 10-inch, refurbished Acer while peeking at your flip phone.

7. Free concerts/movies in the park
There's just something magical about spending an evening with a few thousand of your closest friends, a bag of $2 Santitas tortilla chips, and a smuggled sixer.
8. Mason jars
The jars originally used for at-home canning and preserving have become the standard drinkware at every joint in town. Luckily, they have replaced the dark red cups of our childhoods (what's up, Pizza Hut circa 1991!). This also applies to picnic tables.

9. Gluten sensitivity
While gluten allergies do exist, we also all know someone who may have jumped on the bandwagon and is now insufferable at restaurants. Hmm, there are some nice looking folks on glutenfreesingles.com...

10. Mumford & Sons
Foster the People and Cage the Elephant and FUN and Lorde, and Passion Pit. It's like the radio stations here JUST GET US.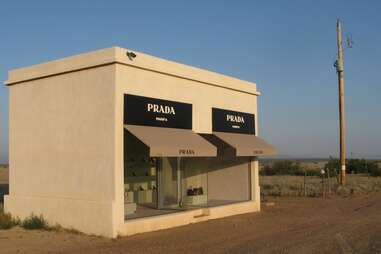 11. Marfa
It's a 1.6 square miles mashup of A Fistful of Dollars and a modern art mecca. With great music and film festivals -- like Marfa Film Festival and Trans-Pecos Festival -- held under the stars, it's no wonder this is a go-to getaway for a particular cross-section of Austinites.

12. Local beer
Actually, come to think of it, non-local beer is pretty popular, too.

13. Live music
Austin is the best city in the country to catch live local and touring acts. Most nights of the week there's an amazing show at Mohawk or ACL Live, not to mention performances by living legends like Willie Nelson, Dale Watson, and Roky Erickson.

14. Festivals
SXSW, FunFunFunFest, ACL, Fantastic Fest, Psych Fest, Bat Fest, Austin Film Festival, Reggae Festival, Pachanga Latino Music Fest, Old Pecan Street Festival... now read this in your best Bubba-talkin'-shrimp impersonation.

15. Going a "few days" in between hair washings
It just looks better, amiright??

16. Being photographed by "scene" and "nightlife" photographers
Then immediately tagging/untagging yourself on Facebook the next day, depending on the amount of booze consumed.

17. Photo booths with giant mustachios on a stick
I smell a Tumblr...!

18. Hanging out at hotel bars and patios
You're definitely not a guest, but that won't keep you from enjoying the swanky digs.

19. Water Sports
Kayaking, canoeing, rowing, boating, tubing, stand-up paddle boarding, and more. Wait, is tubing a sport? It does involve heavy lifting... of coolers.
Sign up here for our daily Austin email and be the first to get all the food/drink/fun in town.