21 Reasons Every City Should Be Jealous of Austin
1. We have ALLLLLLL the festivals
Bat Fest, Fun Fun Fun Fest, Reggae Fest, SXSW, ACL, Pachanga Fest, Levitation Fest, Fantastic Fest, ATX Television Fest, Moontower Comedy Fest, QueerBomb, Austin Film Festival, Austin Pride, Old Pecan Street Festival...
 
2. Never-ending new restaurants
If you somehow get tired of the current dining options, a new restaurant (or seven) will open next month. Lookin' at you: Alcomar, Mongers, Vox, Shake Shack, Juniper, Italic... we could go on and on.
3. We are THE model city for animal responsibility
Austin has earned the honor of being the nation's largest "no-kill city." Check out the city's free and low-cost programs and adopt your new best friend here or here. In the words of TV legend Bob Barker, "Please have your pets spayed or neutered."
 
4. All the single ladies, all the single ladies...
According to multiple sources, Austin is either the No. 1 or No. 2 best city for singles. The evidence is in our youthful population, number of establishments to meet people, amount of money spent socializing, and the amount of alcohol purchased.
5. Brisket, sausage, and ribs...
Oh my! You don't have to drive 30 miles out of town to get perfectly smoked BBQ anymore, because thanks to a few heavy hitters, we've (arguably) become the 'cue capital of Texas.
 
6. We are young!
Our population's median age is, get this, 31.7 years young! The national average is 37.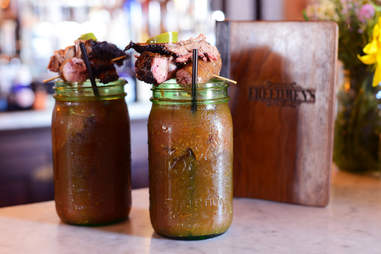 Anastacia Uriegas
7. THIS
The "Holy Mary" from Freedmen's. Here's the official description: "A quart of Forty Creek, smoked tomato, lime, worcestershire, divine intervention: topped with a half pound Brisket, Sausage, Spare Ribs."
 
8. The best beers EVER
Our local brews are impressive enough to satisfy even the discerning palates of bearded connoisseurs from the Pacific Northwest. From the light and sessionable to the downright cray, we've got it all: Hops & Grain, Austin Beer Works, Real Ale, Jester King, Rogness, Live Oak, (512), Independence, Thirsty Planet, Adelbert's, and many more!
9. Fit folks
While fitness may not be this author's tempo (unless you consider pizza research a sport), we have a good share of golden, sinewy joggers and yoga mat-toting ladies.
 
10. We see the value in "me time"
You can be in your 30s and go out to a bar and meet someone who is employed, good looking, and doesn't have kids.
Flickr/Thomas Hawk
11. All the live music
If you can't find live music on any night of the week -- on any day of the year -- you may have accidentally stepped in to an alternate dimension. And in that case, we may actually be jealous of you, you cross-dimensional wizard, you.
 
12. Jobby jobs
According to this, Austin has 33,000 job openings and a median base salary of $50,000. You'll need a job in order to pay for everything mentioned in this list. Or a sugar mama/daddy. No judgement here.
 
13. We're laaaaid back
Austinites are known for their masterful interpretation of casual-cool. Well, some of us. (Looking at you, $5 flip-flop man.) We wouldn't dare show up to a nice event in garish gowns and Just Cavalli duds, with clouds of designer fragrances trailing behind us like other Texas cities.
14. We invented movie theaters as we now know them
And by we, we mean Tim League of Alamo Drafthouse. No talking, and no malcontent teenagers with giant Android phablets. And it boasts a killer menu, with local beer and cocktails. Now, if only we could ban those loud crunchy chips...
 
15. We have statues of Willie Nelson and Stevie Ray Vaughan
Downtown -- where other cities commemorate war generals -- we pay homage to a long-haired blues guitar god and a living legend who also happens to hang out with Snoop Dogg.
16. We have superior water sports
No, not the kind you "accidentally" come across on 4chan -- we're talking about swimming holes and lake activities. Whether you spend your summer cooling off at these spots or partaking in stand-up paddleboarding, Schlitterbahn-ing, or tubing -- we have an enviable number of ways to stay cool.
Clair McCormack<br /> &nbsp;
17. There are cocktail masters among us
And they are at the helm of these super-duper watering holes (among others): Weather Up, East Side Showroom, drink.well., Garage, Midnight Cowboy, Bar Congress, Half Step, and the newly revamped Taco Flats.
18. These dudes have graced our streets
Daniel Johnston, Matthew McConaughey, Richard Linklater, Stevie Ray Vaughan, Willie Nelson, Roky Erickson, Mike Judge, and Robert Plant to name a few.
 
19. There are significantly fewer extreme-right wackos here than the rest of Texas
No need to elaborate on this subject.
20. Things like this only happen in Austin
Austin Beerworks' 99-pack of Peacemaker.
 
21. Jimmy Kimmel is kind of obsessed with us...
Our culture, our people, our food! He's dedicated entire weeks of shows to us during SXSW. But don't get any ideas... we're full.
Sign up here for our daily Austin email and be the first to get all the food/drink/fun in town.