Whether you plan to jump in head-first or stay far, far away -- it's inevitable, SXSW is upon us. We all know that with all the innovation and fun that comes with a festival of this magnitude, so do the people… and boy do they keep coming. And coming. While it's impossible to cover EVERYONE, here's a rundown of folks you'll undoubtedly encounter. Let us know who you think we missed in the comments, and then brace yourself before you encounter them in the wild.
The Hard-Partying Bro Crew
Besides the sunglasses and whiskey-scented B.O., you know this crew had a rough night, mostly because... well, they won't stop talking about it, loudly and with liberal usage of the word "dude."

The Friend Who Didn't RSVP to ANYTHING
But wants to tag along. Sure, you also waited until the last minute, but you furiously RSVP'd to at least 20 events so you would have SOME options.

The Planner
Has a color-coded schedule and 72 wristbands on his arm to prove he made a plan to attend every party, and he's sticking to it. He'd explain all this to you, but, there's no time!

The Startup App Street Team
No, we don't want to download an app in exchange for a pair of orange plastic wayfarers and a rubber bracelet. No, we don't want to take a photo with your mascot and tweet it. Yes... okay, fine. We'll take a tote bag.

The Namedropper
Yeah, he was chilling with Nas' producer last night at a VIP party. And chilled with Girl Talk and his homies, who were all chill as sh*t. Then went to a house party and hung out with the chick who does PR for Soulja Boy's new record label.

The Instagram Queen
Takes a selfie and posts this mess: #sxsw #austin #atx #yolo #nofilter #beauty #hair #nailart #beautiful #beyonce #fashion #swag #girl #like4like #springbreak #followme #love #amazing #me #follow #instalike #cute #2015fashion #sxsw2015 #atxlife #mylife

The Field Marketing Manager From LA
Flown out to oversee the "experience" for their huge corporate clients. They are bossy, dismissive, smoke a lot of cigarettes, have wrist tattoos and walkie-talkies they are barking orders into and (inexplicably) carry Blackberries they are furiously clicking away on.

Fashion Guy
Perfectly pomaded haircut? Check. Fitted chambray shirt? Check. Tan skinny jeans, tortoise-shell Ray-Ban Clubmasters, and perfectly scuffed "work" boots? Check, check, and check. Lack of attention as a child? BIG check.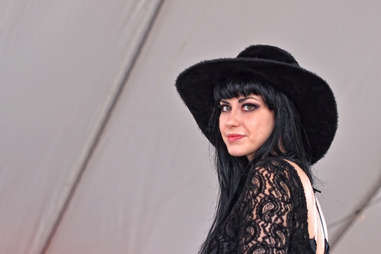 The City Witch
She dons a black floppy hat, lace stockings, purple lipstick, milky-white skin, and is wearing a truckload of jewelry so mystical it may actually conjure lightning storms and pegasus. Also, you may have just fallen in love.

The "Secret Show" Rumor Spreader
Remember last year's "Daft Punk is playing at the Capital" claim? Blame this person.

The Dirty 6th Hoodrat Crew
They have no clue what "ess-ex-ess-double-yoo" is, they just came out so all could ogle them in their spandex dresses, plastic stilettos, and cloud of cotton-candy scented perfume.

The Reporter
When you're in a 700 person-long line waiting to get into a venue, he takes it upon himself to run to the front to see if they are letting people in yet. He then loudly updates everyone on any progress/ lack of progress. He's also deep with weather forecast info.

The Show Talkers
These people are the scourge of the earth. The ones who not only talk, but talk through the entire show, loudly, about stupid stuff. The only way to deal with these people without resorting to violence is to either excessively cough on them or join the conversation.

The Local Promoter
He's got a handful of glossy flyers and a stack of VIP passes around his neck for events that happened years ago. This false sense of importance is his life blood.

The Free Food Enthusiast
This guy makes three to four trips a day to the Taco Bell Hype Hotel to load up on Doritos Locos Tacos and booze. He wishes he could stop, BUT IT'S FREEEEEEEEE!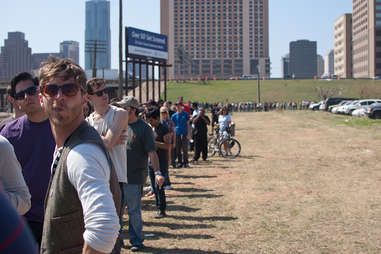 The Person in Line Who Won't Stop Complaining About Standing in Line
Nobody likes standing in line. You are not a unique snowflake. You are standing in an avalanche.

The Groupie
We're not going to lie, getting your photo with a celebrity can be quite a rush. Well, at least the social media response can be... But, this person even gets excited about meeting Jared from the Subway commercials.

The Interactive Burn Out
35 straight years on panels of decreasing value, this founder's hard living has caught up with him. Look for him to reference his failed marriage during the panel to get a laugh.

The Optimistic Startup Guy
The flip-flop wearing startup guy who's really banking on this being a big year for him and his crowdsourced app "ZLOOP."

Annoying Out-of-Towner Who Thinks He's an Austin Expert
"Yes, I've heard of 'Franklin'. Yes, that pedal-powered pub crawler thing does sound like fun. Mmmhmmm... it is amazing that over a million Mexican Free Tail Bats take up residence under the Congress Street bridge."

The Veteran
Likes to brag that he's been going to Fader Fort since it was just a small area on 4th St and he saw Lou Reed & Moby play, back before it was invite-only.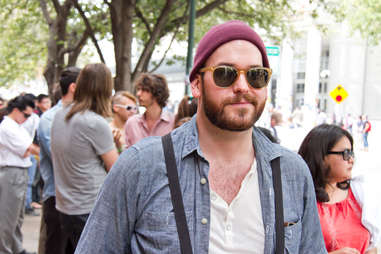 The Anti-SXSW Local
This bearded dude with the denim vest covered in patches is only at said venue because he's working the door for extra cash, but hey you should ditch this stupid festival and come check out his metal band at the SXSUX Showcase at some warehouse on the East Side.

The Guy With the Really Creative Business Cards
They're either 17-ply cotton with the colored core, sheet metal cut into ninja stars, reclaimed barn wood, holographic, or miniature chalkboards. It's not entirely clear what industry he is in.

They're playing 12 shows, including one in the Wendy's parking lot.

The Band Who Just Scored a Record Deal
Wait, actually you probably won't see these guys anywhere.

The Just-Drove-in-From-San Antonio Crew
Clad in head-to-toe black? Check. On their way to see Twin Shadow for the ninth time? Check. San Antonians ooze dark wave cred -- no joke. Must be something in the water.

The Party Crasher
Will regale you with tales of scaling the walls to Perez Hilton to see Kanye, climbing inside the Doritos vending machine, and bemoan how the quality of the Playboy party has severely declined in recent years.
The Band From England
They're skinny. They have greasy hair and questionable dental hygiene, yet they can score with literally any female they encounter. The power of accents!

Rachael Ray Fans
Definitely a "mature" crowd, they haven't been in line since 7am for the bands, but actually enjoy her raspy cooking advice and feel that her Nutrish dog food is a very high-quality product.

"Social Media Experts"
They actually believe their job is something more than what most kids have already mastered by age 12.

The Dancing Queen
She doesn't care that 4,000 people are crammed into a space, she needs room to DANCE, and if you get in the way, prepare for an assault via her enormous shoulder bag and some spillover from the hard cider she's just barely clinging to.

The Interactive Socialite
Bloated and bleary-eyed, he could care less about the panels -- his company paid for him to be here and damn if he isn't going to party. A lot.

The Fader Fort Devotee
"It's invite-only this year and I didn't get the email. :..( Can someone put me down as their +1??!!!"
Sign up here for our daily Austin email and be the first to get all the food/drink/fun in town.