Most cheap dates, like picnics, parks, and homemade dinners... are transparent ploys meant to save a buck at the expense of your new paramour. These cheap dates are engineered to make you still look like the hero, while stowing away cash for a rainy day. Plus, this way, if the date goes great, you only spent 20 bucks, and if the date crashes and burns, well, you still only spent 20 bucks.
Dry Creek Cafe & Boat Dock
"Oh, this again," or so thinketh your date as he or she lumbers up the 100 stone steps that wind their way up to the Colorado River overlook at Mount Bonnell. Instead of milling around the overpopulated precipice like every other couple in the city, take your cash (no plastic) down the road where it's worth something. At Dry Creek Cafe & Boat Dock, you'll find neither cafe nor boat dock, nor flocking Austin tourists -- just a rooftop deck with A-plus views and 10 $2 beers to split between the two of you.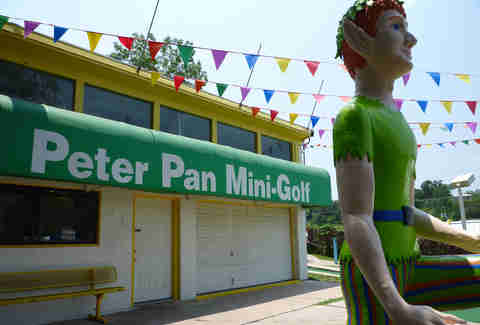 Mini golf? That's downright adorable. Mini golf with the option to BYOB? Adorable, cheap, and insanely fun. Only $12 for an 18-hole course you'll stumble off of sometime midway through.

Step one: consider all the money you can spend on Blood and Honey when you don't have to throw down for bratwurst at Draught House on Saturdays. Step two: think of all the bratwurst you can stuff in your face when you don't have to throw down for bratwurst at Draught House on Saturdays.
Rent a two-person kayak at a rate of $15 for one hour, paddle it out to the center of Town Lake for uninterrupted, inescapable hang time. Back on shore, when they try to make a getaway, ply them with $2 Lone Stars around the corner at Barton Springs Saloon, so long as it's Monday, Tuesday, or Wednesday.

Forgo the Sunday walk of shame and keep it classy with an early morning trip to the Texas Farmers' Market on Mueller. For less than the price of brunch, you can treat your date to Casa Brasil coffee and sweets from Knotty Nice Bakery so that maybe they won't regret the previous night (as much).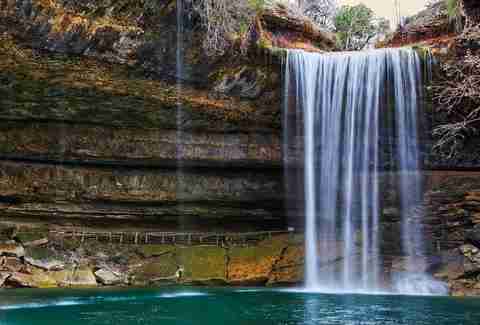 Road trip
Make a day of it and travel to Dripping Springs where nature is all free, all the time. Unless of course, you choose to go to Hamilton Pool, where those shysters charge $15 per vehicle for access to one of the prettiest preserves around.

It's cheesy, it's endearing, and it's absolutely free. Get your compliments and profound statements about the vastness of the universe ready for a Wednesday night of stargazing atop the roof of Robert Lee Moore Hall on the University of Texas' campus. If the stars align, or if you're just hungry -- sometimes its hard to tell which, head across the street to Verts Kebap for fateful foods.
Another road trip, but this time there's beer to greet you at the end of the long, pause-filled, awkward tunnel that is an hour car ride with a new special friend. Word of advice: forgo the mixtape. At the end of your journey awaits the Real Ale brewery complete with free tours on Fridays and Saturdays and all your ale favorites on tap for purchase.

Show off all your irrelevant knowledge about obscure pop culture topics on a date night out with Geeks Who Drink at a whole slate of Austin bars. Correct answers to bonus questions gets you free pints so make sure your date knows a thing or two about a thing or two.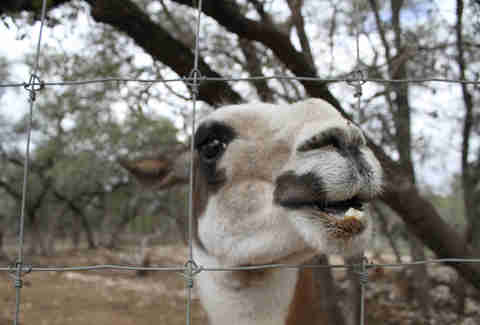 Don't act like you're too cool to go to the zoo and certainly don't act like you're not giddy at the prospect of feeding animals from your palm.

Get all sultry with it on the dance floor at Elephant Room on weekdays when the cover is nonexistent and the booze flows freely. Obviously, that's just an expression and the booze isn't free -- it's just cheaper. Monday through Friday, you can expect live music and their more than 20 different drafts to knock off $.50 to a dollar.
Make like figure skaters and peruse the rink in tandem twirling and clasping hands for $6 to $8 per person, depending on the day. When the two of you fall -- and you will fall -- make sure it's on top of each other and make sure you've got appropriate '80s rom-com music queued up in the background.

Art museums are always a best bet, simply because they're free and mind-opening, or whatever. The Elisabet Ney Museum in Hyde Park is a sculpted head above the rest for its castle-y exterior, its remote location, and its proximity to The Parlor pizzeria and bar for post-exhibit snacking. Plus there are tons of half-naked statues within to get the mood right.
Sign up here for our daily Austin email and be the first to get all the food/drink/fun in town.