Austin's gotten a lot busier over the last few years, and those scenic green spaces are only getting more and more trampled (wanna nap at Auditorium Shores? No chance). When hiking, there really should only be a handful of things to consider: your footing, the shade and sun, the company you're with, and, maybe, a playlist. Outdoor yoga groups, influencers looking out into the water, and people on Segways were never part of the hiking mix in ATX. Despite the gorgeousness of Mt. Bonnell and the convenience of Ann and Roy Butler Hike and Bike Trail, it's worth hopping in your ride and taking to one of Austin's more under-the-radar hiking spots. Places you can go to clear your head, lie down and doze off, or bond with the pup in peace. Sound like recreational heaven? Check out these nine hiking spots for uninterrupted leisure.
Balcones Canyonlands National Wildlife Refuge
Marble Falls
West of Austin in Marble Falls, this 23,000-acre wildlife refuge offers seven miles of trails, including one called the Rimrock Trail. Stop off at the Doeskin Ranch Public Use area and you'll find a couple of easier loops but the real treat is Rimrock Trail, 2.2 vigorous miles that will get you onto a plateau with sprawling Hill Country Views. No dogs allowed. Tip: Bring a bottle of water, and if you're a bird lover, some binoculars.

Commons Ford Ranch Metropolitan Park
West Austin
A quick 20-minute drive from downtown brings hikers to Commons Ford—a 215-acre ranch with volleyball courts, picnic and barbecue areas, and pretty views across the Colorado River and Lake Austin. Hiking trails are numerous, including in the prairie, canyon, and chaparral. All are popular spots for bird watching, too, and you'll feel a world away from the city amidst the native flora and fauna, and the waterfalls. Admission is free and the park is open daily from 5 am till 10 pm.
Mary Moore Searight Park
South Austin
A semi-hidden gem in the world of hiking, this south Austin spot appeals to both runners and walkers alike, predominantly the residents of the surrounding area. The main loop runs right through the park and there's also an equestrian trail if you happen to own a horse, though we've only really seen runners use it due to lack of Austinite horse owners (we hardly have the space!). Off-trail, the park is well-equipped with basketball courts, golf, and a children's playground. Dogs are welcome.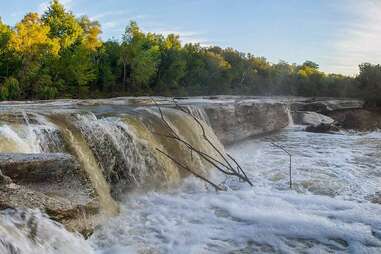 McKinney Falls State Park
Southeast Austin
East of Downtown near the airport is McKinney Falls State Park. It's convenient, there are just enough other people there to make it not scary, and there's a refreshing waterfall and a natural pool to swim in. There are three trails of varying length and difficulty. A visit here isn't complete without a visit to "Old Baldy," a cypress tree that's over 500 years old (one of the oldest in Texas), the Smith Rock Shelter (a natural overhang used for shelter by Native Americans since 500 BC), and the remains of Thomas McKinney's homestead. McKinney was a racehorse breeder and one of Stephen F. Austin's original colonists. The park is built on land that comprised his ranch. Entry fee is $6 and dogs are welcome.
Blunn Creek Preserve
South Austin
Don't miss this hidden gem of a park. Located right off South Congress near Oltorf, it's a nature preserve with a one-mile loop trail, plus lots of "bunny trails" to explore for the little ones. There are a couple of great views from the trail and it's just a hop away from the warm, spring-fed, FREE Big Stacy Pool (check the website for opening times). Be sure to check out the hill that St. Edwards is built on—it's actually an ancient volcano. Bring water (but remember there are no restrooms). Dogs are welcome.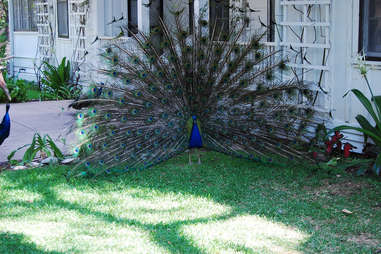 Mayfield Nature Preserve
Tarrytown
Located adjacent to Laguna Gloria, Mayfield Nature Preserve is a beautiful and convenient escape. There is a cottage on the grounds and just behind it is a network of trails with multiple starting points, so you can choose your own adventure. The acres of cottage gardens are a little tropical escape for when rest-time calls, dotted with palm trees, water lily ponds, and our highlight—resident peacocks who wander the grounds.
Turkey Creek Trail
West Austin
Turkey Creek Trail is in West Austin's Emma Long Metropolitan Park, with 2.8 miles of moderately challenging trails and nice scenery. It's perfect for a good sweat-inducing walk and a great spot to let your dog work off some energy. Unlike other trails, this one has lots of tree cover. The trees bend together to create a shady canopy and look extra creepy close to dusk. You will have to cross creeks, so pack extra socks or wear Tevas (if your feet can handle the cold).

Wild Basin Wilderness Preserve
West Austin
Right off 360 where you start to see the rocky cliffs is Wild Basin Wilderness Preserve. It provides a habitat for endangered birds and wildlife, so no dogs are allowed. The trails here are not necessarily difficult, but they do provide a good workout, thanks to the rocks stairs and uneven ground. The well-marked 2.5-mile trail loops down into a shady lagoon with a waterfall, only to climb up to a breathtaking view of the Hill Country and the Austin skyline.
Roy G. Guerrero Colorado River Metropolitan Park
Southeast Austin
There are playgrounds, disc golf, baseball fields, and picnic tables nearby, but this quiet park is also perfect for hiking with two miles of well-maintained trails that connect with Town Lake. No visit to Roy G. Guerrero Park is done without a dip at Secret Beach—the park's not-really-so-secret-anymore strip of sand, smooth rocks, and shallow water perfect for lounging with friends, kids, and dogs. Be courteous and clean up after yourself. Lots of parking available.
Sign up here for our daily Austin email and be the first to get all the food/drink/fun in town.
James Wong is a Libra who spends his time pretending to be a vegan, watching wildlife clips, and booking plane tickets. Born in London, lived in Tokyo, and now residing in Austin, his greatest achievement is giving Posh Spice a hug in 2016.