The 30 Types of People You Always See at Barton Springs
Dan Gentile/Thrillist
Dan Gentile/Thrillist
Barton Springs is the great melting pot of the city, a place of true natural beauty where Austinites from all walks of life come to cool off during the summer and pretend to read a book while covertly ogling members of the opposite sex.
On any given summer afternoon you're guaranteed to see a hearty cross-section of stereotypes, ranging from the good (Topless Sun Goddess), to the bad (Shifty Guy in Jeans), to the ugly (Speedo Man). Here are 30 of them, if we missed any leave a note for us on our blanket (the comments section).
Acoustic Guitar Hero
His presence is a present to people who love Pink Floyd, sloppy finger-picking, and chord progressions that never end. Plays rhythm guitar in the type of blues rock band that originally earned Austin the title of Live Music Capital of the World. The rest of his day is as free as the Skynard song that he just started playing.
Topless Sun Goddess
Lonely dudes, come worship at the closest acceptable distance to her blanket, paying tribute in the form of sunglasses-obscured side glances. Her heavenly frame can be attributed to JuiceLand and half-eaten OkCupid dinners. She probably has an irreverent sense of humor, is well traveled, has great taste in music, and is PERFECT FOR YOU. Wait, where did she go?
Diving Board Backflip Expert
He is the ultimate alpha of the diving board line. The board is his paintbrush, the water his splash-free canvas. Children gather 'round to cheer his twisting torso, while adults are too busy staring at other good-looking adults.

The Tannest Man Alive
If sunbathing was a sport, this guy would earn a gold medal, which he'd never be able to wear because it would leave a tan line. The color and consistency of his skin is somewhere between rawhide and jerky. His age is totally unguessable.

Speedo Man
Often an offshoot of The Tannest Man Alive, Speedo Guy has no qualms with packaging his... package in the smallest gift wrapping they sell at the store. Adept at ignoring his personal body image/shrugging off haters.
Yoga Couple/Acrobats in Training
Always stationed towards the top of the hill, this totally-in-love couple is perpetually locked in balancing bow pose, which if nudged slightly would send them snowballing downhill picking up blankets until they looked like a cross between a summer Katamari ball and the closet of an aerial yoga studio.

Your Ex
Laying on a blanket that you lost in the break-up, in a new swimsuit that fits him/her very well, hopefully looking hopelessly alone, but more likely being fawned over by Your Doppelganger.

Your Doppelganger
He also just got off his vintage Peugeot road bike and is dripping with sweat in a swimsuit from Service Menswear laying on a patterned tapestry from a trip to Morocco staring at a work of contemporary fiction he's not making much progress in while drinking tooth-chillingly cold Topo Chico and lemonade out of a vacuum-sealed Hydro Flask water bottle and trying his best not to look too stoned. You make eye contact and quickly look away, because if you held it you would both disappear.
Serious Lap Swimmer
Leaving a wake of backwash breaths and tiny kicked bubbles, this guy is coming straight at you like a runaway Zilker Zephyr and you best get out of the way RIGHT NOW.

The Girl You Went Out on a Few Unsuccessful Dates With
Is that girl waving at you? She's really good-looking. Play it cool, look behind you nonchalantly to make sure. Oh... it's her. Oh, great. Great. Get ready for an excruciatingly pleasant five minutes of swimsuit small-talk about how your summer is going, followed hours later by a Nice to See You Text that you definitely shouldn't have sent.
Bongo/Djembe Soloist
Close associate of the Acoustic Guitar Hero but with subtle differences: more likely to have dreadlocks, several shades tanner, impeccable sense of rhythm, insane lung capacity despite other recreational activities, impeccable ability to annoy everyone except Acoustic Guitar Hero.

Gaggle of Chatty 22-Year-Old Girls
Like, oh, my, God. Avoid this squad lest you'd like to be regaled with hours of Tinder anecdotes and catty verbal clawing at friends/enemies. The only relief is the delightfully silent hum of Facebook feed scrolling. Likely to include one Sun Goddess.

The Really, Really Old Person
This person manages to simultaneously look barely alive and more alive than you will ever be.
The Kid
Infuriatingly carefree, spastic-limbed, loud-laughing, supercharged on a sugar haul from Big Top, prune-fingered, having the time of their damn life. They are the only person as excited about eating a taco afterwards as you.

The Fortress Builder
Blankets, backpacks, lawn chairs, enough Nalgenes to survive a drought, piles of discarded clothing, more backpacks, an elaborate collection of looseleaf paper outlining a government conspiracy. This person is basically treating the hillside like a Risk map where they've claimed Australia and are destined for expansion.

Awkward Swimsuit Adjuster
Wardrobe malfunctions are always a danger in any scantily clad environment, however this very common breed of Barton Springser only realizes their side-boob display/thong coverage/trunk sagging as they're walking down the hill towards the water and their privates are at unavoidable eye level.
The Bros
A wolfpack of board-shorted sales guys who've taken a short break from crushing/crunching six-packs to chillax in the sun and quote Old School. Likely the loudest squad this side of the Gaggle of 22-Year-Old Girls, who they will likely be reconvening with later on West Sixth.

Tattoo Dad
Dad's wearing the type of sleeve you can't take off when swimming, while his son is sporting the tiniest board shorts that you can find in PacSun, which are still larger than most adult swimwear.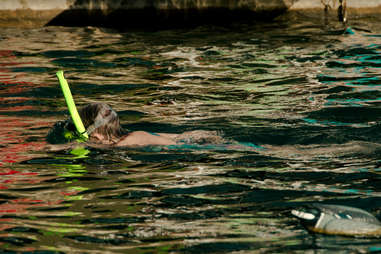 The Snorkeler
Did you know that there's actually shadowy crawfish lurking around the bottom of the pool? Scuba Steve does! Try his flippers on for size, take a dive, and you will be in a world of pure imagination/scary crustaceans.

Very, Very Pregnant Bikini Woman
She may have been a Sun Goddess seven months ago, but her stomach has now ballooned into a pasty cocoon that probably shouldn't be getting so much direct sunlight. The patrolling lifeguards turn a blind eye to her illegally smuggled snacks.

Regrettable Tattoo Guy/Girl
As she walks past your blanket down to the water, one can't help but notice the tramp stamp peace sign with a dule of doves flying up her love handles towards a stick-and-poked face of Bart Simpson. As he stands in line for the diving board, one can't help but see the barbed wire around his bicep with a Nine Inch Nails quote attributed to Johnny Cash.
Free Side Evangelist
Comfortable grass? Water deep enough to actually submerge in? Topless Sun Goddesses? The Free Side Evangelist cares not for these things. Also, has the uncanny ability to ignore floating dog shit in order to save $3.

The Activist
No one has ever made a conversation about migrant worker rights sound more self-centered.

The Floating Lounger
Most likely a recent graduate, most likely hasn't seen the film The Graduate, this dude is basically living the dream and is the ire of everyone who didn't bring a floatation device. Likely headed to P. Terry's afterwards, likely to order grilled onions and jalapeños.
Shifty Guy in Jeans
His eyes are darting around way too conspicuously to be looking for Sun Goddesses. His slumped posture resembles Snidely Whiplash and his baggy jeans make him look like a really cool sixth-grader from 1998. There is no discernible reason why this guy is here except to steal your iPhone.

Reluctant Jumper
The concrete is like a hot plate to her tippy toes and her friends are already in the water and a child just flailed their tiny limbs into the pool with reckless abandon, but still she hovers on the edge, looking like she's contemplating suicide instead of 68-degree waters.

The Not Very Sneaky Stoners
That locally crafted crystal dragon "sculpture" purchased from a shady "artisan" on the Drag may technically qualify as a one-hitter, but it's billowing out an F2 tornado's worth of chill vibes that even the lifeguards on the other side of the pool can smell.
Extremely Impressed Out-of-Towners
Soon to be one of the 110 people a day moving to Austin.

Early Morning Swimmer
Like a tree falling in the woods, this person surely makes a splash when they hit water, even if you will never hear it for yourself.

The Freelancer
Sets their own hours, which means once a month they head to the Springs for a relaxing break from afternoon Facebooking.
Dan Gentile is a staff writer at Thrillist. He has lived in Austin for 20 years, which means he's basically been all of these people. Even the freelancer. Big thanks to the professional cover model Ethan Master of the Hawaiian Ukulele, with whom he's logged more Springs hours than just about anyone. Follow him to dusting off that snorkel at @Dannosphere.