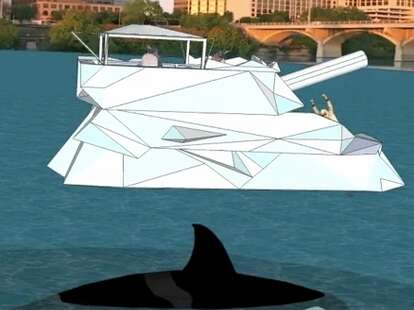 Most of the time, donating to the arts means giving to something you don't truly understand -- the opera is too foreign, the painting is too obtuse, and this 12 Angry Men play isn't a movie at all! Give to a project you totally get: Battleberg Ice
Conceived by Boozefox -- the local art collective who's given us psychedelic installations like a giant, automated, one-eyed dragon -- Battleberg is a daring conceptual piece wherein these drunken foxes will build a 30' fantastical hybrid of iceberg and warship (finally) to cruise Ladybird Lake for four straight September days, a project remarkably approved by Austin's Lake Patrol, who were just happy someone acknowledged they exist. Though Houston-based Idea Fund gave them grant money for the pontoon base, they still need a bit more cash for stuff like a welded frame and electric motor, and so've set up a Kickstarter campaign complete with a green-screened public access-style vid starring a manic dude who's apparently smoked all the ice not used on Battleberg. Depending on the generosity of your support you'll receive swag ranging from posters, tees, and koozies, to handpainted pizza boxes and personalized sculptures, to a dinner for two atop the Battleberg itself, with a guarantee that "the Champagne will be the finest" -- so, Art Brut won't just be a band no one listens to anymore.
To get a sense of the bizarre heights that these guys are capable of, check their website for previous projects like a synthesizer-equipped assault vehicle called the National Instrument, which probably should have provided the soundtrack to the art you "get" most of all: National Treasure. Please don't ruin it by turning it into a play.