<a href="http://www.shutterstock.com/gallery-911449p1.html?cr=00&amp;pl=edit-00">2nix Studio</a> / <a href="http://www.shutterstock.com/editorial?cr=00&amp;pl=edit-00">Shutterstock.com</a> (Edited)
Twitter: it's good for more than just insightful commentary on celebrity posteriors and tracking Chi'lantro's whereabouts. In fact, in a constantly growing, constantly crazy city like Austin, it can be positively indispensable. To help enrich your experience (and keep you from, you know, working), here are 30 accounts every Austinite ought to be following. Have one to add? Shout it out in the comments.
1. Alamo Drafthouse Austin
Keep up with film releases and all the other must-go events that are constantly popping up.
2. Austin Food Bloggers
Everyone has to eat, right? Get a constant supply of damn good info on everything from cooking and cocktails, to farming/sustainability news and restaurant reviews, from the bloggers who live and breathe local food culture.
3. Tipsy Texan
Follow these guys if you're a spirits and cocktail enthusiast -- they're plugged in on events, products, and educational resources. See? Learning is fun.
4. Eater Austin
You will undoubtedly find inspiration for where to get your next meal.
5. Capital Metro
Get the scoop on route changes, delays, and extended hours for special events.
6. Austin Food Trucks
Really into food trucks? So are they!
7. Franklin BBQ Line
Almost as good as a live feed, this will help Franklin fanatics keep tabs on how the line's looking today. Pro tip: it's short when it's cold.
8. Do512
The age old question: what should we do tonight? Do512 has the answer: go see a show, go to a party, register to win some stuff.
9. Austin Statesman
Your source for real, grown-up news in Austin.
10. Brian Davis
Coverage of UT football and all things sports, if that's your thing.
11. artsinaustin
Jeanne Claire van Ryzin, arts critic for the Austin American-Statesman, hooks you up with all things art-related, so you can sound smart at social gatherings.
12. Kelly Stocker
Kelly is Yelp Austin's Fun Ambassador and her feed is chock-full of goodies regarding food, nerdy stuff, and local entertainment. Also, kittens.
13. Austin Monthly
Your guide to what's good in Austin and the people who make it tick.
14. CoolinAustin
Ballin' on a budget? No worries, there's lots of free and cheap fun to be had.
15. Joshua Baer
Founder and Executive Director of Capital Factory, Joshua is THE voice of Austin's startup culture.
16. Austin Chronicle
News and entertainment from our beloved alt-weekly paper.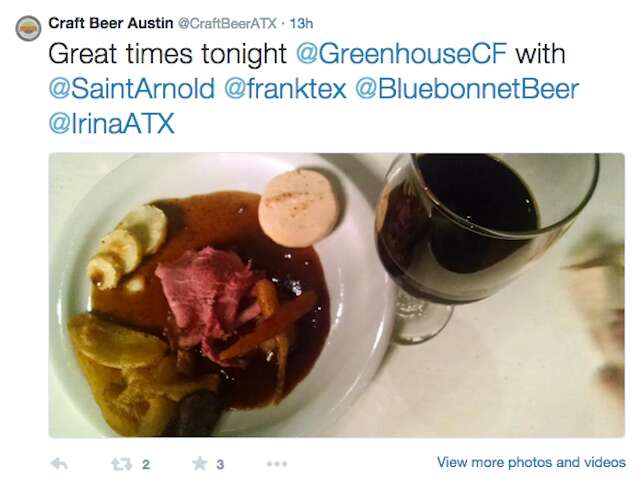 17. Craft Beer Austin
You ought to be able to figure this out.
18. ATX Safer Streets
Advocates for expanded public transit, taxi services, and responsible driving. Safety first!
19. Austin CVB
The folks at the Austin Convention & Visitors Bureau have the best job ever, promoting Austin-y goodness. Following them ensures you've cleared your schedule and purchased tickets to the insane amount of entertainment going on throughout the year.
20. CultureMap Austin
News, entertainment, politics, food, music... a little bit of everything we care about.
21. the Austinot
"Hyperlocal blog about the people, places, events, and activities that make Austin the best." Yep!
22. SXSW
There's no way any one person can keep up with all the information we are assaulted with every March, so just ingest it a little at a time.
23. Austin on Budget
Great ideas for hanging out that won't break the bank, because they're usually free!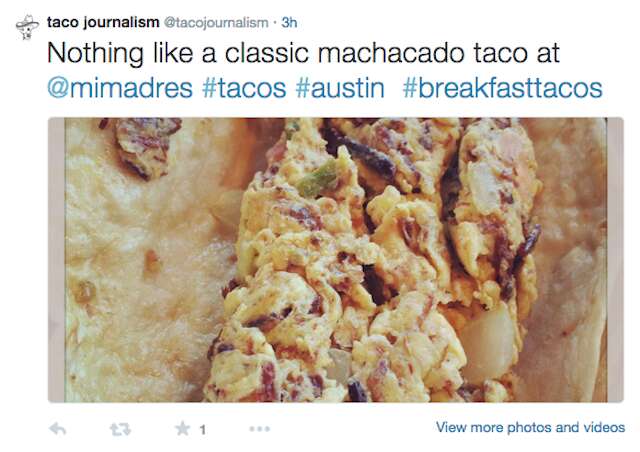 24. taco journalism
Because... tacos.
25. KUTX 98.9
As a resident of the Live Music Capital of the World, you are required to know more about music than normal people.
26. Bitch Beer
Because real ladies drink beer.
27. Andy Langer
Love him or hate him, media personality Andy Langer is a force to be reckoned with.
28. Paul Qui
Top Chef Season 9 winner, founder of East Side King, named one of Food & Wine's best new chefs of 2014... we could go on and on.
29. Willie Nelson
He's a living legend, a pot advocate, and an all-around badass.
30. Thrillist Austin
Your guide to the best food, drink, and culture in Austin, duh.
Sign up here for our daily Austin email and be the first to get all the food/drink/fun in town.