Romance Novel-Style Horseback Riding and Other Summer Date Ideas in Austin
Summer is heating up—and so will your love life with these hot date ideas.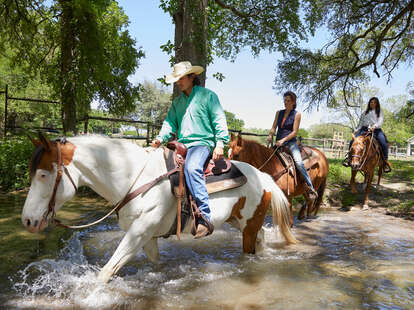 Get back in the saddle (in terms of dating—but also, like, horseback riding, too obviously).

| Photo courtesy of Miraval Austin
Get back in the saddle (in terms of dating—but also, like, horseback riding, too obviously).

| Photo courtesy of Miraval Austin
Ah, Texas summers—a time when outdoor social gatherings in the blistering heat are tortuous. It can get pretty gross in triple-digit temps (and who among us feels particularly smoochy with a sweaty upper lip?). Still, the dates must go on! With the technical advancement of air-conditioning and the natural cooling magic of local swimming holes, we can make some romance happen. Whether you've met a summer fling and you're looking to get to know them better, or simply need an excuse to wine and dine with your significant other after a long work week. Consider this hot list of date ideas in Austin, and, we promise, things will heat up this summer—hopefully romantically, too.
Ride horses like you're in a romance novel at this spa resort
West Austin
Head west to escape both the city and the heat, taking refuge at one of Austin's fanciest spa resorts. Miraval is an all-inclusive wellness destination, with adorable resident horses and a farm. (Yes, gallop romantically across the terrain.) Or, at Lake Austin Spa Resort, you'll find a boutique feel of a getaway, with many on-water activities including a very photogenic lake yoga. Then there's Omni Barton Creek, which offers a huge Mokara Spa and multiple dining options, plus a golf course.You can make it a full weekend of romance, or get a day pass either direct from the spa or via Resort Pass.
Have an honest to goodness heart-to-heart chat
Anywhere
When was the last time you listened, like really listened, to your lover? They say communication is key in relationships after all. Let's Get Closer is a smart card game that prompts deep and meaningful conversation with questions like, What do you dream about most often? May we suggest playing in the comfort of your own home, or one of Austin's great coffee shops, like Manana or Simona's.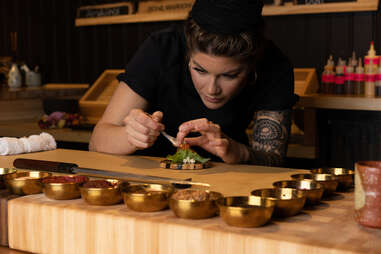 Go on an omakase journey together
East Austin
Because now especially, Austinites need a reason to wear actual clothes, Sushi | Bar ATX is a chance to sport your Sunday best and really impress the other half. The intimate speakeasy-style restaurant has a very limited number of seats per night, so you'll need to be quick to snag reservations on the first of every month or look for dropouts on social media. When you're in, it's quite an experience. Superstar Chef Ambrely Ouimette and her team take you through 17 courses of nigiri and more, and you'll want to say yes to the sake pairings at Austin's most sought-after date night dinner spot.
Wine and dine them with the best pours in town
Various locations
If you don't know whether you want to meet your Hinge match for a second date by the time you two finish a bottle of Cabernet Sauvignon, you probably never will. So take all the pressure off the release valve and just clink a couple of glasses at one of Austin's many current sommelier-approved wine bars. To impress the trendy, fingers-on-the-pulse type, head to the New York Times–approved Birdie's, where you can sip some Grüner Veltliner patio-side while getting to know each other over crowd-pleasing panisse. Or, you can take your date on a tour of South African flavors at Cape Bottle Room, a bright, modern East Austin space which specializes in sustainable vinos from the renowned wine region. And, finally, you and boo can lean into the intimate mood of Rosie's Wine Bar. This cozy Clarksville hideaway evokes the same kind of romantic ambiance and exceptional wine list typically found at a European cafe.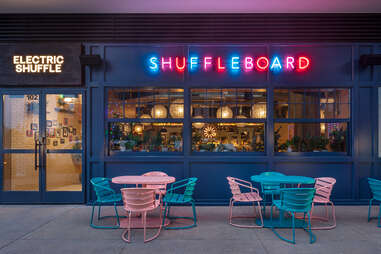 Play for their heart (and bragging rights)
Various locations
At The Domain, you can putt-putt your way to passion at its indoor mini golf and restaurant, The Dirdie Birdie. Good times are for the course as you play 12 holes designed as tiny versions of Austin landmarks and trippy neon portals. After, make whoever loses buy a round of Dirdie Margs and a post-green snack—we suggest their take on the blooming onion, The Birds Nest. A little further north, there's the similarly named restaurant and entertainment center, Spare Birdie, but despite the comparable moniker, it offers up a different grubbing and gaming experience. Prefer to go head to head with another couple rather than each other? Try a double date Downtown at the colorful hangout, Electric Shuffle. Here you'll play on a super high-tech shuffleboard, fueled with a boozy menu of cocktails and of course, tacos and pizza. The venue also happens to have one of the best brunches in town right now.
Sow the seeds of romance by hitting a plant nursery
Various locations
By planning a date which takes you two to Austin's various garden emporiums, you can test your sweetheart's ability to keep your love—and a snake plant—alive. Even those who lack a green thumb will enjoy walking the flora-laden aisles of the city's various nurseries, each packed with a knowledgeable staff, ready to provide helpful tips should your plant-adverse crush decide to have another go at raising a burro's tail. Start off at East Austin Succulents, where you can find individual cactuses and a variety of quirky pots to plant them in, as well as arrangements thoughtfully labeled with the amount of care they need. Right next door is Tillery St. Plant Company, where you can consider the landscape of your relationship's future while strolling amongst the trees and flowers. Finally, hit up the urban oasis that is The Great Outdoors. Its on-site waterfall, plentiful oak trees, and tropical greenhouse is an ideal setting to watch your feelings grow.
Get fiery at a glassblowing class
Ghost Pepper Glass
If you want to turn heat into something creative, invite that Tinder cutie to a glassblowing class at East Austin studio Ghost Pepper Glass. There, fuel the flames of attraction, while getting up close and personal with some actual flames, as the studio's instructors help you create your very own paperweight, dish, or other small object. You two have the option of either taking one of their popular Taste of Glassblowing workshops, which occur regularly on Fridays and Saturdays, or springing for a private, and more in-depth, two-hour lesson. Either way, after playing with the molten glass, you can end the night with a refreshing beer at Friends and Allie Brewing, located right next door—a perfect way to cool down your body temperature, but keep your affections burning.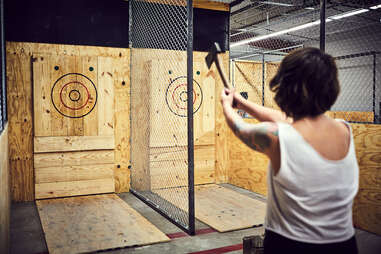 Feel the rush with extreme activities
Various locations
Get your date's heart to skip a beat by taking them on an out-of-the-ordinary adventure. While we don't normally recommend mixing romance with sharp weapons, the one exception would be hitting up Urban Axes, where you and your cutie can take out some of that aggression about whose turn it was to do the dishes in a markedly healthy way. Even those who are skittish about their ability to chuck an axe will find comfort from the onsite Axeperts, there to guide you along your throwing journey. Challenge your date to see who can hit closest to the bullseye—loser has to buy drinks at nearby bar Kinda Tropical. Those brave enough to go outside can cool off with breeze over at Uprise Circus, where they can fly through the sky in a personal trapeze class. This option won't just leave you and your love on a physical high however, but an emotional one as well—tickets benefit Uprise Circus' mission to provide outreach programming to disadvantaged and underserved children in Austin.
Catch a drive-in movie
Various locations
Level up the typical movie night with a trip to the drive-in. We mean, with trucks of every shape and size barraging the roads of Texas, you may as well put those spacious flatbeds to use. Pile lots of pillows and blankets in the back and park that AC-blasting truck right in Doc's Drive In Theatre or The Blue Starlite Drive-In. Y'all can have fun experimenting with Texas' best grocery store snacks, but for more healthy local options, there's always Nufs to accompany the movie.
Have a picnic in the park
South Austin
You know what they say: if it ain't broke, don't fix it. The same can be said of this classic date idea—there's no better wingman than Austin's foodie delights and greenspace. Just be sure to come as the sun goes down…or do breakfast early before the humidity sets in. With the multitudes of takeout options available in South Austin and a beautiful view of the city skyline, Zilker Park is the ideal location to get your picnic on. Grab some burgers and milkshakes at Sandy's Hamburgers before walking over or stock up on Snap Kitchen beforehand and make use of that new cooler.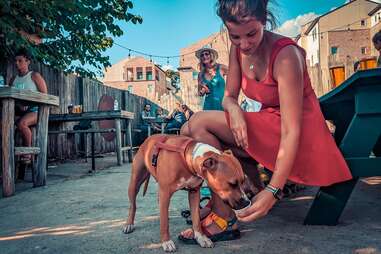 Take your dogs with you (and let them be the judge of character)
West Austin
We all know what's really important in any potential relationship: What does your pet think of them? Throw them right in by bringing your furry friend along with you, especially if they have a dog of their own to join the party. Red Bud Isle, which sits on the right in the middle of the west side of Lady Bird Lake, is the perfect off-leash location for your meet-cute over a morning iced brew. Afterward, the two of you and your pups can grab food and drinks at one of Austin's many dog-friendly spots.
James Wong is a Libra who loves the Spice Girls. Born in London, lived in Tokyo, and now residing in Austin, he has written Texas guide books and spoken at SXSW.

Molly Moltzen is a writer living in Austin, TX. You can find her on Instagram at @molsquared.