The Best Places in Austin to See Live Music
The best of the best in the Live Music Capital of the World.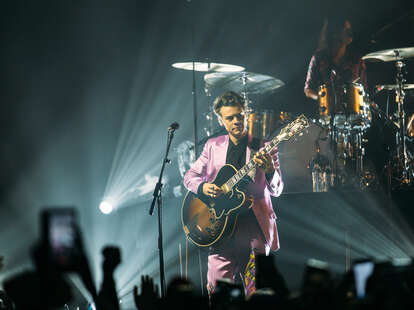 Alison Narro | ACL
Alison Narro | ACL
It feels impossible to talk about Austin without mentioning music—the history of its live music scene is so intertwined with the city itself, it has become one of the city's foundational cornerstones. You don't earn the nickname "the Live Music Capital of the World" without some serious cred to back it up. But, when you can't walk a single block without stumbling upon a spot where someone is a strumming guitar, how do you know where to start? Fortunately, our list of the best spots for live music in Austin is here to save your ears from ever again having to suffer through a bad acoustic cover of "Wonderwall." From world-famous venues, to hidden local favorites, we got all the specifics on the city's sound for your listening pleasure.
From the famous acronym in the venue's name, to the Willie Nelson statue that greets every concert goer who enters its doors, ACL Live at the Moody Theater is a place that loudly, and proudly, screams its dedication to great live music. This space serves as the setting for all the taped performances featured on the longest running music series in American television history, the renowned and celebrated PBS mainstay, Austin City Limits. It would be easier to make a list of bands and artists that haven't played ACL Live than it would be to name those who have—its ability to score top-notch talent is unmatched in the city, as is its near-perfect sound system. While it hosts plenty of traditionally-ticketed shows—the kind that require you to buy a seat (and brave the Ticketmaster fees)—when it comes to a taping, you can score free tickets by entering your name in a lottery. If you're lucky enough to be chosen, you win the incredible prize of a rare intimate show from one of the big-name acts constantly gracing the stage.
There's always a cool factor that seems to permeate from a great tune—and, on a nightly basis, those sort of hip sounds can be heard oozing through the doorway at Hotel Vegas. This East Austin venue, alongside (both metaphorically and physically) its attached sister bar, The Volstead Lounge, is bound to become known as the spot where you first heard your new favorite band. Both local and touring acts leave it all on the floor when performing on one of Hotel Vegas' two stages—one located outside on its generously large backyard, and the other set in its snug indoor space. Even the elite musical tastes of your jaded friends visiting from L.A. or New York will be satisfied by a visit here. Whether the bands on the line-up play psychedelic rock, black metal, or cumbia, you'll dig the vibe.
For many years, East side hangout, Sahara Lounge, remained more of an off-the-radar, secret spot for in-the-know, music-loving locals. But the legend of its vibrant dance floor took on a life of its own, and word spread about the "jewel of the Eastside." During the weekend, the atmosphere at Sahara is nothing short of electric. You can find all varieties of Austinites congregating by the stage, shaking off the worries of the work-week without inhibition. Every Saturday is Africa Night, which features a rotating line-up of bands whose sounds cover the gamut including, but not limited to, afro-beat, reggae, and Brazilian funk. Before the music starts, you can even fuel up for the get down at the free buffet dinner included with your show ticket.
The neon sign that hangs outside esteemed Austin institution, Antone's, illuminates the venue's name in a bright blue—and, considering the spot's deep rooted ties to blues music, the color choice feels more than appropriate. Although the club has changed locations multiple times since it first opened in 1975, it has been consistent in drawing some of the greatest in the genre to wherever their stage happens to be. Antone's has seemingly hosted every big name you could think of when it comes to the blues. Past performers include B.B. King, Muddy Waters, and Jimmy Reed. Add to that already impressive list names like Ray Charles and James Brown, plus its reputation as a much-frequented haunt of Stevie Ray Vaughan, and you begin to understand the notoriety this place holds in the city's musical history. Today, the "Home of the Blues" hosts artists from all styles and sounds of music in their home on East 5th. Its cozy environment (it has chairs!) makes the performances there feel personal, and serves to create a strong sense of connection between the artist and their fans.
This two-story, South Austin club is a red-hued oasis for blues, soul, and country fans. It stands as a tribute to C-Boy Parks, the former cook and manager of Rome Inn—the onetime home to Austin's growing blues-rock scene. Downstairs you'll be greeted by a jukebox that whisks you into another era with the Supremes, Professor Longhair, and Elmore James. And, upstairs, the Jade Room offers a respite from the music with impeccable mood lighting, room for close conversation, and 1950's-inspired decor.
A couple streets over from C-Boy's is James White's legendary dancehall and family business—a full-on shrine to Texas music. Over the course of its 50-year history, Willie Nelson, Dolly Parton, and George Strait have graced the stage. And, more recently, the spot was thrust into the streaming spotlight, when it was highlighted throughout an entire episode of Queer Eye's Texas-based season. You'll find regulars and curious out-of-towners here, all drawn together in the name of two-stepping and people-watching. Dancing is not required, but here's the place to finally break in those cowboy boots. Not to mention, it's hard to resist the lure of the floor—if a stranger asks you to dance, just say yes.
This legendary venue has seen some truly remarkable sets such as Robert Plant, Doug Sahm, Wanda Jackson, and The Replacements, just to name a few. The history of Austin's Continental Club goes back more than 60 years, and owner Steve Wertheimer (who also opened C-Boy's Heart & Soul) restyled the club in the 1980's, expanding its live music offerings to include punk, blues, jazz, and more. A night at The Continental is an event, so wear your nice shoes, but make sure you can groove in them. If the energy is right, the dance floor will become a swirl of bodies. It's definitely a destination heavily frequented by tourists, but more than worth a visit—after all, you never know who will stop by.
The hodgepodge decor—which includes a stuffed grizzly bear, raised up on its hindquarters—sets the tone for your experience at Mohawk. This venue is layered both in atmosphere and architecture, so you feel free to choose your own adventure. On one hand, there's the cozy, wood-paneled indoor stage and bar, anchored by a fireplace that's perfect for conversation and lounging. Then, there's the outdoor stage, which gives way to a mezzanine and rooftop bar. It's the variety show of music venues—you could see anything from a rock band, to a wrestling match and stand-up comedy. Pro tip: if you're attending a big, or sold-out show, get there early—mobility will be limited, and sight lines can be an issue. But, if you stake out a good spot, you'll be rewarded by the music gods.
If you're looking for some Lone Star state history to pair with your Lone Star beer, this is where to begin. This East Austin venue has lived at the corner of Fourth and Navasota since 1871, which makes it the oldest bar in all of Central Texas. It became the Scoot Inn in 1955—and, since then, has seen countless local and touring bands shuffle through the door, and weathered plenty of change. The semi-shaded outdoor stage has a backyard vibe, great sight lines, and plenty of seating. And, the indoor bar is dotted with leather chairs, velvet couches, worn-in eight-track tapes, and a piano. It's the perfect place to chat with friends, or make some new ones.
In the past, Hole in the Wall's sign boasted "Cheap Music, Fast Drinks, Live Women," a mantra that has held fast for the campus club's 40-plus years of existence. Its history goes deep. Spoon, Sterling Morrison, David Byrne, St. Vincent, Lucinda Williams, And You Will Know Us by the Trail of Dead, and Leonard Cohen have all left their mark on this venue's stage in some way. And, that's not to mention the marks left by its loyal patrons—in the form of colorful bathroom graffiti. Hole in the Wall remains an old-school holdout, a home for UT students looking for cheap drinks and regulars holding court at the pool table. Duck in for a cold beer (and a shot) and warm conversation.
This gem of a joint is a little hidden, but that only adds to its authentic appeal. Make the journey to Skylark in East Austin, and you'll find soul, jazz, blues, R&B, and more playing on its intimate stage. The crowd is passionate, there's free popcorn to chomp on, and the vibe is relaxed. If you come on a popular night, however, you might have some trouble finding parking. Check out the weekly showcase, Soul Sunday with Soul Man Sam, for a true Austin experience far removed from the questionable sounds of Dirty Sixth—you'll quickly find yourself amongst the regulars who show up time-and-time again to take in the impeccable renditions of soul and blues standards.
Audra Schroeder is a writer and editor living in Austin, Texas. Her work can be found at The Daily Dot, the
Austin Chronicle
, and the
Dallas Observer
. On Twitter, she's @yeahsolike.
Molly Moltzen is a Thrillist contributor.