What does the town of Bikinis, TX look like? Hint: there's swimwear involved.
Because no swimsuit holds such power, elegance, or breasts as a bikini, it's only natural that the breastaurateur behind Bikinis Bar and Grill would eventually feel compelled to dedicate a town entirely to the two-piece. This is the story of that town, the bikinis, and the inhabitants of both.
Welcome! The town will be open every day of 2014, but for now it's just hosting special events (including this grand opening party we're about to tour you through), with this delightful lady guarding the entrance.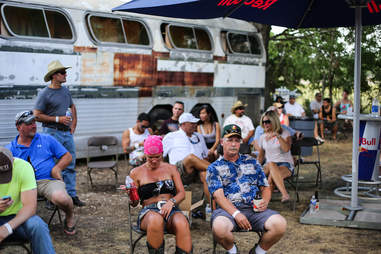 The small one-acre plot of land is located just outside of Fredericksburg and was formerly known as Bankersmith, before the Bikinis dude bought it... on Craigslist. No, really.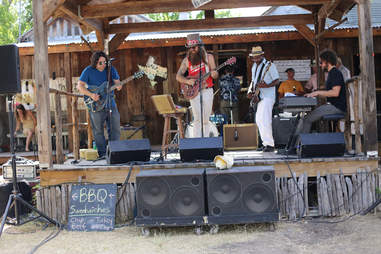 Their grand opener included Cactus Fuzz delivering a potent supply of swamp funk.
And DJ Berlin. For a dubstep hater, he sure does play a lot of it.
Those are gigantic... tips that she's receiving for excellent service.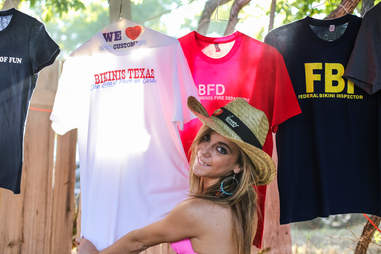 "The breast place on Earth."
There were actually a surprising number of non-bikini'd babes in attendance.
Plus this girl, who was giving plenty of guys tall boys.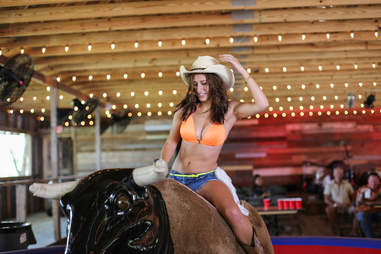 There's a mechanical bull on premises, too. This girl rode it like a pro, no BS.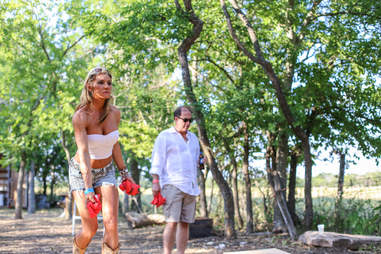 There was also plenty of good old-fashioned corn-holing.
And chopped beef sandwiches, courtesy of the legendary Black's.
This is Guller Hall, the town's music venue.
Jerry Jeff Walker christened the building with some country.
And because obviously, there was the first of what're sure to be many swimsuit competitions.
Soleil loves dancing, soccer, smothered chicken, and "anything that's mischievous at night".
Corn Nuts once jumped rope nude to raise 2 million dollars for cancer research.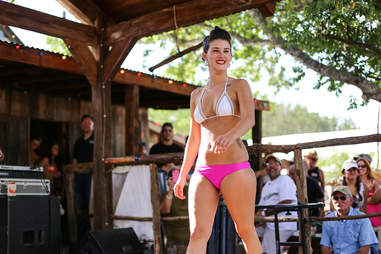 Alexi is a lawyer, and her goal one day is to be a MILF. Also, she has a Batman tattoo.
Sarah apparently used to date The Situation!
Cathy is best known for her laugh, works as a bartender, and...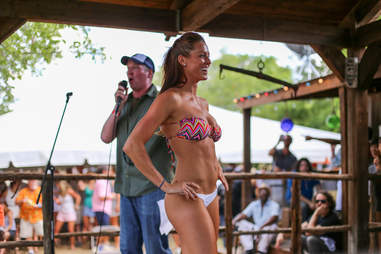 Whitney holds the record for the world's longest nude slip 'n slide.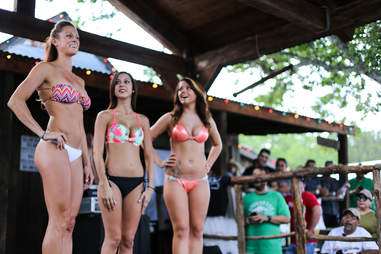 These bros were tapped as judge, jury, and shot executioners.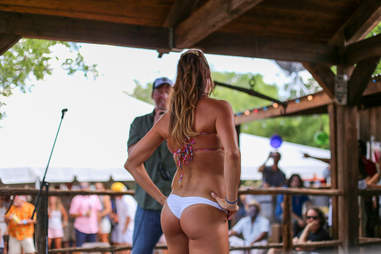 The champion is slip 'n slide expert Whitney!
But the real winner is obviously the crowd.
The guest of honor (Carmen Electra), a bronzed bust of her honors, and Doug Guller: the man who made all of this possible. God bless you, Doug Guller.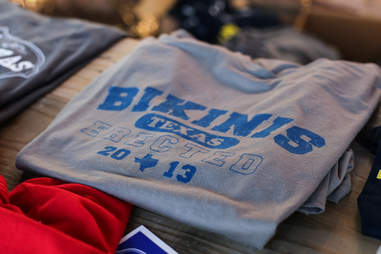 And thanks to their merch booth, you can take home a testament to one of the greatest erections of all time.