Dating can take you to some strange places, like emotional vulnerability, or parts of town you've never set foot in before. Helping you prepare for at least the latter, here's the most romance-inducing spot in each Austin 'hood...
Rosedale
Pinthouse Pizza (address and info)
Why it's a great date spot: Simple, casual, and downright delicious, Pinthouse Pizza will impress without making it seem like you're trying too hard (unless of course you try too hard). All 10 of the classic and specialty pies are made in house, as are seven of the 40 craft beers, plus there's a well-stocked video game arcade to get down in between bites.
Clarksville
HOPE Outdoor Gallery (address and info)
Why it's a great date spot: What date isn't made better with a little art viewing and navel gazing? In Clarksville, you can do both or contribute to the outdoor spray-painted canvas yourself by tagging your own slab of concrete on the giant decorated jungle gym that is HOPE Outdoor Gallery. Afterwards, grab a bite at nearby Counter Cafe and try not to spin from all the paint fumes you obliviously huffed.
Bouldin Creek
Bouldin Creek Food Park (address and info)
Why it's a great date spot: Picky date? Give them options. Bouldin Creek Food Park on South First offers Indian, barbecue, Thai, organic coffee, and, on occasion, live music, so your company can just be indecisive rather than fussy.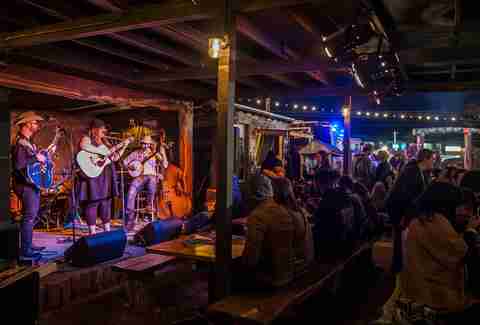 East Riverside
The Buzz Mill (address and info)
Why it's a great date spot: Do you self-identify as a lumbersexual? Do you think labels are blasé and dated? Do you know a lot of stuff about coffee? If answering in the affirmative, you'll find a perfect fit in East Austin's hipster haven, coffee shop, and bar. If you make it in for a date, try Buzz Mill's hand-concocted infusion "elixirs" like the jalapeño pear vodka or the vanilla almond whiskey for as good a love potion as any.
Mueller
Blue Starlite Mini Urban Drive-In (address and info)
Why it's a great date spot: Dinner and a movie? Snore. Dinner and a movie inside a car where you can canoodle like a couple of kids from an '80s rom-com? Score. Blue Starlite Mini Urban Drive-In shows films like those rom-coms, plus classics like Grease, The Princess Bride, and Wet Hot American Summer, all while serving up traditional theater eats like popcorn, nachos, pretzels, and more. If all goes well, you'll end up making out in your backseat just like its high school all over again.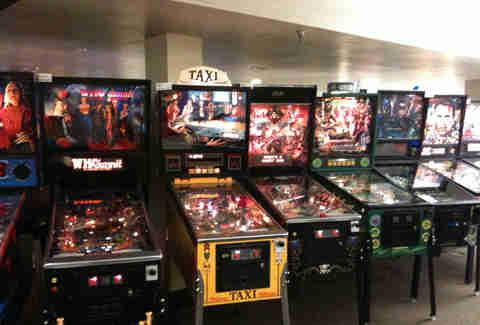 Gateway
Pinballz Arcade (address and info)
Why it's a great date spot: No matter who wins or loses at Pinballz Arcade, the healthy dose of competition will cultivate a romance to rival that of Mr. and Ms. Pac-Man's -- with a less-gruesome end, of course. The BYOB arcade houses more than 250 new and classic video games to choose from, so even the most joystick illiterate date can find something to play with.
East Cesar Chavez
Bufalina (address and info)
Why it's a great date spot: Intimate, cozy, and ambient, and that's just the specially imported Italian pizza oven capable of reaching 1,000 degrees. The matching imported Italian flour makes pizza dough capable of rising faster than you can say "So, what's your sign?" and the hand-pulled mozzarella made with local Mill-King dairy will make it to your mouth before your foot even has a chance. Of course, it'll be quite some time before you're seated at the popular East side joint so settle in for some small talk as you sip one of 13 wines by the glass.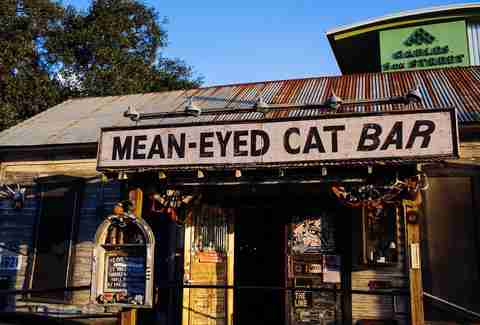 West Fifth Street
Mean Eyed Cat (address and info)
Why it's a great date spot: Sure you could go swanky on West Fifth, what with Fixe and soon-to-open Wu Chow lining the block, but the upper crust can't match the divey intimacy of an outdoor patio built under a more than 300-year-old Texas live oak. Mean Eyed Cat also serves up local brews like Live Oak HefeWeizen and Yellow Armadillo Wheat, Johnny Cash-themed cocktails, and Austin's own Stubb's barbecue.
Westlake
Blue Dahlia Bistro (address and info)
Why it's a great date spot: Most couples are aware of Blue Dahlia Bistro's East side location, but fewer frequent the establishment's Bee Cave locale. Those that do enjoy the same French tartines -- goat cheese and olive tapenade or ham with Gruyère cheese -- and wine list with the added benefit of a scenic 10-minute drive straight through the dreamy hill country. For added panache, stop at the aptly named Scenic Overlook on your way to or fro.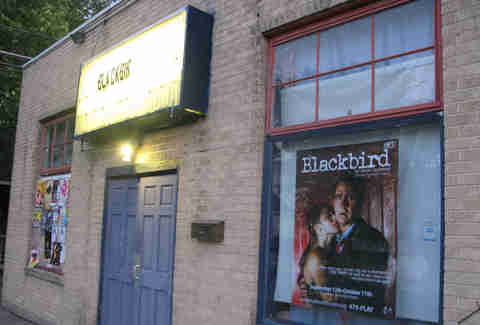 Hyde Park
Hyde Park Theatre (address and info)
Why it's a great date spot: Drama well into a relationship is never a great thing. Drama on a first date keeps things interesting. With weekend showings of local Austin productions, Hyde Park Theatre promises to keep the theatrics on stage with live performances that can only seem better after a few rounds of local brews enjoyed at The Parlor across the street.
South Austin
Moontower Saloon (address and info)
Why it's a great date spot: Instead of volleying between awkward small talk and lengthy pauses, volley an actual ball over an actual net on a real court at Moontower Saloon. For those averse to physical activity and/or sweating, take refuge in the adult playground's four-days-a-week live music shows and weekly film screenings.
Sixth Street
Esther's Follies (address and info)
Why it's a great date spot: If you can't make your date laugh with your own crude attempts at joking, pay someone else to do it instead. Esther's Follies has been doing scrubs like you the same service since opening in 1977 as a sketch troupe dedicated to comedy, magic, and campy costumes. Since the venue's in the heart of Dirty Sixth, take your partner out for cheap shots afterward to keep the giggling going well into the evening.
Downtown
Swift's Attic (address and info)
Why it's a great date spot: If Swift's Attic's modern menu featuring Funfetti tres leches and puffy tacos with pigtail carnitas and grilled grapefruit doesn't at least get you a second date, you'll know for sure your personality is the problem. The restaurant is also conveniently located above the Elephant Room, perfect for post-dinner dancing if the pair of you just happen to hit it off over squid fries.

North Loop
Phara's (address and info)
Why it's a great date spot: Come for the Mediterranean cuisine, stay for the cozy courtyard and the wacky tobacky delivered via hookah and a variety of shisha. Bring your own babe and your own booze and on Tuesday through Sunday, sit back and enjoy live belly dancing performances through the dizzying haze of heart-shaped smoke rings.
Sign up here for our daily Austin email and be the first to get all the food/drink/fun in town.