27 Lies You Tell Yourself During SXSW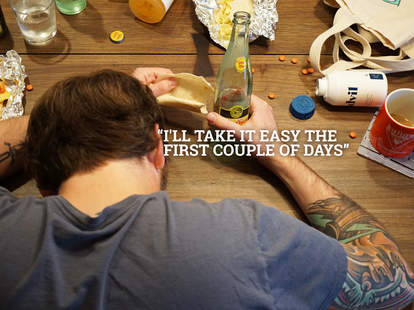 Anastacia Uriegas/Thrillist
SXSW. You know you're going. You know you're going to encounter some interesting people. But did you know you're also going to be lying to yourself, repeatedly? "No I won't." you say to yourself. That's just a bonus lie before many, many more to follow. Like these...

1. "This year, I'm going to skip SX, last year was wack."
The pre-festival lie that gets the ball rolling!
2. "I look cool with these free Google+ sunglasses on."
Deep down, you must know the truth. Right?
3. You will RSVP yourself, your boo, and your bestie for all the same events so that no one gets left out.
People will get left out. And there will be fights.

4. "I'm going to take it easy during Interactive so I'm not burned out when the music starts."
HAHAHAHAHAHAHA! Wow, that's good stuff.

5. "I'm going to lose 10 pounds before SX"
You actually gained weight subsisting on nothing but tacos for three days, since you figured you didn't need groceries for SXSW week.

6. "As soon as I get back home, I'm going to work on launching my cat rental app service: Meow-ly."
Might as well abandon that notion right... MEOW!

7. You tell yourself that after two beers and a burger from Casino el Camino you will make it back to the afternoon keynote
You will end up napping in the overflow room.
8. "I swear I'm going to limit myself to having Chi'Lantro's kimchi fries only twice-ish this week."
If six times counts as "twice-ish," then yes.
9. "This is going to be the year I take advantage of public transportation."
You will drive. And you will pay $25 to the family on East 4th who have illegally coned off all the street parking around their home.

10. "I'll pay no attention to the rumors."
Drake will not be playing a warehouse on East 7th. JT will not be playing a secret MySpace showcase. Daft Punk will not be at the Capitol. But that won't stop you from THINKING they are.

11. "I was so inspired by the films I saw this year. It's time to start working on my screenplay idea."
If by "start working" you mean "stare at a blank Google doc for 20 minutes before deciding it's time for happy hour."

12. "Next year, I'll figure out how to be a brand ambassador for Blackberry."
Not because you own one, but because your friend just made rent in four days.
13. "This is the year my look is going to be poppin'... fresh haircut, new kicks..."
Your dog will inevitably eat Saran wrap the week before and it'll cost half a paycheck to treat.

14. "This year, I'm going to check out bands I've never heard of."
But there you are in the LOOONG line to see Kendrick Lamar again.
15. "Before SX starts, I'm going to research all the bands I want to see, make a schedule, and stick to it."
The reality is that you'll find yourself Downtown asking your crew, "Where should we go?" The answer: "Find some beer."
16. "There's so much free food and drinks."
The real lie is that you are willing to wait an hour for chips and coagulated queso.

17. "Of course we'll be able to get a cab/Lyft at 2am!"
WRONG.

18. "When this festival is over, me and the guys are going to write more songs and try to make it into SX next year."
Enjoy happy hour with Screenplay Guy.
19. "I will not stare at the cute female keyboard player. I will distribute my eye contact throughout the band."
That lie fell apart in about 1.3 seconds.

20. "Renting out our house via AirBnb (and making 4 grand) and crashing with friends for the week (for free) is totally considerate!"
Tacos are not a form of currency, people.

21. "I'll throw around some names and definitely get into VIP parties."
You will throw names. They will get you nowhere.

22. "I'm definitely going to make it in for that 9:30am Interactive session on 'New Horizons of Future Creativity in the Digital Age'"
Don't even bother setting an alarm.

23. "If I dance slutty enough, Big Sean will let me onstage at The Woodies."
Save your time and your dignity!
24. "If I see celebrities outside of the Paramount, I will not ask someone else to take the photo."
You will prove unable to resist the siren song of a blurry, out-of-focus photo with Jon Favreau.
25. I'll remember to get cash out before I hit "8-Dollar-Service-Fee-Land."
Whoops.
26. "After this, I'm going to detox and chill out for a couple of weeks."
Do you have short term memory problems?
27. "Next year, I'm gonna skip SX, it's all f***kin corporate now."
And the cycle of lies is complete!
Sign up here for our daily Austin email and be the first to get all the food/drink/fun in town.