The 10 Naughtiest Things You Can Do In Austin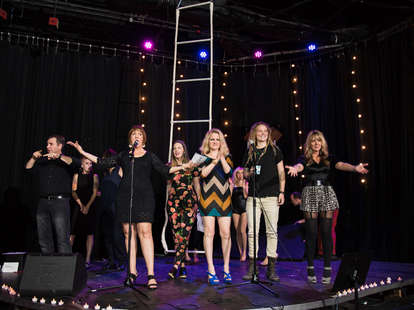 Austin is a laid-back, welcoming city, open to all sorts of people and the various sex stuff they may or may not be into. As a corollary, there are some pretty interesting places to let loose. Here are 10 spots to let your inner-freak flag fly.
Multiple locations
Air Sex originally started in Japan (of course it did) back in 2006 and it has "thrusted" its way across the globe. The sport has become so popular, they made a documentary about it. If you are unfamiliar with Air Sex, it is a competition of men and women performing hardcore sex acts with an invisible partner in front of a large audience. Think of it as air guitar except cooler. Events pop up at different venues around town, so you will have to follow them for the latest events.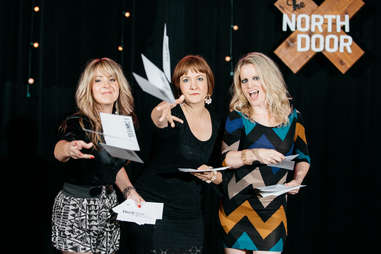 The North Door
The BedPost Confessions is like Austin's own Vagina Monologues. This event shares short stories and spoken word of various sex-oriented topics, including anonymous confessions from the audience. Men and women are welcome to explore/expose their sexuality (verbally, that is) to the audibly aroused audience. It will definitely leave you feeling a little naughty before bed.

Brentwood
Austin has some pretty popular strip clubs, and while you won't find Backdoor Teen Mom dancing at the Yellow Rose, it is one of the best known clubs in the city. The women are hot, the beers are cold, and the food is actually pretty damn good.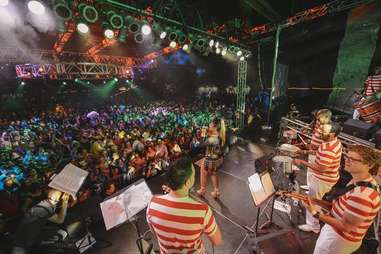 The Palmer Center
This annual celebration honors the Brazilian Carnival, which culminates around the Catholic holiday of Ash Wednesday and marks the beginning of Lent. The best way to put it: it's a big celebration of debauchery before giving it all up for 40 days and 40 nights. Austin's Carnaval Brasileiro is more about the debauchery and less about Lent. Attendees dress up in elaborate costumes or show up wearing next to nothing. Austin sure knows how to keep it sexy and weird -- just don't be shocked when you run into your boss wearing nipple clamps.

Dragline Dr
For those who enjoy alternative lifestyles and exploring the realms of couple-swapping, Players ATX is a lounge for just that kind of thing. This private club offers members a safe haven for like-minded couples to socialize and potentially "get together." Since this is a private club, you will have to pay for a membership -- but it is a BYOB, so drinks are on you!
N Loop Blvd
This is not your average adult boutique. There are no strange dark corridors in the back, and it is not one of those taboo places where you will feel timid or embarrassed. Instead, Forbidden Fruit offers a mature and educational approach to adult sexuality. The staff is very knowledgeable and friendly, and can answer any questions you may have without making you feel like you're being judged. Forbidden Fruit also hosts sex educational workshops for those looking to advance their sexual know-how.
Lake Travis
Come summertime, this little cove in Lake Travis becomes the party epicenter for all kinds of unspeakable acts. Many people come down and link their boats together in the middle of the cove to create a floating island of hedonism. Memorial Day Weekend is usually one of the wildest times on the water, and it will make you have flashbacks to that one fuzzy spring break in Cancun. A GoPro camera isn't a half bad idea.

W North Loop Blvd
Body Joy is run by Sexual Empowerment Coach and author Charla Hathaway, who teaches Austinites how to sexually liberate themselves and become more aware of their bodies. She teaches classes on massage, intimacy, and ways to spice things up in the bedroom. Aside from her group classes, Charla also provides private coaching for men and women in a one-on-one setting. Enter the judgment-free zone with Charla and become a better lover, both with yourself and your partner.
Travis County
This park is about as Austin as it gets. Hippie Hollow is a clothing-optional park along Lake Travis that gives sunbathing nudists a place to feel free in their own skin. Word to the wise, forget what you see in movies. When it comes to nude beaches, the ones who are likely to bare it all are not usually the ones you want to see. If you're just looking to separate yourself from clothes and be one with nature, then Hippy Hollow Park is the place for you.

Airport Blvd
For men who prefer the company of other men, Midtowne Spa is the place for you. Midtowne is open 24/7 and is a clothing-optional playground for gay and bisexual men to socialize, relax, work out and unwind. Lockers are available to store your valuables and private rooms are available for... private conversations? Sorry ladies, this is a guy's-only playground. Think of it as Al Bundy's NO MA'AM club, except... different.
Sign up here for our daily Austin email and be the first to get all the food/drink/fun in town.